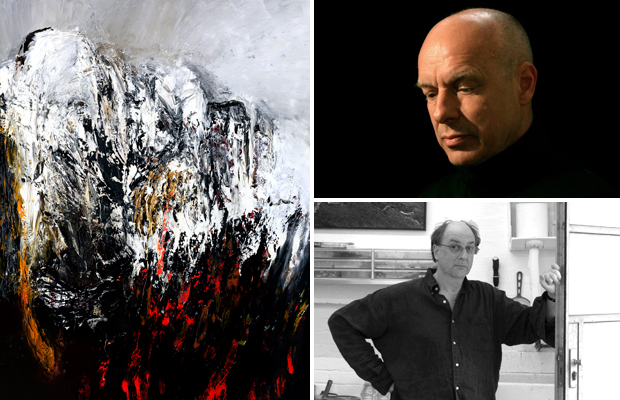 Richard Harrison's Muse Music
The abstract painter on the music that gets him in a creative mood
Friday is here once more which means it's time for the weekly Phaidon Muse Music playlist courtesy of another great contemporary artist. This week we've been talking to abstract painter Richard Harrison who has put together the 10 tracks that have most inspired his work over the years.
Coming to art relatively late, Harrison went against the grain at Chelsea School of Art in the 80's where his classmates were more concerned with conceptualism and minimalism. He's remained committed to painting, leading him to create works which are confident in their vigorous application of paint, emotionally charged and expressive.
Harrison's current exhibition 'Nothing Wasted' is in the unusual setting of antique gallery JAMB, London. The venue was chosen by the art critic Brian Sewell who has curated the show. You can listen to Richard Harrison's playlist on Spotify, but before you do, this is what he has to say about it:
"Ever since I was a teenager, music has been a rich wellspring for me to draw upon, and it has delighted and sustained me through both my happiest and my darkest hours. Pink Floyd's album "Atom Heart Mother" was my constant companion during the summer of 1972, when I was doing my "A" levels at Harrow School, Britain's finest prison for boys. Then there was my love affair with Genesis and the Blue Oyster Cult in the 1970's, and now dance music - especially the spacey chilled instrumental stuff - inspires and drives me in the studio. This sort of music transports me to another realm where I become a channel through which that otherness from the quantum field can flow and make it's mark upon the void that is the blank canvas."
Brian Eno - _Events In Dense Fog _ This track and other Eno ambient delights fuelled the creation of my two large abstract landscapes "Moments In Fog" and "Clouds Moving In". In 1987 I was out in the Australian desert at the northern end of the Flinders ranges. We climbed up into the ranges and sat for a while in a cave, and looked out across the vast flatness of the desert towards the horizon. I listened to this on my WalkMan, and felt very close to whatever it is that is far bigger than us.
Pietro Mascagni - Intermezzo From Cavalleria Rusticana__ This is the music that people recognise from Martin Scorsese's film "Raging Bull" with Robert de Niro as the boxer Jake LaMotta. It is an achingly beautiful piece of music, and drips with sadness, nostalgia, yearning and romance. I remember listening to this on my headphones at Chelsea Art College in the mid 1980's, and thinking that "Monolith", the abstract painting that I had just finished, looked a bit like a tombstone.
__Banco de Gaia -_Lai Lah ___ I love instrumental dance music and I often listen to it in the studio while I am painting late at night. Banco de Gaia was one of my early introductions to this sort of music in the early nineties, and, along with The Orb and Orbital, have remained favourites to paint to ever since.
__Can - _Future Days ___ A full 20 minutes of majestic reverie. It rises slowly, climaxes, rests and builds again. When I was in my first year at Cambridge University in 1973, we went to the Corn Exchange to see this seminal German Band. We arrived too late to get in, so listened and idiot-danced to this fabulous track in the street outside, and watched the bricks in the Corn Exchange walls shift-shape and blaze into colour. I still listen to this track and others by Can, and this hymn to the future helped me produce "Triassic", an anthropomorphic homage to a far distant past.
__Neil Young - _Harvest Moon ___ No playlist from a baby boomer, who is into his music, could be without a track from Neil Young. There are so many great tracks to chose from, but this hits the feel-good spot. I played it a lot when I was living in a loft on Wooster Street in New York in the autumn of 1992. It is a romantic, happy song, and brings a smile to my face.
__Lemongrass - _Journey To A Star ___ I love spacey "Space" music and if I could live again in the future, I would love to come back when a journey to the stars will be possible. This track says it all for me, and inspired my painting "Pulsar" - my own small journey to the stars.
King Creosote - The Vice Like Gist Of It - Jon Hopkins re-mix It sends a delicious longing through my heart whenever I hear it, and reminds me of a wonderful trip I made to Iceland in 2003, which inspired the painting "Skogafoss Falls". This was also one of the songs on one of my own compilation "burns" that listened to before drifting off to sleep during the period I fell in love with my wife Ursula in 2008.
__Genesis - _Supper's Ready ___ Genesis was the band that was my constant companion for almost all of the Seventies. Their music does not date for me, and I still listen to it a lot of the time. I first loved and lost to this opus when I was 17 - corny, I know - but when Peter Gabriel laments - "Walking across the sitting room, I turn the television off, sitting beside you, I look into your eyes" - the memories flood back and my heart still aches a little. Yeah, I know, what a saddo!
Fac 15 (featuring Cathi O) - Stay With Me Till Dawn - Chilled Mix This track puts paid to the old saying that "post coitum omnia animal triste est". Cathio O's vocals ooze sex and longing.
__Fred Baker, Y-Traxx - _Mystery Land - Fred Baker vs. Barry Jay Remix ___ I love to listen to euphoric trance in the studio while I paint, and "Mystery Land" in it's many incarnations and remixes has inspired a great many of my abstracted landscapes, like "Green And Pleasant Land". It's magical dreaminess sends me into a near meditative state where time seems to stop, the paint flows and erupts on the canvas, and I feel in the flow.
Listen to Richard Harrison's playlist on Spotify.
You can also listen to these creatives' Phaidon playlists:
John Pawson
United Visual
Simon Fujiwara
Samuel Wilkinson
Alex Hartley
Brian Griffiths
Michele Howarth Rashman
George Condo
Martin Boyce
George Shaw
Karla Black
Piers Secunda
Mark Titchner
Chris Johanson
Edmund de Waal
Haroon Mirza
Elizabeth Peyton
Wilhelm Sasnal
Nathaniel Mellors
Antony Micallef
Roger Hiorns
Sign up to the Phaidon newsletter to get future updates.