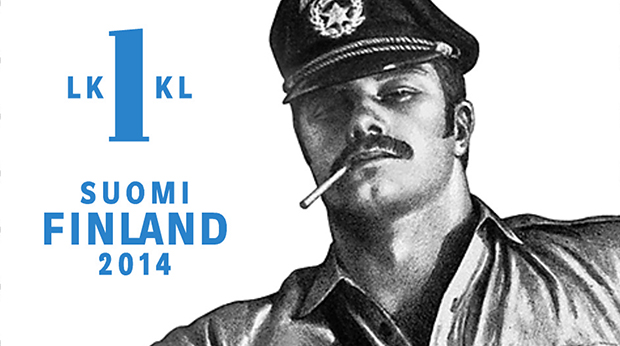 You've got male! (and he's called Tom of Finland)
Art & Queer Culture illustrator Touko Laaksonen is honoured by Finnish post office in new series of stamps
Tom of Finland's pen name wasn't intended as a statement of national pride. When in 1956, the Finnish illustrator Touko Laaksonen sent his pictures to the American beefcake magazine, Physique Pictorial, he signed them simply Tom; the editor added the 'of Finland' bit for clarity's sake.
Yet the distinctive, homoerotic illustrations found a huge audience during and after the gay liberation movement of the 1960s and 70s. As Richard Meyer notes in our book Art & Queer Culture, "Tom's work went on to become, arguably, the most popular homoerotic illustrations of the later twentieth century… [which]…popularized the 'frankly macho style' of post-Stonewall gay culture."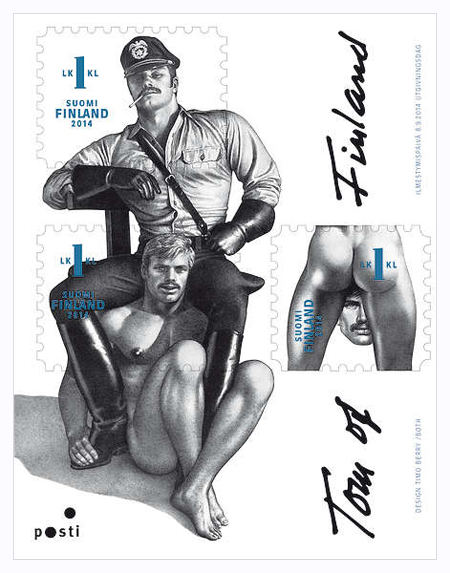 The policemen and construction workers Laaksonen sketched in his youth fed into the fashions of New York's Greenwich Village and The Castro in San Francisco, creating a distinctly butch look that reached its apotheosis in the disco era with the likes of the Village People and one that was resampled in the Eighties by the late Queen frontman Freddie Mercury.
Laaksonen may have died in 1991, but his reputation has continued to grow. In 2004 MoMA acquired some of his drawings for its permanent collection, and now Itella, the Finnish post office, are planning to issue three stamps featuring his creations.
Itella says these "highly stylized homoerotic images have influenced widely not only gay men, but aesthetically also pop culture and fashion," and plans to make the set of self-adhesive stamps available in September. For more on this go here, and for greater insight into Laaksonen's work in context, pick up a copy of Art & Queer Culture.