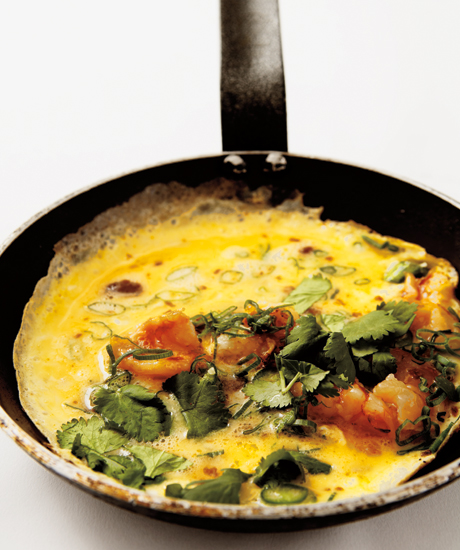 On the menu: Anna Hansen's Sugar-cured shrimp omelet
Sugar-cured shrimp, scallions, cilantro and smoked chilli sambal
Serves: 6
Ingredients:
For the sugar-cured shrimp:
18 large shrimp (prawns), peeled, split lengthways and de-veined
1 lemon grass stalk, bashed gently with a rolling pin or other suitable implement and chopped into 4 pieces
30g ginger, peeled and sliced
3 lime leaves, shredded
1tsp chipotle chili flakes
1tbsp soy sauce
1tbsp fish sauce
100g sugar
15g Maldon salt
For the smoked chile sambal:
2.5 liters canola (rapeseed) oil, for frying
250g red bell peppers, sliced
250g white onions, sliced
250g whole ripe cherry tomatoes
80g garlic, sliced
80g ginger, peeled and julienned
25g dried shrimp, ground in a spice grinder
1 large dried chipotle chile, stalk removed, and soaked until soft in hot water
125ml tamarind paste
40ml fish sauce
For the omelet:
12 eggs
salt
butter, for cooking
1 green chile, sliced into very thin rounds
1 bunch scallions (spring onions), finely sliced
To serve:
1 bunch cilantro (coriander), picked
Method:
For the sugar-cured shrimp:
Mix all the ingredients thoroughly and leave to marinate for 24 hours, then rinse and pat dry.
Refrigerate in an airtight container until ready to use.
For the smoked chile sambal:
Heat the oil in a pan to 325° F (180° C), then deep-fry the bell peppers, onions and cherry tomatoes separately in small batches until they are a rich golden brown—almost burnt-looking— draining them on paper towels and tipping them into a large bowl as you go.
Fry the garlic and ginger, in separate batches also, until just golden brown.
In a small skillet, pan-fry the ground shrimp in a little of the oil until aromatic, then add to the bowl along with the remaining ingredients and mix thoroughly.
Blitz the sambal in batches in a food processor until almost smooth, emptying it out into another bowl as you go.
Mix the processed sambal together thoroughly and let cool. Place in an airtight container and refrigerate until needed.
For the omelet:
Whisk 2 eggs together in a small bowl with ½ tsp of sambal and a small pinch of salt.
Heat some butter in an omelet pan over moderate heat, and when it begins to sizzle add 6 shrimp halves. Toss these in the pan until almost cooked, then pour in the seasoned eggs. Swirl the pan once or twice, then reduce the heat.
Sprinkle over 3 chile slices and a small handful of scallions.
When the eggs look almost cooked, use a flat heatproof rubber spatula to fold the omelet in half. Slide onto a plate and keep in a warm place while you repeat the process for the rest of the omelets.
To serve:
Garnish each omelet with cilantro and a spoon of the sambal.