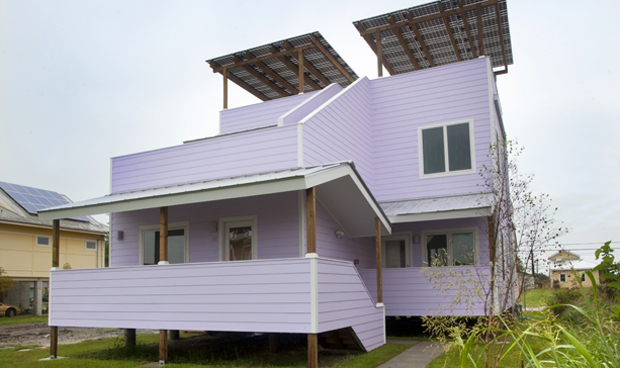 Frank Gehry in the Big Easy
Brad Pitt gets the international architect to build a house for New Orleans' flood victims
Its boxy forms and functional terraces might not scream 'important work by world-famous architect', yet this new pastel-coloured duplex on Tennessee St in New Orleans Ninth Ward, was drawn-up by the same hand as drafted the Guggenheim Museum in Bilbao and LA's Walt Disney Concert Hall. Frank Gehry designed this building at 1750 Tennessee St, as part of Brad Pitt's Make It Right charity, which is dedicated to building 150 green, affordable, high-quality design homes in the New Orleans neighbourhood closest to the 2005 levee breach. The film star's people have convinced other well-known architects, such as Shigeru Ban and David Adjaye, to design similar buildings, yet Gehry is undoubtedly their most famous draftsman to have overseen the construction of a modest dwelling in this district, devastated by the hurricane-induced floods seven years ago.
The Gehry house, set two blocks from the water's edge, is Leadership in Energy and Environmental Design (LEED) Platinum certified - the highest ecological building rating possible. Its deck awning is covered with solar panels, its air conditioning is energy-efficient, and recycled materials abound. Despite the names attached, it is being sold to local resident and housing charity worker Linda Santi for the modest price of $200,000. Gehry told Make It Right that he designed a place he would want to live in, "and one that responded to the history, vernacular and climate of New Orleans," the architect explained. Yet, while Gehry drew up the plans, Santi got to pick the house's colours. However, it turns out she and the eminent architect agree on these shades. "I love the colours that the homeowner chose," Gehry said. "I could not have done it better."
Can't get down to New Orleans? Then take a look at Building the New Millennium, a concise overview of the most extraordinary landmarks built around the world since 2000.