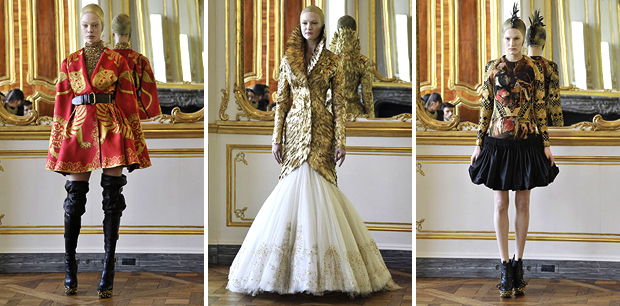 A round up from London Fashion Week
Harriet Quick reports on the capital currently in love with design
As a successful and very spirited London Fashion Week draws to a close, London Design Week opens - the two events happily segueing and both drawing international crowds in a capital currently in love with design. The announcement that the lively and elegant, Samantha Cameron will act as ambassador for the British Fashion Council is a great boon to the industry - this is a woman who can walk the walk in Nicholas Kirkwood or Charlotte Olympia heels and an Erdem lace dress, or Giles flower printed sundress and talk the talk.
There's much to love about the new season which is forgoing the current bodycon silhouette and, in its place, musing on poetry, secret gardens, flowers and swathes of draped chiffon, silk with delicate prints, lace trims and colours like peppermint green, primrose pink and yellow. Standouts were many. Christopher Kane, who currently also designs the Versus line, delivered conservative pieces - box jackets, shell tops and pleat knee length skirts and Tea dresses but in vibrant flouro techno lace print leather, serpent prints, and delicate acid yellow lace with hand bound pin tucks. His skill is in modern proportions and bold detail, so each piece really proclaims the now.
Richard Nicoll, who as an Australian has a keen eye on British subculture, was inspired by David Bowie and the late 70s with his patent leather trimmed bomber jackets and knife edge pleat chiffon maxi skirts which peeped slim lingerie beneath. In stark ivory, black and white his is an icy cool vision. Scottish Jonathan Saunders is another clean cut master and delivered a vibrant show of printed cotton crisp shirts and swirly belted knee length skirts in terrific prints, almost like a world map negative, with pale grey splotches on tangerine, or yellow on olive.
Giles Deacon made a comeback to the capital from showing in Paris. Deacon is always saucy and his 70s inspired button through cotton sundresses with orchid prints featuring sparkling stamens, his hot pants and motif laden sweaters, were chic and fun. For evening, he kept real women in mind with corsetry beneath floating chiffon and silk draped gowns to give perfect contouring in a season of wisp and flow. We look forward to his debut as creative director of Ungaro.
Erdem's woman is demure but secretly rather wicked and his sensibility was made real in Peter Pan collared semi-sheer navy lace dresses and patchwork flounce skirted dresses. While his green leaf print chiffon shirts tucked into belted pleat maxi skirts were sheer heaven. Felicity Brown, a new rising star, worked magic at The Fashion East show, with hand dyed and layered silk dresses with great furls blooming around the neckline and torso in rose and emerald layered shades.
One of the most beautiful events was the Alexander McQueen memorial at St Paul's Cathedral, with a live performance from the angel voiced Björk singing Billie Holiday's 'Gloomy Sunday' and a piano recital by Michael Nyman. The addresses by Anna Wintour, Suzy Menkes, Shaun Leane - the jeweller and long time friend - and Annabelle Neilson were perfectly poised and deeply moving. A wonderful tribute to a creative genius and an unforgettable spirit.
Harriet Quick is the Fashion Features Director at Vogue