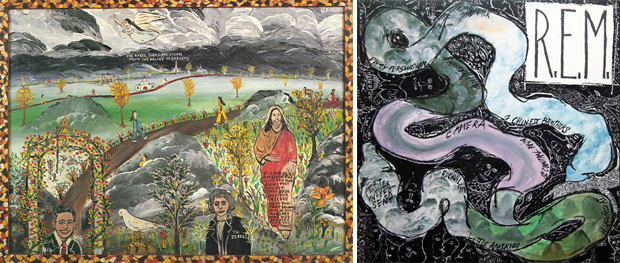 Goodbye REM and thanks for introducing us to Howard Finster
The outsider artist who painted the end of the world as he knew it
REM announced their split yesterday. Among many things we can thank them for in their rather successful 31-year career was introducing us to the wonderful work of outsider artist Howard Finster.
REM singer Michael Stipe befriended Finster, who's featured in Phaidon's American Art Book, while an art student in Georgia in 1981. Two years later they collaborated on the cover for REM's second album, Reckoning and Finster appeared (briefly) in the video to the band's early song, Radio Free Europe.
Through his connections with REM, and later Talking Heads, the backwoods Baptist preacher, whose paintings were inspired by the gospel, visitations from the dead and his visions of extra-terrestrial life (which he'd had since the age of four), became responsible for introducing millions of people to the concept of outsider art.
He was often called a naïve or folk artist but one of his early paintings best summed up his own opinion of himself. "I am Howard Finster, a stranger from another world. My father and mother my sisters and brother my wife my children my grandchildren have never really figured me out. When my work is finished I will go back to other worlds."
Like all southern fundamentalists, Finster believed in the apocalypse as foretold in the book of revelations. An awareness of time running out was always present in his work.
In 1985 he designed the cover of Talking Heads' breakthrough album Little Creatures which featured the hit Road To Nowhere. Shortly after its release he said: "I think there's 26 religious verses on that first cover I done for them. They sold a million records in the first two-and-a-half months after it come out, so that's 26 million verses I got out into the world in two and a half months!" You can read more about Outsider Art in Phaidon's The Art Museum.