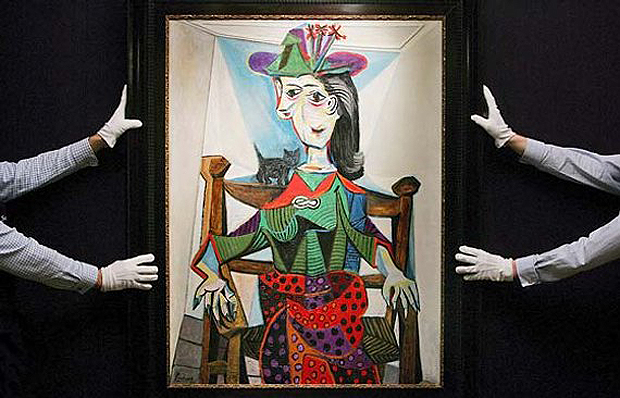 Georgia's billionaire leader plans a Guggenheim
Bidzina Ivanishvili says a museum housing his contemporary art collection will attract tourists to the Eurasian state
Bidzina Ivanishvili, head of the election winning Georgian Dream coalition party, first made headlines in May 2006, when he bought Picasso's 1941 painting Dora Maar au Chat for $95 million at auction in Sotheby's, New York.
Then an unknown in art circles, the 56-year-old businessman's collection has received renewed attention since he chose to run in the Georgian parliamentary elections. Ivanishvili, who made his money in Russian banking, real estate and mining, also owns works by Damien Hirst, Henry Moore, Lucian Freud, Peter Doig and Roy Lichtenstein, and plans to show them in a multimillion-dollar, Guggenheim-style museum, which he wants to found in his homeland.
Indeed, in the run-up to last Sunday's election, Ivanishvili said he began collecting out of a sense of national duty. "This all started because I thought about what I can do for the country, for tourism, to rejuvenate Georgia," Ivanishvili said during an interview with EurasiaNet.org. Adding that the proposed museum might have "one, two, three hundred million" dollars set aside to acquire works.
Ivanishvili also pointed out that, though his wife favoured Impressionist works, the pieces he could afford to buy would be less interesting to European tourists, when compared with the contemporary works he's been buying. With Georgian jobs, healthcare and pensions now on his to-do list, it's unlikely Ivanishvili will be picking up an auction paddle in New York or London any time soon. However, a major new contemporary art institution would certainly draw us over to the Black Sea state. Can't wait? Then consider our Peter Doig or Pablo Picasso books. They're certainly more affordable than a return-ticket to Tbilisi.