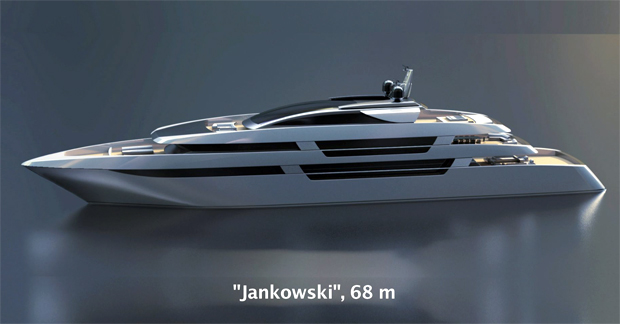 My other Caravaggio's a yacht
Can Christian Jankowski really sell a boat as an artwork at this week's Frieze art fair? Let's ask him
Christian Jankowski's giving dealers hoping to woo the world's super rich at the Frieze Art Fair this week a run for their money. He's selling both an Aquariva Cento speedboat and a CRN super yacht at two price points. You can buy the boats as er, boats, for their regular price, €500k and €65 million respectively; or you can buy them as official artworks, for a cool 125K or 10 million more. The German artist has a talent for exposing the absurd side of the worlds he inhabits. This year in London he's already revamped The Pump House Gallery with a TV makeover show team, while his Pop Idol-style video, Casting Jesus, which has just debuted at Lisson, had Vatican members auditioning actors to play the perfect Christ. Jankowski's modus operandi is typically the collision of strange bedfellows who turn out to have more in common than they might at first have realised. Yet, as he explains to Phaidon, this confrontational Duchampian twist is no simple send-up."
Why did you choose the Aquariva Cento speedboat and the CRN Super Yacht in particular?
"I made two decisions about the boats which are potentially becoming my sculptures. The Aquariva Cento is a real collector's item already. It only exists in an edition of 11 and the only people I know of who own the boat are the directors of the Ferretti Group [which the Aquariva shipyard and CRN are part of] and George Clooney. The CRN Super Yacht is 68 metres, so there's no way you're ever getting this thing on land. They're built on demand, according to the client's specifications, and start off in the water. It exists as a plan. If you buy the boats as an artwork, the small one is called Christian and the big one is called Jankowski.
Is this anything to do with the monster yachts we always see moored in Venice for the biennale?
"Yes. You see in Venice there's an overlap of interests: the yacht dealers, owners and collectors often also collect art. The CRN people said it happens many times that when a mega yacht is sold, a Christie's or Sotheby's van will turn up while it's being built. Somebody bought a Kandinsky and then colour-coordinated the yacht's curtains and cushions to their painting. It's a statement and there's nothing wrong in doing so. With this project, I'd like to see if one of the people who buys a mega yacht is ready for more conceptual art and something edgier than a Picasso, which can be easily be understood as an expensive artwork. I would love to be involved in a dialogue about the art on board. I would love to see a Carl Andre or Franz West sculpture on the Jankowski - works that deal with the performative part of the project."
Presumably if someone buys the boat as a boat, not as a work of art, they're legally obliged not to sell it on as an artwork?
"If it's bought as a boat I'm not allowed to name it either Christian or J, nor does it come with a certificate. If it's sold as a normal boat though, I think it's better than nothing happening. It's a different luxury object at an art fair. For me, the competition between art and non-art is stimulating. When I came up with the project, it was much more about having a boat dealer in the shoes of a gallerist. That's the performative part. He can be a salesperson for the art or the ship. He's playing two roles at once. I didn't (originally) expect that the big boat would be sold. Speaking with Ferretti and the group of clients they have, it becomes more and more thinkable that there is a slight chance somebody buys it. Super yachts are a representation of their owner's personalities. They lose value if it's second hand. It becomes more independent if it's a sculpture as well as a vessel. In that regard, it's not so much linked to the first client and even now buying it as an artwork, even if you were the second, the story is still continuing. It wouldn't feel like an old boat."
Who's the boat dealer and what does he think about it?
"He is the head sales director from CRN. He works next to the boss with all of the mega clients. He is always saying, "Wait, you will see, I'll sell it as an artwork." He's very confident!"____
Is the potential buyer's complicity part of the project?
"Yes. The co-author is the potential buyer. He makes it into an artwork. In that regard it really defers from a statement like Duchamp's readymades. He moved an object from one place to another. This departs from that by saying this sculpture is made in collaboration. And paying a big or small amount of money makes the action of the collector the thing that creates art and gives it value. I'm not saying it's the best investment ever. History will show! If you can afford it and you've already spent 65 million then if you spend 75, there's a chance that this vessel will have a higher value in the future. My artistic career, the next works that I will do, will inform the price of this thing."
Frieze runs Thursday 13 - Sunday 16 October. Follow the link to buy tickets to Frieze Art Fair. Look out for tomorrow's Frieze interview with art collective Lucky PDF.