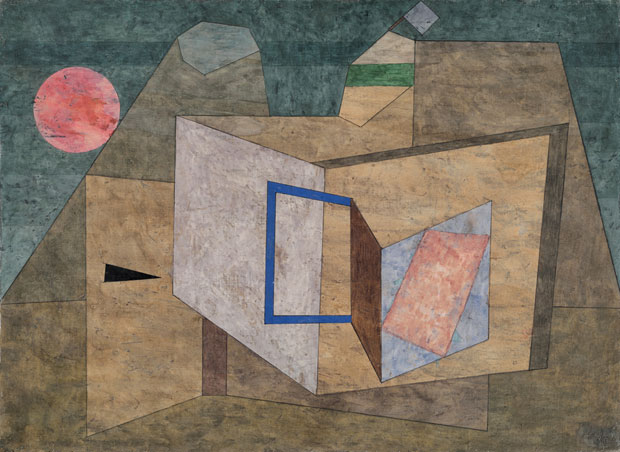 The ties that bound Carlo Scarpa and Paul Klee
Robert McCarter's new book on the mid-century modernist architect points out some fascinating similarities
While wandering around the wonderful Paul Klee show at Tate Modern this weekend we were reminded of Klee's relationship with the Venetian architect Carlo Scarpa whose work is very close to our hearts at Phaidon - we've just published a fantastic monograph on his life and work which you can read about here. As the book points out, in a chapter entitled Architecture Determined Not By The Whole But By The Part, Scarpa became intimate with Klee's work when installing his works in the 24th Venice Biennale in 1948. "During the 1950s we can discern a layering and fusion of Scarpa's various formal and spatial sources, combined with the ever-increasing importance of the work of Swiss Bauhaus painter, Paul Klee," the book recounts.
"Scarpa's employment of Klee's formal and colour patterns was likely less important than the fact that they shared an acute sensitivity to: the passage of time the insight that, in our experiences, time and space are not present in a logical, linear sequence; the understanding of the way in which our knowledge and experience of real places and events excludes unitary interpretations or singular points of view; the belief that experience consists in moving through an itinerary of related fragments and articulate details; and the idea that tactile and material experience are intimately tied to emotion, memory and the simultaneity of human time.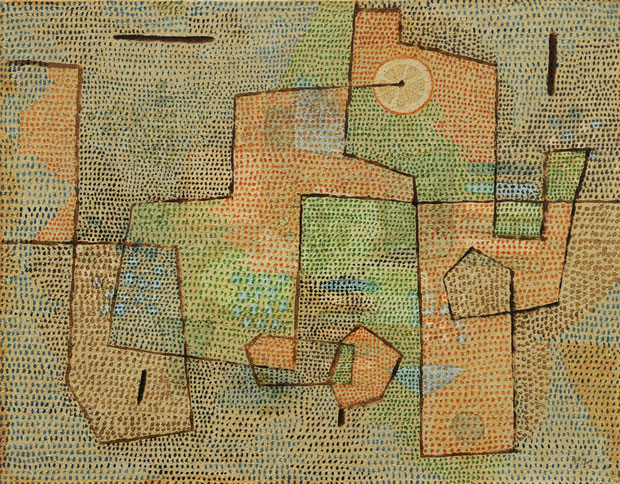 "In 1914, Klee wrote, "I should like to create an order out of feeling and, going still further, from motion." Scarpa's works shared this conception of motion motivated by emotion, as well as the idea of the importance of the tactile quality of materials and how our perception of time is changed by tactile experiences. Klee noted, "things that one has touched firmly, desultory things, are attached by a strong line and made into one ... Distance is time, whereas a surface is apprehended more in terms of the moment." In Scarpa's work we are brought into a more intimate relationship with things, but equally important is the relationship between things, the possibility that our experience of something changes due to its proximity to something else; collocation. Of the positioning of things, Klee wrote, "Whenever we bring different things together, the question of proportion comes up, the relationship between things and their position. Proportion is not only a question of actual measurements, but also of the forces at work in the measurements. It can be extended to produce local density, simplicity, or complexity."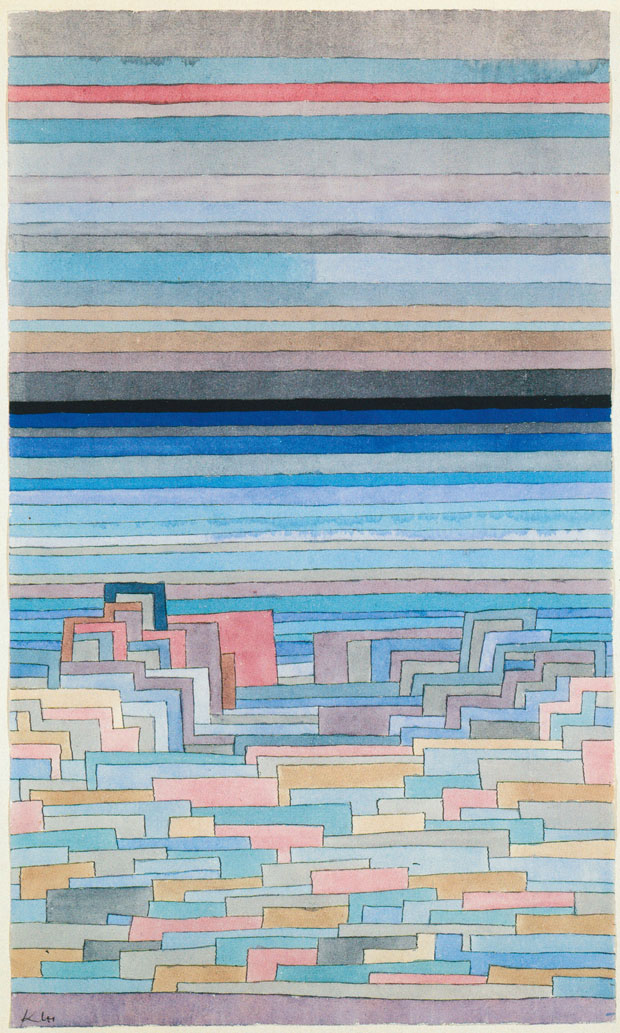 "In a definition that applied to all modern art and architecture, Klee stated, "one of the artist's basic problems is how to enlarge space. We do it by means of overlapping planes ... interpenetrating, so that here even boundaries are spatial." In Scarpa's work, the boundary, as both threshold and horizon, is critical to our experience. Klee notes that, "the passage of time brings with it a movement of the ground plane", and Scarpa's works are characterized by a layered topographic datum that serves to anchor our movement across its surface. Klee's paintings developed a structural tension by alternately emphasizing the erratically gridded field and the articulate fragment. Scarpa's work is similarly composed of highly articulated details set within a more ambiguously defined spatial field. Klee wrote, "we assemble objects, but the relationships we create between them can be plausibly experienced only in fragments." Klee believed that a work of art is assembled or constructed from articulate details, fragments and elements, and that "this formation is arrived at by a successive singling out of parts of the total form", a phrase that aptly describes the experience of moving through Scarpa's architecture. How we engage Scarpa's architecture is largely dependent upon our empathic experience of it. Klee refers to empathy as beginning with our experience of gravity, "our own physical-human dependence on this earth force [gravity] helps us to draw inferences about our fellow sufferer, the building, the physical object."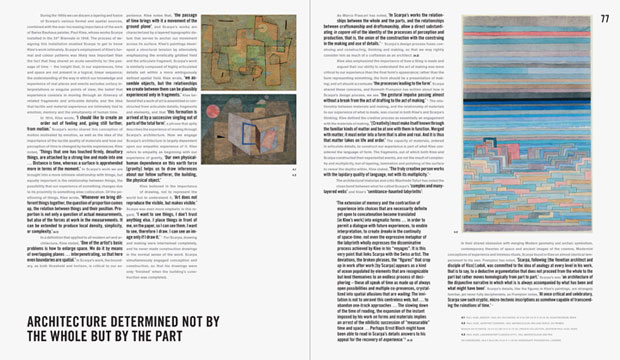 "Klee believed in the importance of drawing, not to represent the world, but to understand it, "art does not reproduce the visible, but makes visible." Scarpa was even more emphatic in this regard, "I want to see things, I don't trust anything else. I place things in front of me, on the paper, so I can see them. I want to see, therefore I draw. I can see an image only if I draw it." For Scarpa, drawing and making were intertwined completely, although he never created construction drawings in the normal sense of the word. Scarpa simultaneously engaged conception and construction, so that his drawings were only 'finished' when the project's construction was completed."
The chapter goes on to point out myriad other examples where the thought processes, motivations and complexities of painter and architect were intertwined. As the book points out "Scarpa found in Klee an almost identical temperament to his own." You can read Phaidon editor Tom Wright's introduction to the book here, look through a gallery of images here and find out about the design of the Scarpa book here. If you're in New York there's a fine show of his glasswork which you can read about here. Once you've done all that, we're sure you'll want to buy the book from the people who made it, here.