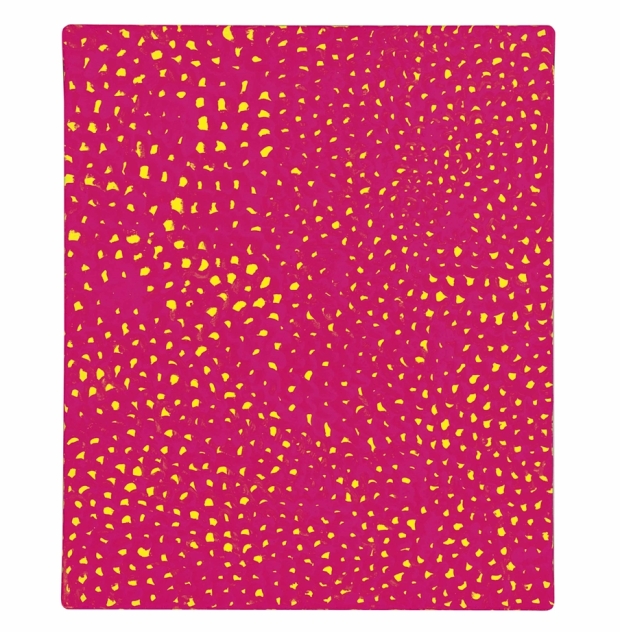 From Book to Bid – Kusama's Infinity Nets (ZYA)
Damien Hirst asks the artist about the loneliness in her work on auction at Christie's, NY next week
Spring is upon us, and the season's important post-war and contemporary art sales are being held at leading auction houses in London and New York. There are some truly impressive works going on the block, many with interesting stories to them. With this in mind, we thought you might appreciate some insight some of the pieces on sale, courtesy of our wonderful catalogue of contemporary and modern art books.
Earlier this week, as part of this series From Book to Bid, we highlighted author Paul Moorhouse's take on Cindy Sherman's Untitled #470, up for auction at Phillips' evening sale in New York on May 14, and Adrian Searle's thoughts on Peter Doig's painting Swamped, lot 5A in the Looking Forward to the Past sale, to be held at Christie's in New York on Monday 11 May.
Today we are returning to Christie's New York, with a look at one of Yayoi Kusama's Infinity Net paintings. This work, Infinity Nets (ZYA) is Lot 259 in the auction house's post-war and contemporary art day sale, scheduled for May 12.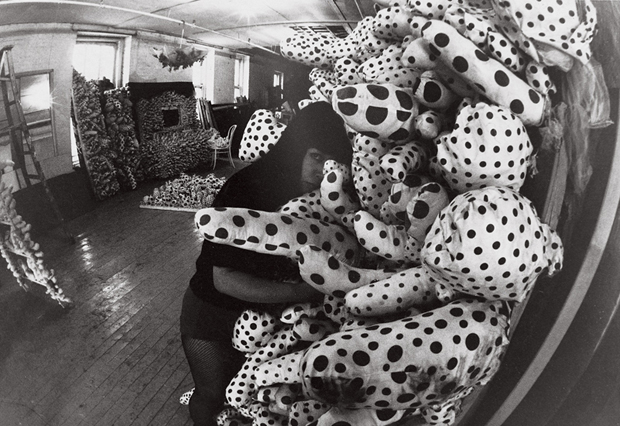 The painting is a fine example from a series of tightly packed abstract works by the Japanese artist, who has grappled with mental illness for most of her adult life. The canvas up for sale was painted in Japan, where the artist has been living for the last forty years. However, Kusama first created and showed her Infinity Nets series in New York during the late 1950s, when Abstract Expressionism dominated contemporary art. Phaidon author and MoMA curator Laura Hoptman takes up the story in our Kusama monograph.
"In October 1959, eighteen months after her move to New York, Kusama had her first solo exhibition at Brata Gallery, a well-respected East 10th Street artist's co-operative known for championing second-generation Abstract Expressionists," she writes. "In this exhibition Kusama showed five mural-sized white monochrome canvases covered densely and completely with spiraling chains of tiny circular marks, called Infinity Nets.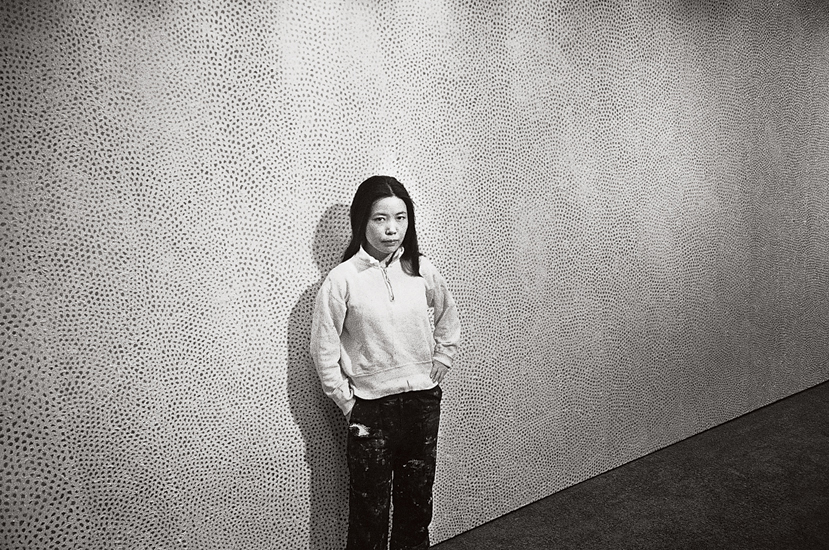 "Although she had employed the Infinity Nets as a motif in her paintings and drawings as early as 1948, the 1959 Nets, with their severely restricted palette, and all-over repetitive pattern, were like nothing the artist had previously produced. Painted from edge to edge on enormous canvases that recalled the heroic scale of Jackson Pollock or Barnett Newman, these Infinity Nets, though similar in motif, lack the delicacy and tenebrous emotions of the gouaches made in Japan. Untitled, save for a muscular numeral or letter designating the order in which they were completed, the Infinity Nets boldly referenced the New York School and, on its own ground, challenged its hegemony. Describing the brushstrokes she employed as 'repeated exactly in monotone, like the gear of a machine', Kusama remembers that painstaking sameness of the composition was a deliberate attempt to find an antidote to the emotionalism of Abstract Expressionism."
"One cannot help but conclude that it was the repetitive quality of the Nets, as well as their non-relational composition and what was perceived as their 'profound detachment' that attracted the interest of nascent Minimalists like Judd and Stella, both of whom purchased works from Kusama's earliest painting exhibitions."
"While it is not difficult to see why Kusama's Infinity Nets might have attracted the interest of American Minimalists like Judd and Stella," Hoptman goes on, "Kusama's work is utterly different from her Minimalist counterparts in its execution and in its mode d'emploi. Despite her descriptions of her brushstrokes as 'mechanical', and of the paintings themselves as 'empty' one does not have to believe that the Infinity Nets are [as with other Kusama works] direct transcriptions of hallucinations in order to understand them as highly personalised expressions of the artist's persona. Most obviously, however rote the specific repetitive action used in putting paint on canvas, the result is insistently handmade. Whorls of chain-linked circular forms accumulate in a kind of painterly crochet around a few central nodules strewn at random across the surface, creating an unsystematic pattern as varied as those found in nature and as personal as a signature."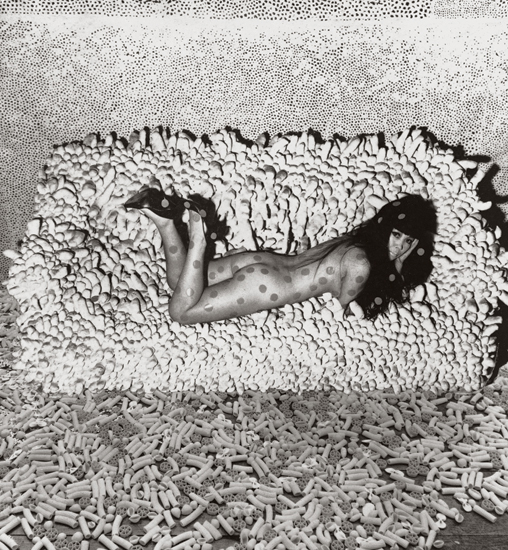 This hint at the Infinity Nets being a kind of behavioural therapy is echoed elsewhere in our monograph. In 1998 Damien Hirst interviewed Kusama. At this point, the artist was living in a Tokyo psychiatric hospital. Yet she was still painting Infinity Nets, and saw art as a way of dealing with her predicament.
In the interview, reproduced in our monograph, Hirst asks Kusama, "Do you feel lonely being an artist?" Kusama answers: "I am very lonely being an artist, and in my own life. It is almost unbearable, especially when I hear the sound of the tree leaves trembling in a wind storm. When I go up to the rooftop of a high-rise building, I feel an urge to die by jumping from it. My passion for art is what has prevented me from doing that."
Do Kusama's Infinity Nets stop her from falling? Perhaps that stretches the metaphor too far. Though it does encourage us to see more tumult in her abstract works, when compared to cooler minimalist paintings from a similar period.
If you're bidding on this Infinity Net, or indeed any other works on auction this season, we wish you luck. You can learn more about this important artist in our monograph. And if you like Kusama take a look at this charming beach towel, on offer over at Artspace.