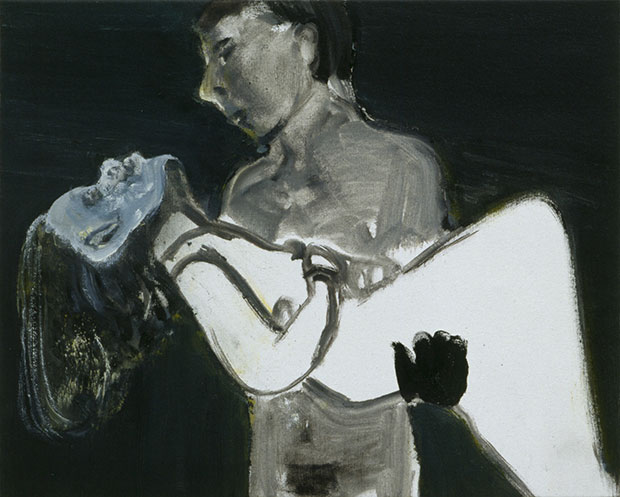 Marlene Dumas on her incredible Tate retrospective
'Putting a show like this together evokes all kinds of different emotions. Sometimes you think, oh it's lovely to see you again, other times you think, oh I still don't know if I ever should have made this!' the painter tells Phaidon
Oscar Wilde said that if you are only capable of loving one person then you are quite limited. It's a phrase painter Marlene Dumas, who says she'd like everyone she's ever "met or seen to be touched by her hand", often returns to when talking about her work.
"Mae West, who had so many different lovers," Dumas says, "was once asked if she had ever found a man who could make her happy. She replied, 'Yes, many times.' In a way, my work is a record of all the people in my life."
Those people, some sad, some happy, some lonely, infuse the private and public spaces of a new Tate Modern show that opens today. Even judged against recent Tate Modern blockbusters, Marlene Dumas: The Image as Burden which runs until May 10 is both huge and a hugely successful collection in its scope and presentation.
Containing well over 100 pieces of work over 14 rooms, spanning over 50 years (the first piece, Miss World is a crayon drawing of a Miss World pageant from 1963 Dumas made when she was just ten) the show is the first retrospective of its kind in Europe of the South African born, Amsterdam resident painter.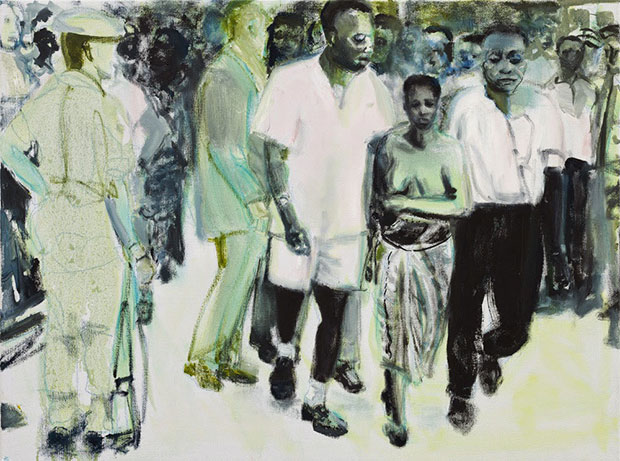 Much of the work on show while controversial, is characterized by an immediacy and expressiveness. Much of it is psychologically, sexually or politically charged work created within the mental framework of an obviously expansive knowledge (and love) of art history. Unlike many retrospectives, it also gets better as you move - pretty much chronologically - from room to room.
It offers a compelling overview of Dumas's work, taking in images of both the famous and the infamous, the unknown and her intimates. Add in a colonial war and a political assassination or two and you have what was obviously a real labour of love to curate so successfully. We heard from the women who put it together, Head of Programme Realisation Helen Sainsbury and Tate curator Kerryn Greenberg yesterday morning and we'll be bringing you their thoughts on the show in the coming days. For now though, this is how Marlene described the gargantuan effort of putting such an all-encompassing show together when we caught up with her briefly after the private view.
"It's been hard because you know I haven't had, even in Amsterdam, such a big show and that's where I live! I've been mostly doing my shows in other places so I was very worried about that. Different spaces always affect the choices you make, and you always have somehow in every installation you make, some things that don't end up with a space!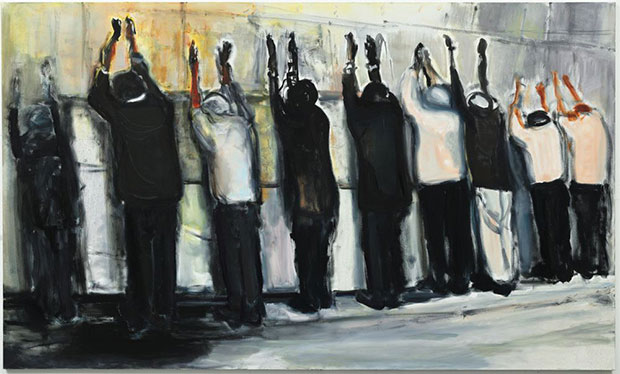 "We had the basic set up of how the rooms would be but obviously then things happen and you think, oh, I haven't seen this one for so long and this one actually works too! Then you go from room to room and you think; where do we go now? And then sometimes, one painting sort of doesn't like the painting next to it. A painting can really sort of dull or kill the painting next to it if it's not right. It's actually really interesting to see how the colours can change. With some things you know what you want and others not.
"So putting a show like this together is full of all kinds of different emotions. And you're touched by all the different kinds of emotions. Sometimes you think, oh it's lovely to see you again, other times you think, oh I still don't know if I ever should have made this, maybe I shouldn't have even made it in the first place! So there is a lot that comes into play. There were quite a few moments like that. And then there was a room left over for new paintings - which I did not make! So I'm only starting to relax now!"
We took the opportunity to ask Marlene about something Luc Tuymans said last week when we spoke to him at the opening of his new David Zwirner show. Commenting on his fellow Zwirner artist, Luc had said: "She doesn't make female paintings. She makes pretty powerful paintings. It's not just about feminism or something. It's really right there. That's what I like about it." Luc's comments seemed to echo something Dumas once said about her being "an artificial blonde.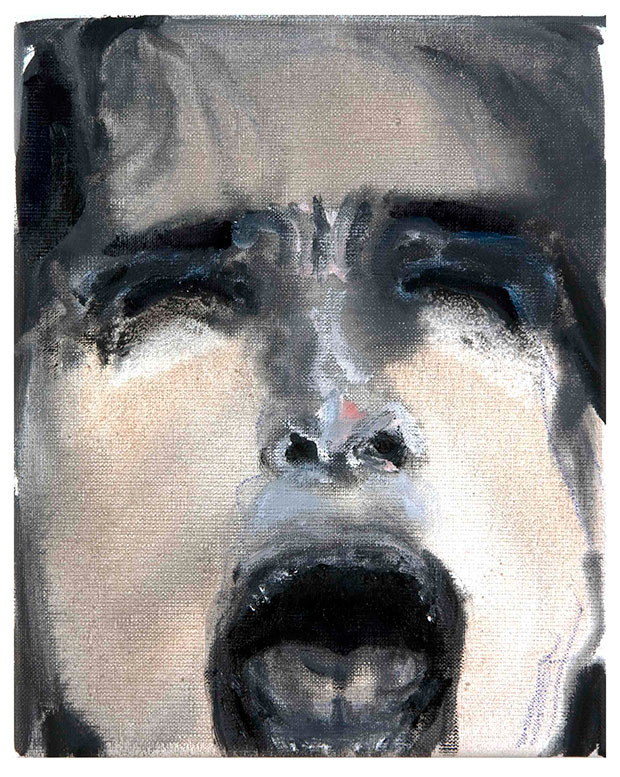 "Oh yes, that was because I had been asked to write about why I paint, as a woman. The idea was that, apart from the fact that painting is dead, it's also for dead males. I thought, why always be on the defensive, why not turn it around? So I decided that instead of saying that in spite of the fact I'm a woman, I also like to paint, I'd say I paint because I'm a woman, I paint because I'm a blonde."
"But that's very, very nicely said. I mean, but I should. . . oh yeah the use of the word feminism if you used you know a feminine painting like in the old days when it was a derogatory thing, like someone who made soft shapes, or only round shapes, then I'm definitely not that!
"But I can do the same with him (Luc) I think. He's a very strong painter but even though people think he is, he's not your standard macho painter either in terms of certain sensitivity that he uses in his work. So maybe he's a woman and I'm a man! Or we both create what all art should be – androgynous! It was (surrealist photographer) Méret Oppenheim who said that good artwork has got different qualities in it so in a sense it is an androgynous thing and I stongly believe that."
We'll be bringing you more about the show in the coming days. If you're planning to go why not pick up a copy of our Contemporary Artists Series Marlene Dumas book in the store.