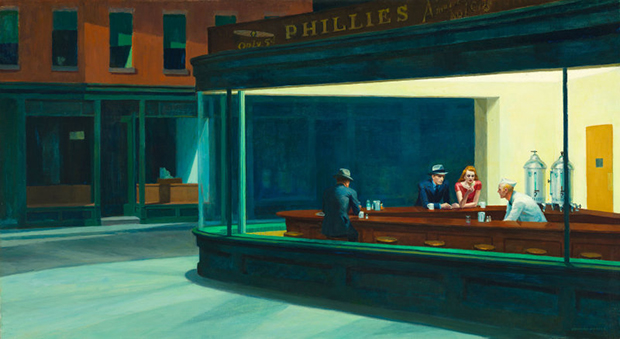 The search for Edward Hopper's Nighthawks diner
It's the most famous corner in American art history, parodied by Banksy and the Simpsons, but where was it?
Spiritually, we are all familiar with the diner in Edward Hopper's famous 1942 painting Nighthawks. "At one level, the picture is mundane: a simple, all-night coffee shop in the city, redolent with insomnia, companionship, small talk," writes Walter Wells in our Hopper monograph. "On another, though, the image powerfully strikes a chord within us – the need we all have for sanctuary, a safe, uncomplicated well-lighted island of refuge against the unsettling night."
Hopper's wife Jo kept a journal at the time detailing the artist's ongoing works. Her writings reveal that the intended name for the piece was Night Hawks and that the title may have referenced the beak-shaped nose of the man at the bar. She later revealed in a letter to Hopper's sister Marion that Hopper had posed for the two men in a mirror and she for the girl. On its first showing in late 1942, the painting which took Hopper a month-and-a-half-to complete, was bought for $3,000 by the Art Institute of Chicago where it remains to this day.
Yet, geographically, where was the glazed corner diner that Hopper featured in his canvas? The artist himself said the painting was based on a corner coffee shop in lower Manhattan that stood on Greenwich St, a spot that may have been redeveloped during the 1960s to make way for the World Trade Center towers.
However, Hopper did not copy his fabled scene directly from life; he admitted later that he had "simplified the scene a great deal and made the restaurant bigger."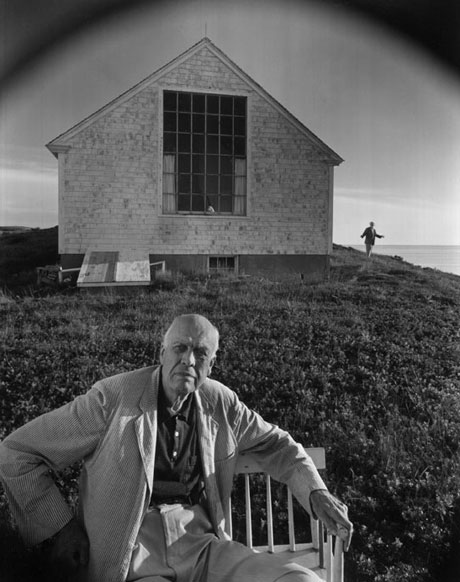 Just how great a degree of artistic license Hopper applied is the subject of much debate. Up until recently Hopper historians identified the corner where 11th Street and Seventh Avenue meet, otherwise known as Mulry Square, as the Nighthawks roost.
However, the New York cultural geographer Jeremiah Moss has trawled through maps and archive photography, to draw a different conclusion. Moss discounted a previously identified plot, at the intersection, about seven blocks west of Hopper's studio on Washington Square. No café had stood here during the early 1940s; instead, it had been home to a petrol station.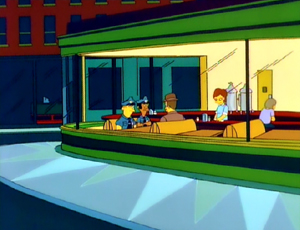 Moss identified another spot, listed in a 1950s land use map as being occupied by a diner, where Perry St meets Greenwich St, yet he was unable to match the restaurant to a photograph from that time. Ultimately Moss concluded that the diner probably only ever existed as "a collage in Hopper's imagination."
Yet what a collage. The picture has been parodied by Banksy and the Simpsons, featured in Ferris Bueller's Day Off, and even informed the look and feel of such diverse big and small-screen successes as Blade Runner and Better Call Saul.
Indeed, the illusive diner scene might be packed with more than just existential loneliness. In our new book, Modern Art in America 1908-68, author William C Agee suggests the sharp lines and careful rendering of artificial light embody US modernism.
"The vertical supports of the diner and its window seem to be another American adaptation of a European structural system that appears over and over again after 1940, when Piet Mondrian arrived in New York," writes Agee. "The garish, brilliant yellow of the interior walls also point directly to Mondrian. At the same time, the rendering of illuminated light on both indoor and outdoor surfaces, animating the dark of night, tells us once again how great a painter Hopper was."
While the site of its real-world inspiration remains illusive, the brilliance of Hopper's painting has ensured its permanent place within art history.
For greater insight into both this painting and many others, buy a copy of our Edward Hopper monograph, Silent Theater, here. For more on this work's position within a greater history of US modernism get Modern Art in America 1908-68, here.