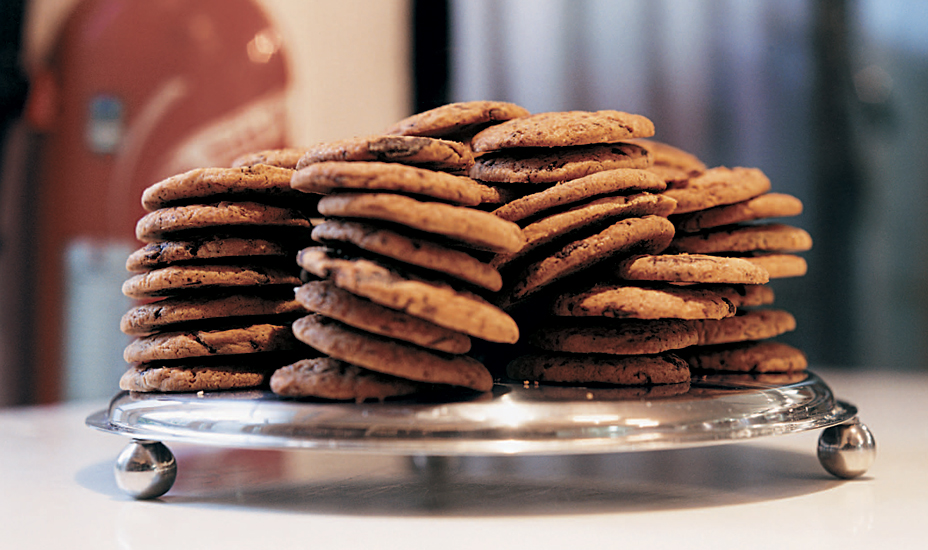 Chocolate chip biscuits
A recipe from Breakfast, Lunch, Tea
Makes: about 25 biscuits
Ingredients:
225 g (1 cup) unsalted butter, softened, plus extra for greasing
220g (generous 1 cup) caster (superfine) sugar
1 teaspoon natural vanilla extract
2 eggs
½ teaspoon salt
½ teaspoon bicarbonate of soda (baking soda)
360 g (generous 2⅓ cups) plain (all-purpose) flour, sifted, plus extra for dusting
250 g (9 ounces) chopped chocolate
Method:
Beat the butter with the sugar till light and fluffy, then add the vanilla extract.
Add the eggs, one at a time, beating well after each addition. Mix together the salt and bicarbonate of soda, and fold into the mixture with the flour.
Finally fold in the chocolate and mix till smooth.
On a lightly floured surface, roll the dough out into a log shape 4cm (1½inches) wide, and chill in the fridge for about 2 hours till hard.
Preheat the oven to 180ºC/350ºF/Gas Mark 4. Butter a baking tray and line it with parchment paper.
Cut the dough into 5mm (¼inch) slices and place them well apart on the prepared tray.
Bake for about 10 minutes or until lightly golden. Cool.