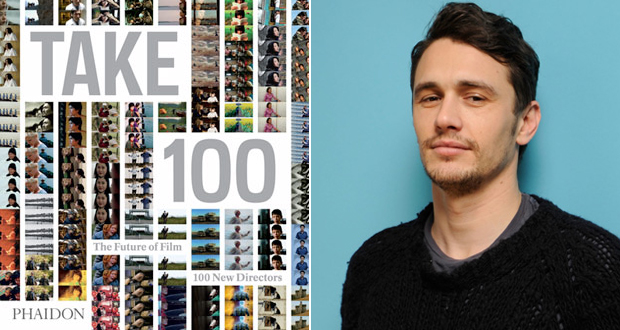 The Failsafe Gift Guide - chosen by James Franco
The multi-talented actor, screenwriter, producer, author and artist chooses the perfect Phaidon reading list
While James Franco was getting involved in the Required Reading event held at Phaidon's New York store earlier this week, our colleagues took the chance to ask the American actor, film director, producer, screenwriter, author, painter and performance artist (yes, he really is all of those things) about his favourite Phaidon books.
With Christmas fast-approaching these choices could just help you in finding a failsafe gift for friends or family. You can purchase any of James's favourite Phaidon books from our New York store or the brand new London store at Boxpark. For those of you who would rather avoid a trip to the shops, you can be saved the pain by doing your Christmas shopping at our online store.
__Take 100: The Future of Film: 100 New Directors " I don't know half of these directors as they have been culled from around the world. Only film festival programmers could have knowledge of this eclectic group––you would have had to search hard to find many of these films at American theaters. This book provides a road map for the future of the soul of film."
Vitamin P2 "Like Vitamin P before it, this book is an important survey of contemporary painting. Phaidon is always up-to-date with their surveys and this book is invaluable for its account of what is most current in the world of paining."
__Defining Contemporary Art: 25 Years In 200 Pivotal Artworks " This book takes a survey approach by focusing on specific pieces that have made an impact in the past 25 years. All the important artists are in there with informative analysis of some of their most important pieces."
Conceptual Art, Edited by Peter Osborne " A beautiful documentation of the art that has defied form. Here the art of the idea is made manifest and clear by an exhaustive survey of the past five decades of contemporary art with no-bullshit critical analysis and accompanying text by many of the artists."
__Contemporary Artists Series: Marina Abramović " She has been at the forefront of performance art since it made a splash on the American and international scene 50 years ago. Her career, documented here, is a path through the history of performance and video art. Her ever evolving career and recent explosion of recognition after her show, "The Artist is Present" at the New York MoMA has well established her as the grandmother of performance art."