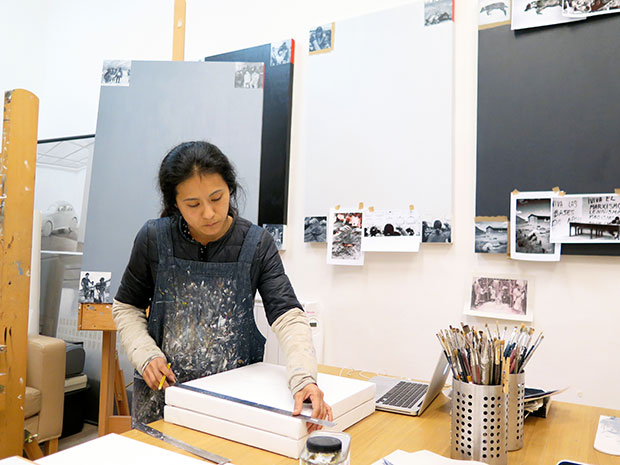 Sandra Gamarra - Why I Paint
Exploring the creative processes of tomorrow's artists today - as featured in Vitamin P3
Peruvian-born Sandra Gamarra is known for producing paintings that copy other artworks or museum displays. In the Latin American context, translation and copying are an essential part of igniting the memory of an object, translating the past as it is recovered in the present. As Gamarra describes, "without copy there is no original".
She is interested in the processes of memory and the way in which objects play a role in capturing and maintaining memory. Her practice examines the mechanisms within exhibitions, institutions and visual modes of art distribution that become metaphors for the construction of individual identity. As she has stated, the aim is "to hide, expose, reflect and alter assumed structures".
Gamarra's brushwork is delicate and precise, resulting in what appear to be hyper-real collages. The effect is to give a blurry identity to objects or images that we may feel we know well – a gentle prod to reassess how we approach such things by weaving new narratives around them. Here, the Vitamin P3-featured painter tells us what interests, inspires and spurs her on.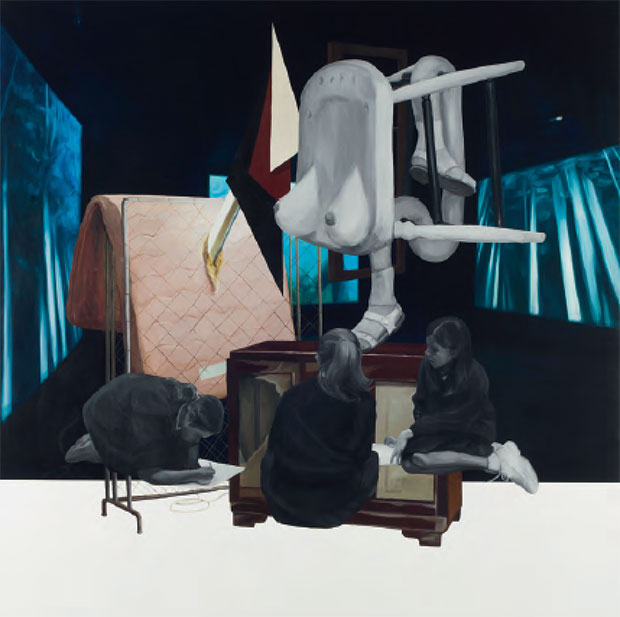 Who are you? My name is Sandra Gamarra Heshiki. I am Peruvian and was born and raised in Lima. I am a painter and among other things I am the patron of LiMac a fictitious museum that I developed in 2002.
What's on your mind right now? I currently work on a series of appropriations entitled "Original Version with Spanish Subtitles." They are copies of classic paintings with comments written in Spanish on the canvas. So far, my copies always have been closer to an image of the original work but now I also think to solely work with the materials that are left in my studio. I want to use them all and see what happens along the way. I am about to run out of raw sienna.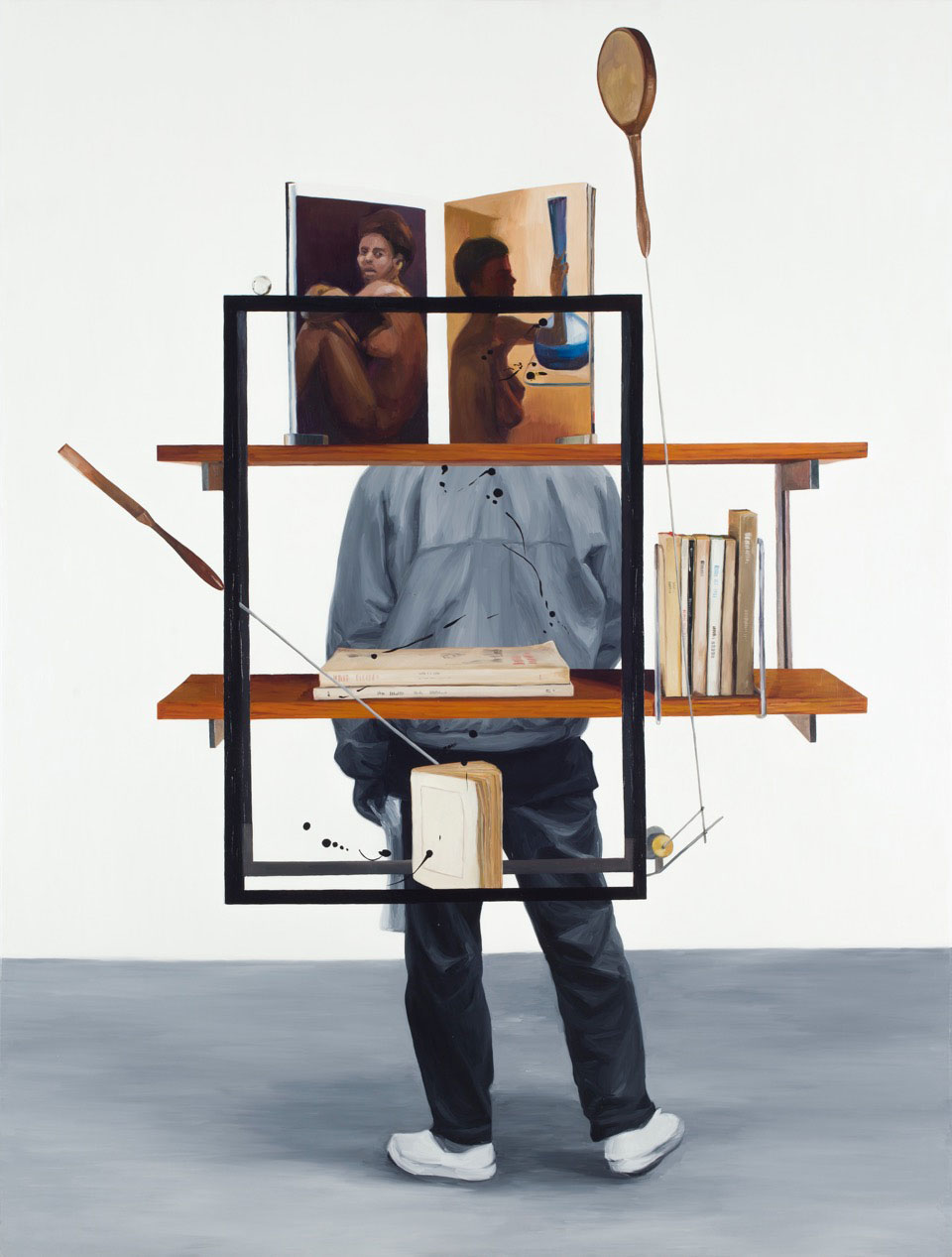 How do you get this stuff out? By reviewing clips that I keep or situations that stick around and of circumstances that I live and that do not fit anywhere. But, my goal is not to get them out. I believe that, just like science, each time that you think to know something new there are more things that you do not know about it, so ignorance also grows as you learn. It all comes from going back to the same and to reorganize the things with which you do not feel confortable.
How does it fit together? It fits like a collage as I place one image over the other. Linear time is a dictatorship that seeped into everything. I prefer to place an image over another so that times coexist suspended in equilibrium and layers. There always is an underlying narrative, there is a temporality that you cannot escape, nonetheless I do not try to be on a straight line but would rather maintain myself on the curve where you inevitably have to lower the velocity. Painting, at least in my experience, has its proper dynamic, its own rhythm, a succession of stages that organize themselves slowly.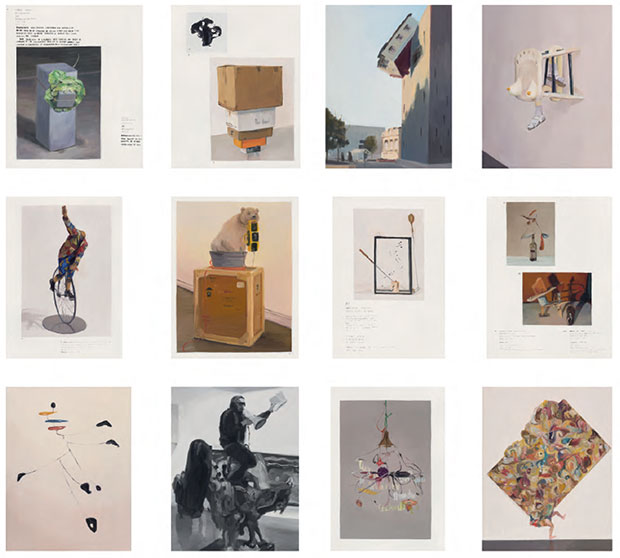 What brought you to this point? To copy as it is and the certitude to not want to create more images, but to only go through them and to translate them somehow. Then, I started to condition the images and think about stories that I could create in parallel. All of it is part of the tradition of the "copyist" that comes from Spanish colonial times up to the present where to copy appears to be an act of submission but mostly is an act of displacement.
Can you control it? Painting gives me some control; there are paintbrushes, certain colors, space, etc. The hand can reach up to where it can and you work with it. From that point on I do not control nor do I intend to control something. There is an image that I believe to recognize and I follow on until then.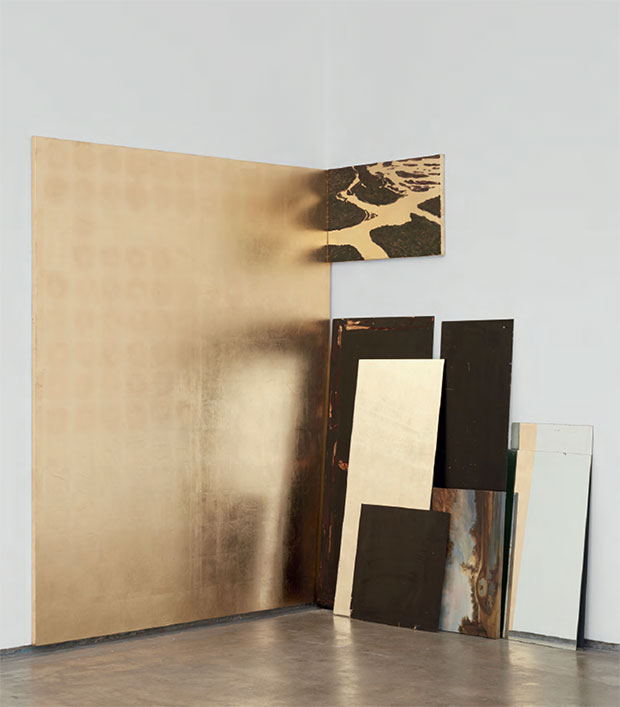 Have you ever destroyed one of your paintings? I painted over canvases that already were painted but not with the goal to destroy what was previously done but with the intention to reuse the canvas. "Hay que destruir para volver a construir" (loosely: You have to destroy in order to rebuild) as says the song from Narcosis. What I did do was to throw away a few paintings, which is a sort of destruction. They had been kept in bad conditions and I thought that the best was to stop thinking about them, months later I found them in a flea market in Lima.
What's next for you, and what's next for painting? Right now I hope to finish and use all the materials that I have in the studio. Maybe end with all of them, end with the studio and go back to paint at home. Painting is slippery, when you think that you arrived at some place it goes back, folds over itself, it dries, it cracks and gets restored. What´s next for painting? Retouching varnish.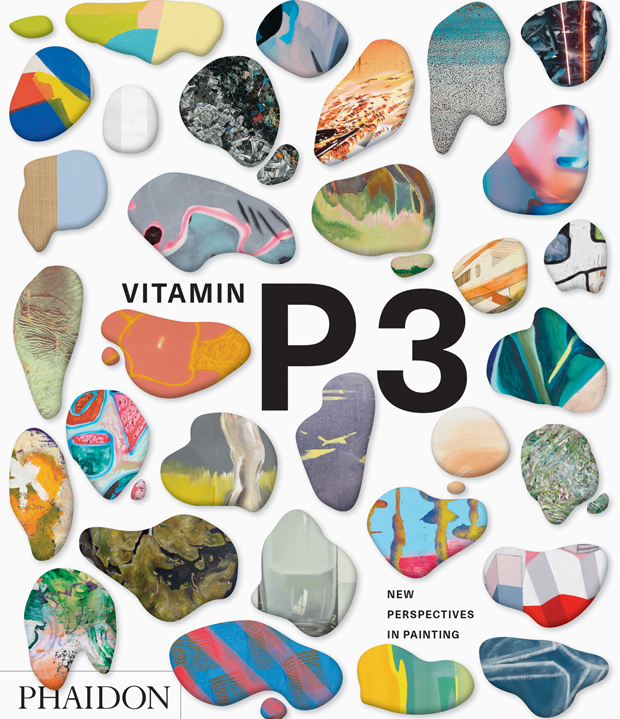 Vitamin P3 New Perspectives In Painting is the third in an ongoing series that began with Vitamin P in 2002 and Vitamin P2 in 2011. For each book, distinguished critics, curators, museum directors and other contemporary art experts are invited to nominate artists who have made significant and innovative contributions to painting. The series in general, and Vitamin P3 in particular, is probably the best way to become an instant expert on tomorrrow's painting stars today.
Find out more about Vitamin P3 New Perspectives In Painting here. Check back for another Why I Paint interview with a Vitamin P3-featured artist tomorrow. Finally, be sure to check out more of Sandra's work at Galeria Leme.