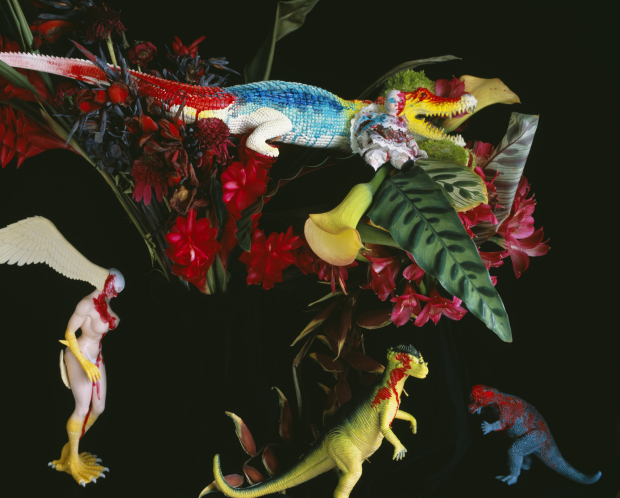 Think you know about Nobuyoshi Araki?
There's more to the photographer than bondage and sex says Zippora Elders, curator of a new show
Those only passingly familiar with Nobuyoshi Araki tend to associate him with sex. The 74-year-old Japanese photographer, best-known for shooting nude models bound with rope in the Kinbaku style of Japanese bondage has even claimed in the past to have had sex with every one of his models.
Yet a new exhibition, opening at Amsterdam's Foam museum this Friday 19 December, serves as a corrective to his somewhat priapic reputation. The show, which Araki himself helped put together exhibits both archival material and very recent work. There's plenty of bare flesh, but also many images that bring to mind the septuagenarian's other great preoccupation: death.
Called ARAKI Ojo Shashu – Photography for the Afterlife: Alluring Hell, the exhibition takes part of its title from the eighth-century Buddhist book,Ōjōyōshū , and features the series qARADISE, photographs of flowers and dolls, as well as the never-before-exhibited Alluring Hell set of images from 2008 – a set of erotic black and white photographs overpainted by Araki himself.
As she prepared for the exhibition's opening, Foam curator Zippora Elders told Phaidon.com about the show's genesis, Araki's public perception, why there's so much more to his work than simple erotica, and how the death of his wife is key in understanding his provocative, yet nuanced images.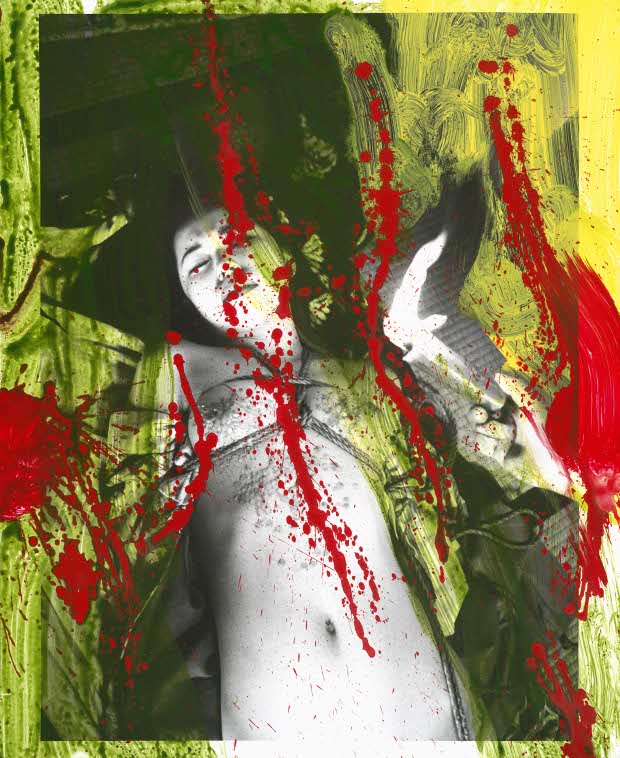 How did this exhibition come about? Well, Araki and Foam have had a good relationship for many years, but just recently Araki and Foam started to talk about an exhibition, a specific collaboration that was set-up with the help of his gallery in the Netherlands.
Tell us about Ōjōyōshū. Is this a well-known book? The text was written in 985 AD by a Japanese Buddhist monk called Gensin and proved quite influential in the region. Both the thinking and the way of making art were influenced by this book. It contains quite graphic pictures of hell and the sufferings one might go through in the afterlife; interestingly enough these images hint at medieval and early modern books and images that we know from European art history.
What surprised you about the photographs in this show The gloomy tone of the qARADISE photographs is fascinating. I liked it very much and I believe it's an interesting take-off point for the rest of the exhibition: it is an invitation to Araki's current mood. Although stylized, the arrangements come through as very personal.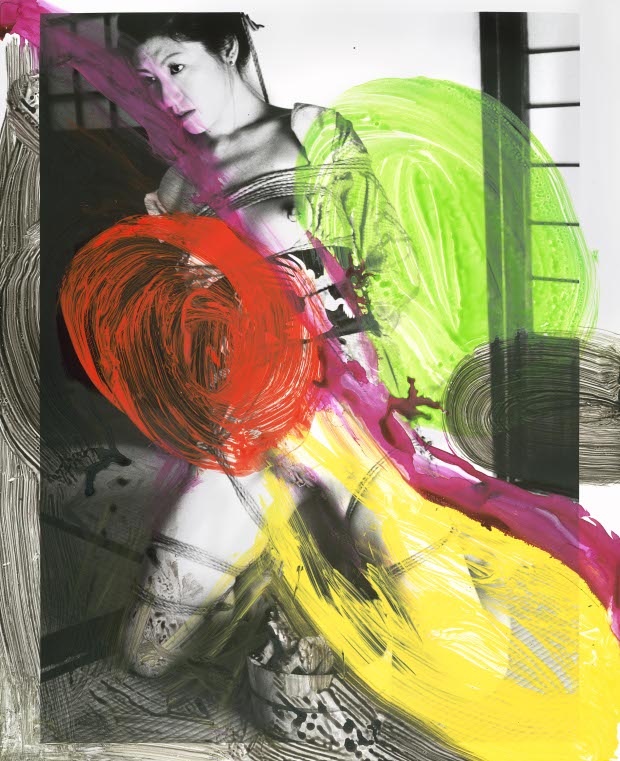 Tell us more about qARADISE. How would you characterise these photographs? Araki picked the flowers in the images himself from the bouquets that were weekly delivered to his home. Interestingly, he considered the ones that were almost dying the most appealing. They are still colourful and extravagant, but don't hint so much at sexuality and fertility anymore as his earlier, well-known flower 'portraits'. Combined with the plastic dolls, animals and dinosaurs, the qARADISE tableaux are rather nightmarish and gloomy. Also, personally I find them beautifully sad. The arrangements seem to depict some sort of imagination of the afterlife. It's a wonderful starting point for the exhibition, which in a way indulges the audience in his current mood, and his reflections on his always intertwined lifetime's work and personal life.
We love Araki, but some people see him as a misogynist or a pornographer. Can you address these accusations? Of course I can understand that some of his photographs are disturbing for some people, they can be quite graphic. But I think that you cannot – that is, when you look at and really 'experience' his work – consider him as misogynistic. There is definitely a lot of love in his photography. Probably there is hate too, since for Araki polarities always collide, but it is not so direct that it is just about 'all women'. Although sometimes explicit, in general Araki's work has a certain degree of kind-heartedness to it. It's often very personal and intimate, about exploring, questioning and dealing with life. The themes are universally human, but I don't think his work is about statements.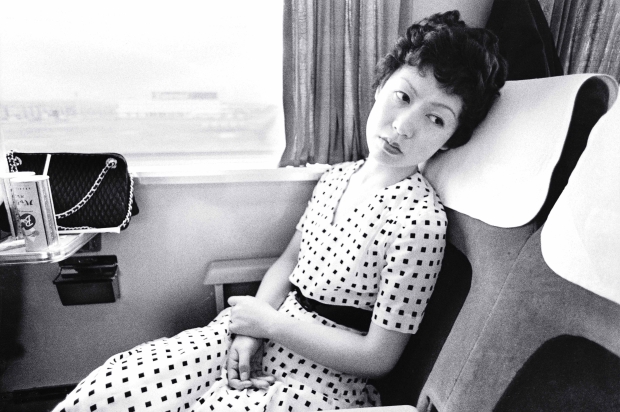 Some commentators note that Araki is a widower. How important is his wife's death in our understanding of his work? Yoko's passing influenced Araki's whole life, and photography is his way to live, so the memories of her are always present. In 1990 Araki published Sentimental Journey / Winter Journey about her final journey. It's a combination of his 1971 series photobook Sentimental Journey about their honeymoon, and new photographs about her then recent death. In 1971 he captured the complete honeymoon: the wedding photos, the journey, their dinner, the wedding night. In 1990 he combined this with the sickbed photographs. It's very tragic, but also touching and beautiful. Also, in Araki's oeuvre, 1990 is a turning point: the predominance of subjects that relate to pleasure and sexual bliss gave way to more rawness, melancholy and explicit images.
And then there was Chiro, Yoko's cat. By the end of Sentimental Journey / Winter Journey we saw her cat playing on a snowy balcony; the cat was Araki's living memory of Yoko. Araki and Chiro continued to live together after Yoko's passing .Chiro's death in Spring 2010, twenty years later, lead to the publication of the third book Sentimental Journey / Spring Journey. The series about Chiro show both light-hearted homeliness as well as deeply moving memories. Just like with Sentimental Journey / Winter Journey, happy and painful memories interchange. In Sentimental Journey / Spring Journey Araki follows the process of Chiro's passing away closely, and shows how life always goes hand in hand with decay.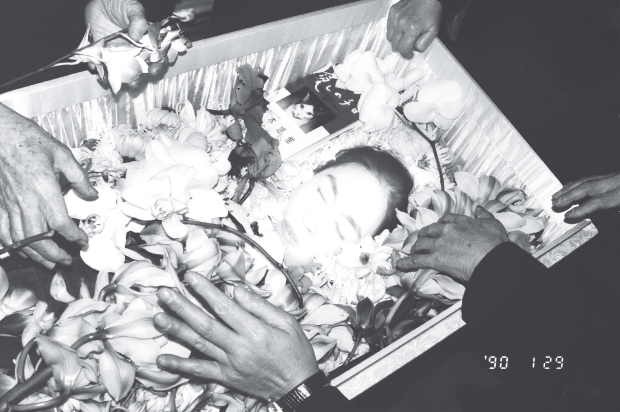 The painted photographs in this new exhibition are among the most eye-catching, has he done a great deal of painting? Araki's oeuvre is mainly about analogue photography, but drawing and painting do recur in his work. After Yoko's passing in 1990, Araki for some time simply photographed the sky; this can be considered both a practical study of light, and the symbolic meaning that lies behind it. In the same period, Araki made the first prints wherein he colours these skies with paint. I think it's a moving sight that touches upon the sublime.
Moreover, Araki recently rediscovered his series of overpainted black and white prints from 2008 that had never previously been exhibited. The photographs depict female models in varying poses: shy and provocative, passive and active, strong and oppressed. These erotic portraits are overlaid with Araki's wild brushstrokes. The spectator doesn't know if he wanted to hide their private parts, or simply add expression and gesture to their sexuality. Again, it is all about contradictions – he conceals and reveals simultaneously. Araki made an 'image' of himself too, he makes those drawings of himself with his moustache, round glasses and his hair sometimes combed into devil's ears – it's iconic. Also, in his book about Chiro, the back cover showed this self-portrait drawing with tears. It almost moved me to tears as well.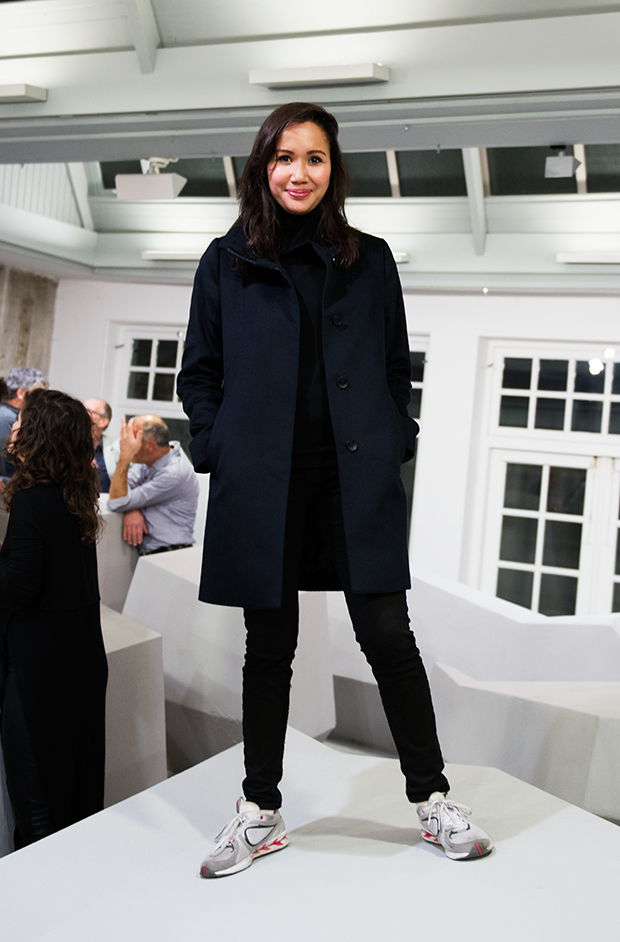 What are your hopes for this exhibition? What do you want visitors to come away with? I hope our audience will enjoy the unique beauty of Araki's work. His photographs and photobooks are wonderful, intriguing and touching on so many levels. And there's so much of it, the exhibition presents the 'consequences' of his obsessive working method over the years and shows how he wanted to capture every detail of life. I hope the exhibition will add something to the dominant ideas about Araki, because he does so much more than erotic photography. In Araki's work it's all connected, he moves constantly between polarities: sex, creation and destruction, life and death, heaven and hell, fact and fiction, passion and reason. His work is deeply rooted in Japanese-Buddhist culture: decline always announces a new era. Indeed Ojo Shashu, the exhibition title, refers to this belief.
ARAKI Ojo Shashu – Photography for the Afterlife: Alluring Hell is at Foam, Amsterdam 19 December – 11 March 2015.
Browse through our Araki books and collectors' edition prints here.