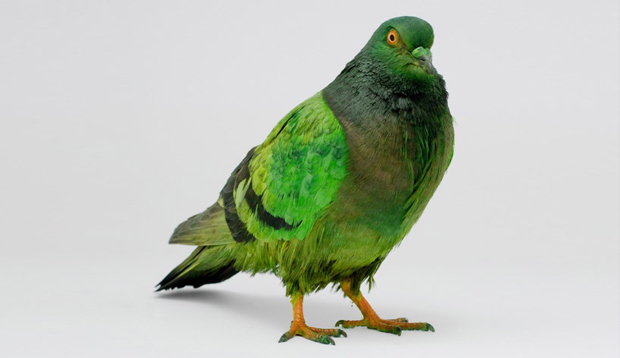 Painted pigeons ruffle feathers at Venice Biennale
St Mark's Square installation by Julian Charriere and Julius von Bismarck criticised by animal rights groups
We had lunch with photographer Roger Ballen yesterday and he told us some amusing stories about an upcoming series of photos of his in which birds figure heavily. Ballen was amusing on his feelings about our feathered 'friends' after spending the last few years in close proximity to them. "People think doves are these peaceful creatures," he said at one point. "They're not. They can be as aggressive as any human."
So we've been eyeing the fuss surrounding the painted pigeons in St Mark's Square, Venice with some interest. As part of the Architecture Biennale celebrations, Artists Julian Charriere and Julius von Bismarck have tinted some of the St. Mark's flock in bright colours. These range from brilliant blues and reds to vibrant greens and yellows, and have created no amount of controversy among animal rights defenders. In an interview with the Italian daily Corriere della Sera, Charriere said his objective was to cast a bird that is pretty much universally loathed in a new light, giving anonymous members of the species a bit of individuality and character.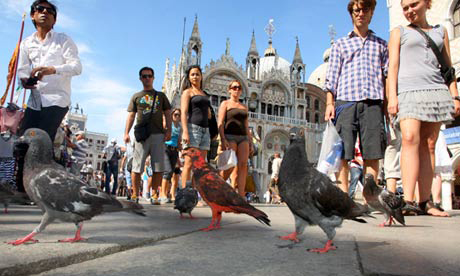 "That way pigeons will be better accepted," he argued. Animal rights advocates however, are not amused. "Are works of art justified as such even when they involve other, non-consenting living beings?" was one of the questions raised on one prominent Italian arts blog.
Charriere defended himself by saying the project has been carried out "without any danger to the animals" and points to a piece at last year's art biennale in Venice which consisted of more than 2,000 taxidermied pigeons mounted above the entrance to the main Palace of Exhibitions and on pipes throughout the building.