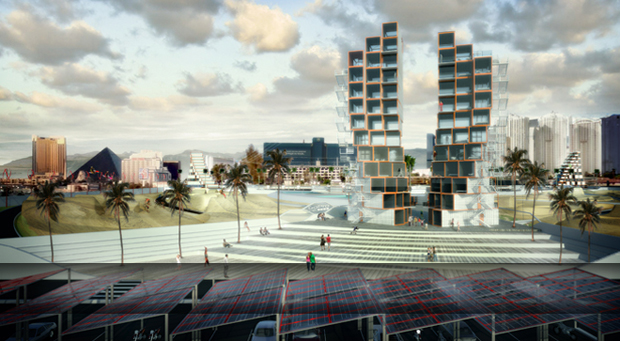 Green, extreme-sports park drafted for Las Vegas
The Vegas Extreme resort aims to grow its own food and generate 85% of its energy from renewable sources
"Vegas Extreme will take entertainment and extreme amusement to a new level," say LA architects, M-Rad Design Studio. Planned for a 42-acre plot off the Las Vegas strip, M-Rad has included three zip lines, dirt tracks for off-road bicycles, motorcycles and go-carts, a skatepark, whitewater rafting course, and a seven-acre shallow lake with beach huts, in this adrenalin sports facility. In winter, its lake could be drained and filled with snow, to create a "ski bowl" for snowboarders.
So far, so Vegas, but what adds an element of surprise to M-Rad's idea is the three towers flanking the sporting facilities. They're formed from repurposed shipping containers. There's not much novelty in such recycling these days, after all, we've witnessed containers as pop-up restaurants, a bus station, railway station and student accommodation in the Netherlands, and most poignantly perhaps, as temporary housing for Japanese disaster victims, courtesy of Shigeru Ban.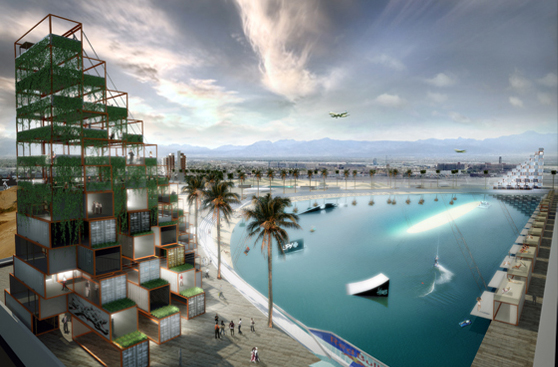 Nevertheless, one of the towers is earmarked as a farm for organic produce. The hope is that food harvested in the towers would supply not only the kitchens of Vegas Extreme, but also nearby hotels. The other two towers are intended as a 60-room boutique hotel and a garden. What's more, the park has planned a set of "small-scale, low-magnitude, vertical wind turbines along with an extensive solar field to produce enough energy to run 85% of the parks energy needs."
Could this mini power plant really freeze a lake in the Nevada desert? Even during the winter months, Las Vegas' average low temperatures don't drop below one degree centigrade.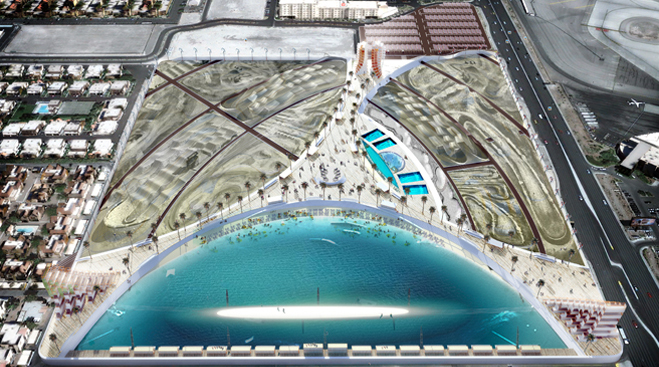 Nevertheless, its would be founder, 34-year-old Australian entrepreneur, Josh Kearney says "Vegas Extreme will stand as a new model for amusement parks around the world." Find out more about the project here.
For a greater understanding of such ambitious building projects, do take a look at our Atlas of 21st Century World Architecture and if you're off somewhere nice in the coming months download our Phaidon Architecture Travel Guide App before you do.
For more on how places like Las Vegas might fit into a sustainable future, take a look at our book, The World We Made.