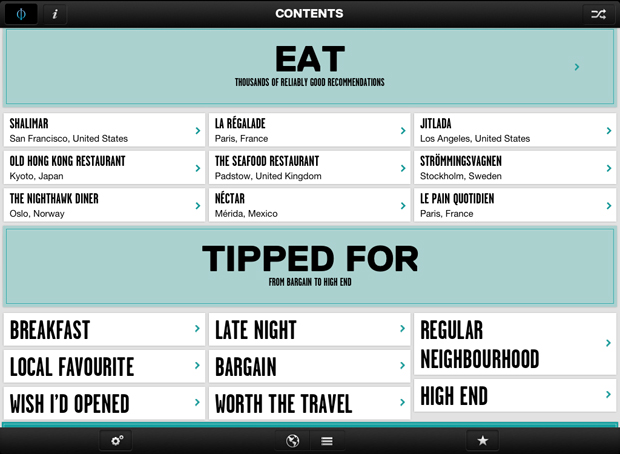 Introducing the Where Chefs Eat app
Beautifully designed and exhaustively road-tested - the Where Chefs Eat app is released on Monday
Our Where Chefs Eat book which we launched in January has proved to be a runaway success. Understandably really as it's a simple concept executed neatly. Basically we rounded up a number of the very best chefs in the world and asked them a simple question: Where do you like to eat? Their recommendations - from the highest priced Michelin gastro temple in New York to the lowest priced street shack in India - form the backbone of the book and prove that good, make that great food, is not governed by price, location or whether you need to wear a tie to eat it.
The past few weeks we've been playing around with the app version of Where Chefs Eat. We used it to find a great place which stayed open 'til the early hours after one of our London Book Fair parties, we used it to take an important client somewhere cool for an enjoyable breakfast and we used it to treat a loved one to a late post-private view dinner. It coped with all our demands admirably and threw up some lovely surprises we'd somehow missed when poring over the book. The app is in the App Store from Monday with a special introductory offer of £10.49 - a pretty good price for 2,000 international entries chosen by 400 of the world's best chefs.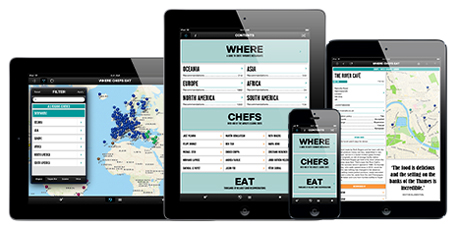 You can filter by location, cuisine and price, or if you're on the move, you can explore recommendations on the interactive map to find what's nearby, turn on alerts to be informed when there's somewhere special just around the corner and save and edit your favourites to create a personal list, or share hidden gems with friends and acquaintances on Facebook, and Twitter or by email and text. Don't forget though, you can still buy the book here!