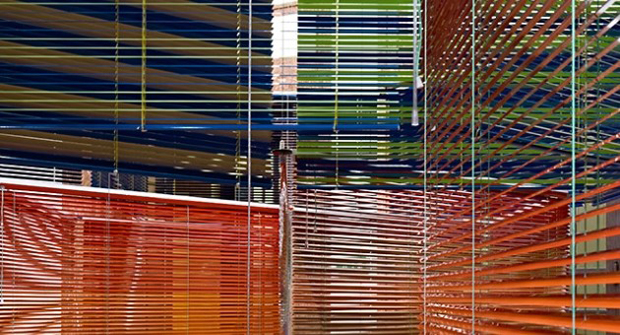 Korea's Hae-gue Yang debuts at Haus der Kunst
Venetian blind installation in Munich is inspired by immigration and Germany's past
There's nothing too opaque or confusing about Haus Der Kunst, in Englischer Garten, Munich. Built between 1933-37, this hulking great neo-classical building was constructed to exhault the art and architecture of Hitler's Third Reich. Yet, its history since WWII has been chequered.
The Nazi detailing was covered up in the post-war years, when the building served as an American officers' mess and an exhibition hall. More recently, the building's old décor has been restored, as the city comes to terms with its ignoble past and embraces contemporary arts and culture. Now the Haus serves as a non-collecting contemporary art museum, or "an area of experimentation and a laboratory for international projects today."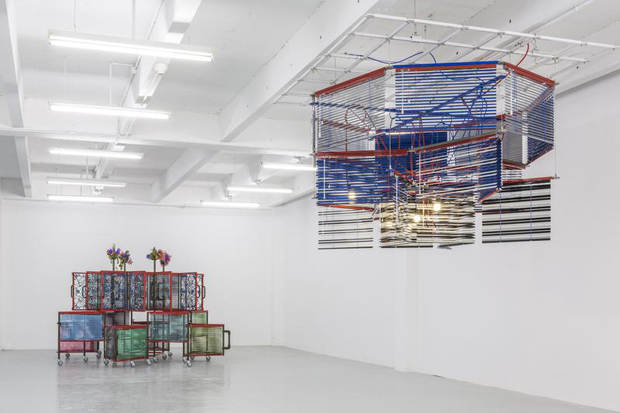 With this in mind, we can only applaud director Okwui Enwezor's decision to pick one of our favourite young artists, the Korean expatriate artist Hae-gue Yang - whose Dress Vehicles was a hit at the Tate Tanks last year - for the museum's inaugural commission, Der Offentlichkeit - Vo Den Freunden Haus Der Kunst [To the Public - from the friends of Haus der Kunst].
Born in Seoul, Korea, in 1971, Hae-gue Yang has lived in Germany since 1994, and her work examines both the immigrant experience and the changing nature of her adoptive country.
But don't expect a dry diatribe. Her installation, Accommodating the Epic Dispersion - On Non-cathartic Volume of Dispersion, resembles an exercise in avant-garde interior decoration. The piece consists of a massive display of Venetian blinds, which loom high in the museum's interior, form a transulscent wall along one side of the building, and box off into an opaque space in the Haus der Kunst's upper reaches. It's a pretty and thought-provoking piece, in which the viewer's line of sight alters with every step.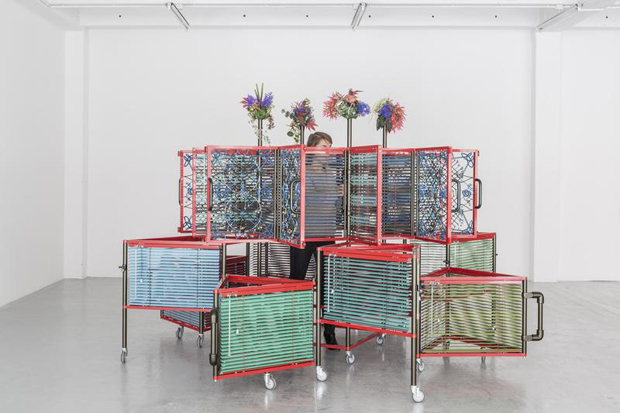 Hae-gue Yang has used blinds in previous works of course, including her dOCUMENTA (13) piece, Approaching: Choreography Engineered in Never-Past Tense. In an interview we came across in the Korea Times, she explains that the work was inspired by the building.
"When I first saw the hall, I felt it was heavy with historical burden. I decided to change the atmosphere and shape the place with modernity. Blinds can easily work with the volume of the space. It can frame the space or divide it. The space with blinds, without blinds and a third element of audidence can create new perceptions."
She added: "I picked bombastic, primary colours for entrances and later mixed these colours for a strip pattern. The blinds are flat, but it could frame a space when layered."
Hae-gue Yang adds that installation is supposed to evoke both the large-scale turn of events that the building embodies, as well as the smaller, personal experiences common to all people.
"There is a grand narrative in the history as well as minor ones," she says. "These minor ones interconnect and create another narrative. Blinds are good material to convey the mood of the marginal community."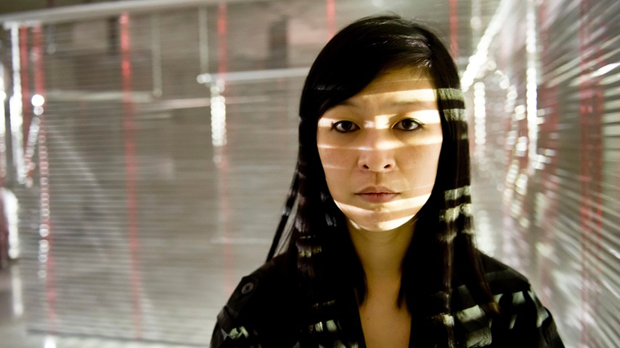 They certainly seem to be successfully employed here. The installation will remain on display until September 22, and is one of our must-see exhibitions of 2013. To find out more, visit the museum's site, and to learn more about Yang's own thoughts on the piece, take a look at the full Korea Times piece. And for more works along these lines, consider our Vitamin 3D book, An up-to-the-minute survey of contemporary sculpture and installation featuring 117 artists.