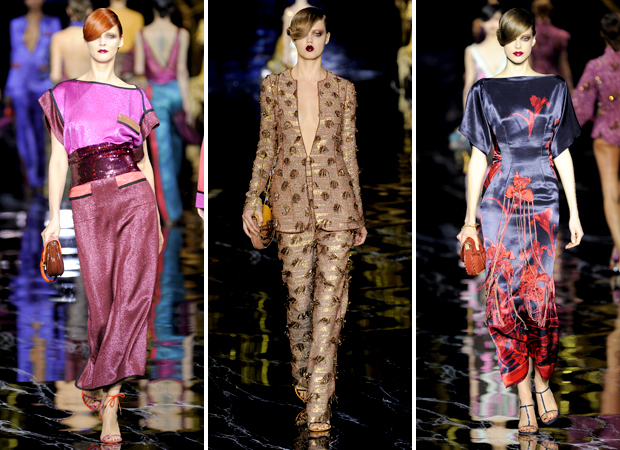 Fashion in Paris - there's nowhere like it, says Harriet Quick
A round up from Paris Fashion Week by the Fashion Features Director of British Vogue
The scene at Gare du Nord Eurostar Terminal at the end of the fashion collections is quite something to behold. Through the drizzle, I witnessed young British designer, Hannah Marshall, in six inch patent stilettos and monkey fur jacket, geisha white face and red lips lug piles of suitcases through security with her erstwhile team of similarly gothic clad assistants. Me, in red croc Alaia heels with a flouro strapped LV canvas holdall, and turquoise suitcase weighted down with press material, a carrier bag full of white roses which I could not bear to leave in the hotel, looked equally absurd.
But such is the surreal life of fashion. Now's the head crunching time when buyers confirm their billions of pounds worth of orders on new and established names to entice our taste and excite our vanity next Spring. It's also the time when editors start crunching ideas for the season ahead. There was much to chose from in Paris with a panoply of great collections which ranged from the dip dyed utility spirit of Dries Van Noten (mixed with some lovely glamourous sequin pieces), to the futuristic rockabilly looks of Balenciaga where Nicolas Ghesquiere combined boyish lace leather jeans with bricolage shirts made out of patchwork of fluorescent over embroidered lace, to the exquisite influenced equestrian leathers of Hermès. This last collection for the house, by Jean Paul Gaultier, was staged with a backdrop of parading horses ridden by horsemen from the Spanish Riding School, under Murano glass chandeliers. A case of showmanship and the finest craftsmanship combined.
The endeavor to create an image, make an impact, never ceases to amaze. Ghesquiere had had the floors of the first floor reception rooms at The Crillion Hotel over boarded with lacquer black painted planks; Chanel created a setting inspired by scenes from "The Last Year in Marienbad" with fountains and formal gardens and a live orchestra; while Stefano Pilati at Yves Saint Laurent took over the elegant house once owned by Salmon Rothschild to showcase a lovely collection of flamenco ruffled dresses and chic crepe halter neck pantsuits. Not to be outdone. Marc Jacobs at Louis Vuitton had installed a giant marble look runway flanked by giant tigers and dripping glass beaded curtains in his orientalist collection of gem bright silk satin cheongsam dresses that winked heavily at 70s New York nightlife and the glittering hedonism of Nan Kempner and Tina Chow.
You do get to see the best of Paris and the best of creative minds at work. One such belongs to Sarah Burton the new creative head of Alexander McQueen who revealed her first collection which was romantic and breathtaking with leather oak leaves wrought into tailored suits, corn stalks into corseted dresses and divine degrade chiffon gowns that made your heart leap. Emotion was peaked, and sated and a new star welcomed into the fashion galaxy.
Harriet Quick is the Fashion Features Director at Vogue