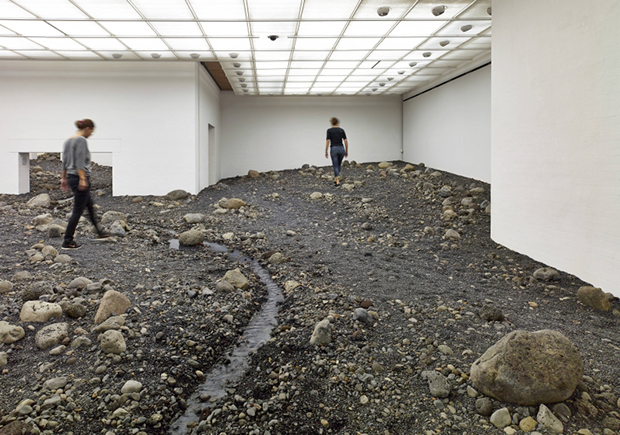 Look at the river Olafur Eliasson has just built
The main work in the artist's show at Denmark's Louisiana Museum, brings a whole new meaning to landscape art
You could say Olafur Eliasson was a landscape artist. Only, the term brings to mind a kind of painterly conservatism that doesn't really fit in with the Danish artist's work. Rather, Eliasson remakes landscapes as art. The artist is best known for his 2004 Weather Project, when he installed a kind of indoor sun in London's Tate Modern, and 2008 New York City Waterfalls, which saw him and his team built four artificial waterfalls at points along NYC's East River.
Though these works do play with the perception of the environment and landscape, Eliasson isn't commonly regarded as a land artist, in the same way as, say, Robert Smithson and Richard Long are. Instead, most see his works as devices to renew our appreciation of the world around us.
"For all their formal diversity," writes Michael Speaks in our Eliasson monograph, "his works cohere clearly and powerfully along a line of serious argument for an embedded and exhilarating being-in-the-world, that would return to the individual a heightened sense of him- or herself in the act of perceiving."
Perhaps similar thoughts will pass through the minds of gallery goers at Denmark's Louisiana Museum of Modern Art, when the new Eliasson exhibition opens there tomorrow.
The credit for the show's central work, occupying all of the museum's south wing, Riverbed (2014), lists it as consisting of 'water, blue basalt, wood, steel, foil, hoses, pumps, [and a] cooling unit.' Yet this hardly describes the experience of rambling around a riverine scene, newly built inside one of Europe's leading contemporary art institutions.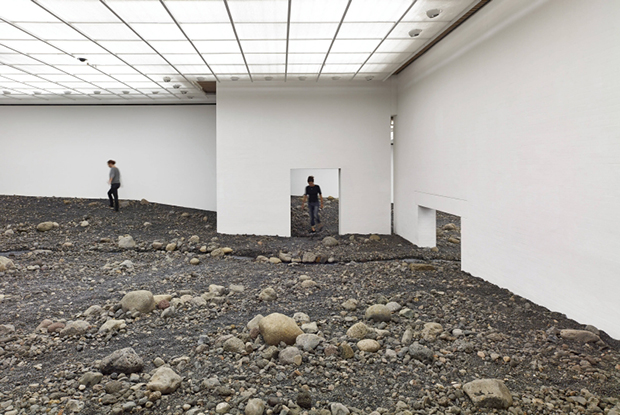 The river runs downhill through this gently sloping part of the museum, and works the buildings contours into the piece. Moreover, the work suits the Louisiana remarkably well, as its building, which was constructed in 1958 at Humlebæk, a half hour north of Copenhagen, was built to fit into the landscape, and encourages its visitors to ramble among its rooms, in a country-ish manner. Of course, this rambling will take on new significance tomorrow, when the Eliasson's river opens to the public.
Find out more about this remarkable new exhibition, which runs until the beginning of next year, here, and for a richer understanding of the artist and his work, see our Olafur Eliasson monograph here.