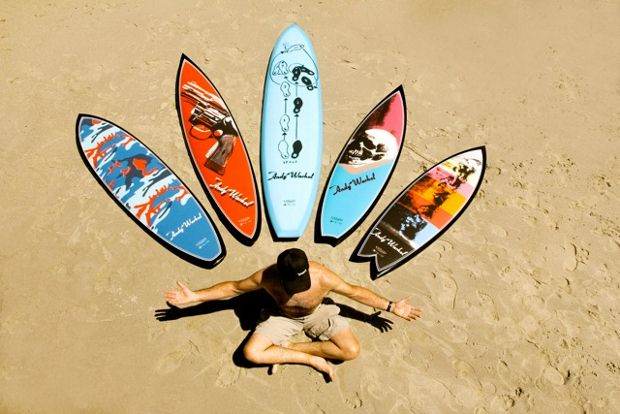 Warhol surfboards hit the market
Californian surfboard shaper Tim Bessel releases first in a series of artistic collaborations
Perhaps it was his hair, or maybe that complexion, but there was something about Andy Warhol that sort of seems out of place on the beach. Nevertheless, he did shoot one surf movie, in May 1968: San Diego Surf. The film, recently rediscovered, edited and released, was however described by The Hollywood Reporter as "more a flaky souvenir of a stoner vacation than an actual movie".
Nevertheless, its fortuitous distribution coincides with another successful partnership from the Warhol Foundation, this time with Tim Bessell Surfboards.
Bessell, a world-renowned surfboard shaper, grew up in, La Jolla, the Californian town where Warhol shot San Diego Surf. As he explained to ESPN, though only 10 years old, he was already part of the local surf scene, and heard that Warhol was in town after the artist bought a couple of boards from a friend of Bessell's."That opened up my relationship with Warhol," the board maker says.
However, Bessell only struck up a commercial relationship with The Warhol Foundation years later; after he came across Alien Workshop's line of Warhol-licensed skateboard decks.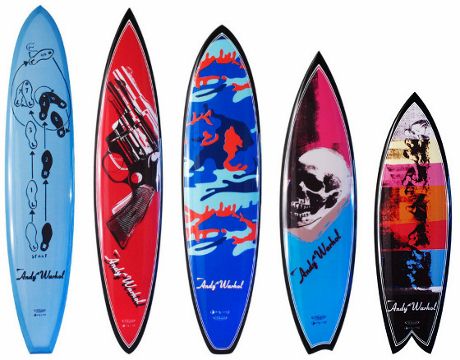 Bissell says his Warhol boards are the first of a selection of artist-inspired lines. The five Warhols are represented as a "quiver" or a selection of different boards, each suited to different surfing conditions.
Graphically, each interprets a different series of paintings. Buyers can choose a Classic Longboard adorned with Warhol's dance steps series (1962); a Mini Magic decorated with his camouflage series (1986); a Kissing Fish featuring his Last Supper series (1986); a Big Wave Pintail with his gun series(1981); or an Eliminator Asymmetrical with his Skulls series (1976).
Each is a limited edition, and The Gagosian Gallery is offering every board in the series; prices start at $5,600. Alas, you probably won't be able to order one of these in time for Christmas Day, as Gagosian quotes a two-week production time turnaround for each board, excluding shipping. For less strenuous Warholalia, consider Phaidon's Andy editions. Our Andy Warhol books are among the most popular in the store. The brilliant Giant Size, for example, is currently on offer at a 30% discount.