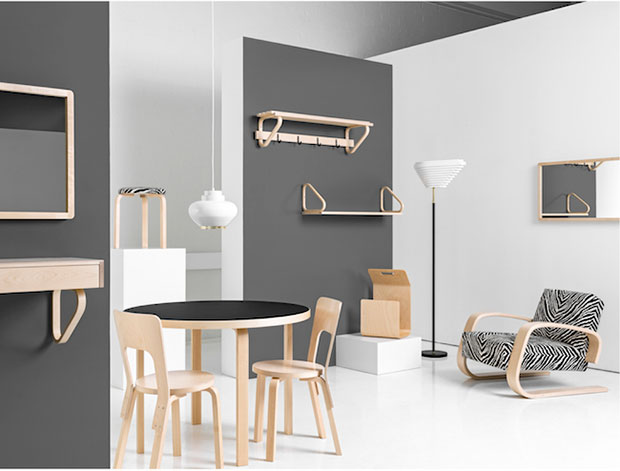 Lost Alvar Aalto classics reissued by Vitra
Artek and Vitra trawl the Alvar Aalto back catalogue and come up with a number of great finds
Following the sale of celebrated Finnish furniture brand Artek to Swiss company Vitra in 2013 both companies have been hard at work poring over the back catalogue to see what classics, created by its co-founder, the Modernist architect Alvar Aalto can be reissued.
These pieces now form part of the ABC collection, which stands for 'the alphabet of living'. "Beautiful and functional, these objects bring joy to everyday life," says Artek, and as publisher of a great book on the architect Aalto who are we disagree? The range includes furniture, lighting and textiles, whose pattern was created by Aalto's wife, the architect Elissa Aalto, 60 years ago.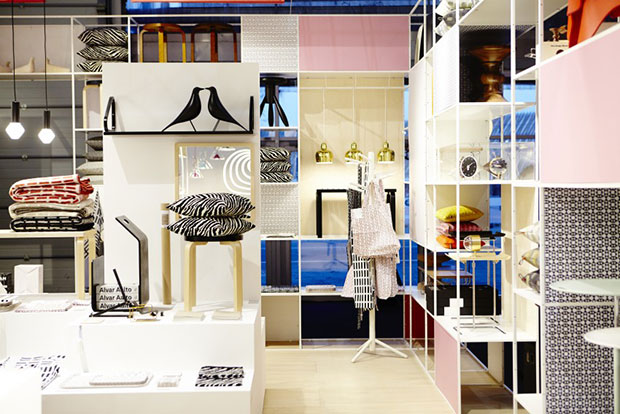 Aalto pioneered bent-wood furniture, and many of the newly pieces demonstrate his considerable talents. A favourite will surely be the Coat Rack 109C – charmingly simple in birch wood, it is reminiscent of a railway carriage rack, but with soft cornered brackets courtesy of the bent-wood technique.
This year is also Artek's 70th anniversary, so the reintroduction of the Coat Rack along with the Wall Drawer 114B – which also makes use of birch wood brackets - Mirrors 192A and 192B, and Stool 60 couldn't be more timely.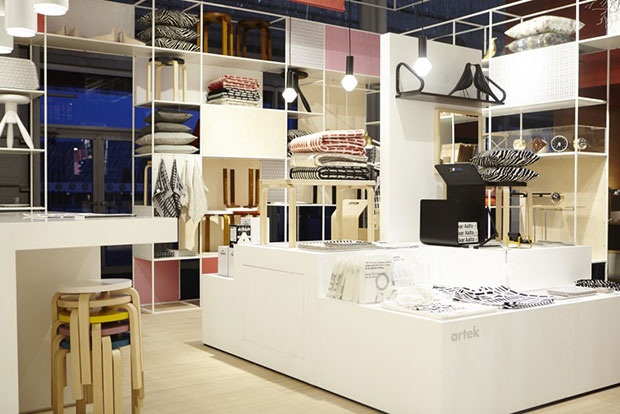 The reissue programme has no doubt been aided by the fact that with its purchase of Artek, Vitra also acquired the Finnish company's production facilities where Aalto developed his bent-wood techniques.
Lighting includes Light Fixture A330S, which Aalto designed in brass for the Savoy Restaurant in Helsinki. This iconic, streamlined piece is better known as the Golden Bell.
Meanwhile Elissa's H55 repeat textile pattern has been reissued in a new red and white edition. Artek explains that she was working as an assistant in Aalto's office in 1955 "when he was invited to design the Finnish housing section of the Helsingborg Exhibition in Sweden". Her pattern was originally produced in black and white.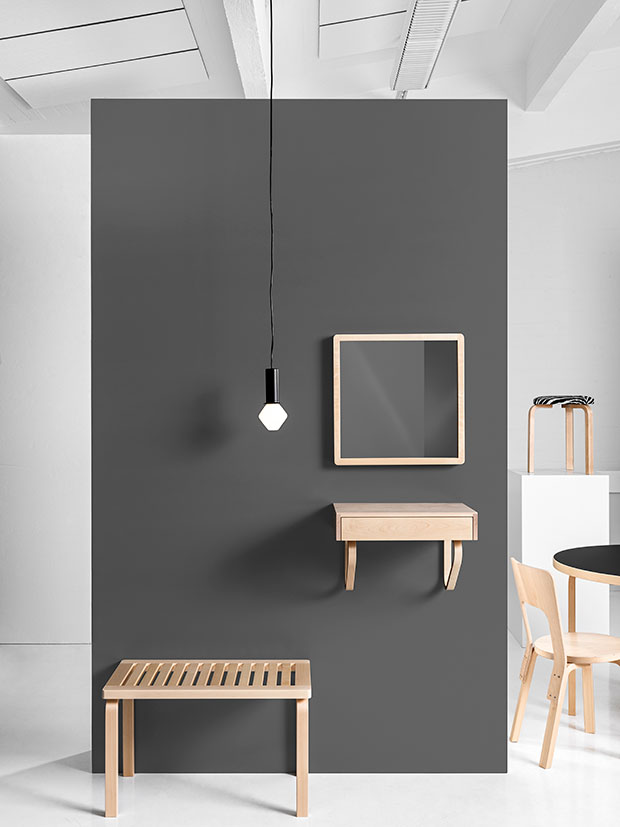 Our new book, Aalto, is both a great introduction to the architect's work and provides a great focus on his major works and how they engage the light, climate and topography of their sites, exemplifying the way in which he extended Finnish tradition and engaged newly emerging Modern materials. It describes the actual inhabitation of Aalto's architecture and the way in which daily life and contemporary culture are integrated in the experience of interior space – something that was of paramount importance to the designer and architect. Check it out here.