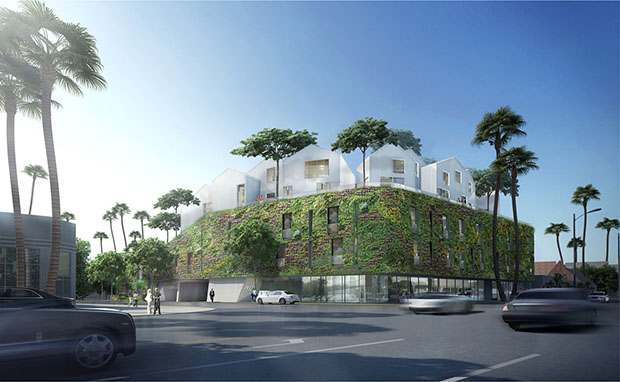 MAD build hilltop village in Beverly Hills
Chinese practice reinvents the Mediterranean hill town for 21st century LA - complete with vertical garden
Mediterranean-style architecture has always been popular in California, yet it has taken an innovative Chinese practice to recreate the pueblos blancos or white towns of southern Iberia for 21st century LA.
The development, 8600 Wilshire on Whilshire Boulevard, is the first residential scheme in the US for MAD, which is based in Beijing but boasts a Los Angeles outpost. The development "mimics a small sinuous white hill boasting an 18-unit residential village atop commercial space", says the firm.
The 11-year-old practice is led by Ma Yansong who was the first Chinese architect to win an overseas landmark building commission, having submitted the winning design for the Lucas Museum of Narrative Art in Chicago.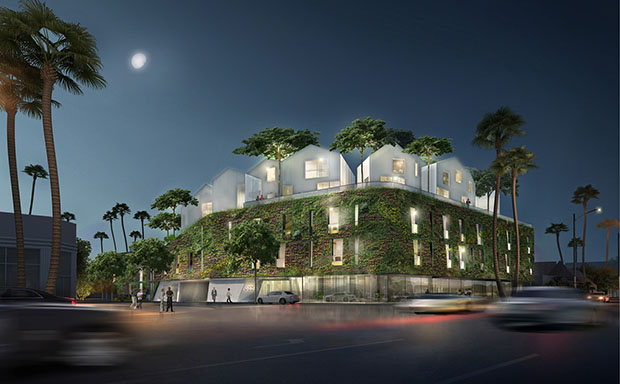 MAD's founder is fascinated with the idea of bringing nature and communities together into a thriving environment among high-density cities. Hence the green wall that surrounds the second and third storeys of 8600 Wilshire.
The actual planning and planting of this vertical garden will be overseen by the LA landscape architects Gruen Associates. They've devised a living wall of native, drought-resistant succulents and vines, which will act as a 'green-screen' for the residents.
Above this version of local privacy hedges are pitched-roof villas, complete with balconies looking over the thoroughfare. Meanwhile, the ground floor is glazed and will house a mix of shops. In total, MAD has planned for a mixture of dwellings, with three townhouses, five villas, two studios and eight condominiums, the interiors of which will be designed by Rottet Studio in Houston.
Some of these properties will look on to an elevated, landscaped courtyard complete with a central water feature, through floor-to-ceiling glazing. The effect from this position is disarming. Blink and you could be a fastidiously rendered version of Andalucía.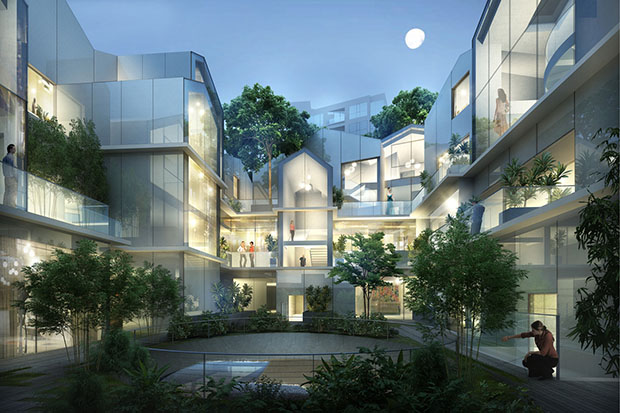 "As residents leave the everyday bustle of the city," says Yansong, "they find solitude at 8600 Wilshire in a garden valley—at home in nature." Let's hope so; the scheme is due to break ground in October.
For more on pioneering architecture sign-up for a free trial of the Phaidon Atlas, our peerless online resource. For more on innovative horticulture you really should take a look at our best-selling book, The Gardeners' Garden.