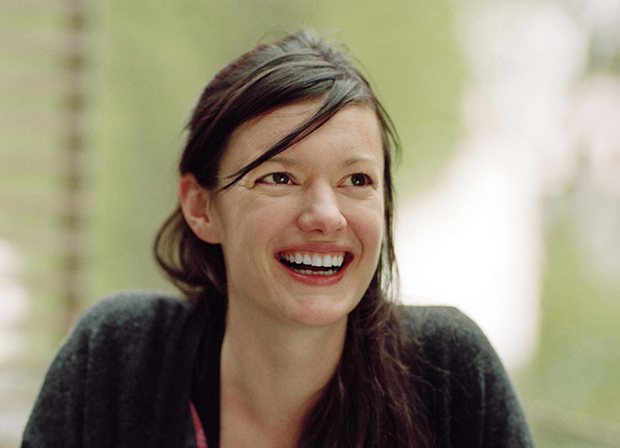 'Frank Gehry is a really good dancer!' Lily Jencks
We speak to the architect and landscape designer about her Maggie's Centre work with the Pritzker laureate
Lilly Jencks has seen the detrimental effects bad architecture can have in delicate situations. Her mother, the garden designer Maggie Keswick Jencks, was diagnosed with cancer in 1988, and despite periods of remission, died in 1995. Time spent in British clinical oncology wards inspired Lily's mother and father, the American architecture critic and designer Charles Jencks, to found Maggie's Cancer Caring Centres: calm, humane buildings in which fellow sufferers and their families and friends can find practical, social and emotional support.
Over the past two decades, the charity has founded 18 such centres, throughout the UK and also in Hong Kong - many designed by famous architects. Lily designed the gardens at Maggie's Hong Kong - which features in our new book, The Gardener's Garden - working in conjunction its architect, the Pritzker laureate Frank Gehry. Read on to discover what it was like to return to the cancer wards, which East Asian design influences her mother introduced Lily to, and why Frank Gehry still thinks of himself as an outsider.
You trained at Frank Gehry's practice. What was it like working there? Fantastic. I began first worked there about 10 years ago, and quite a lot of my work involved building models for him. Everything is physically modelled. If you ever see photos of his office, its piled high with models. In meetings, he'll whip certain pieces out of or change things. I really learnt to value them. With a computer model, the person who created it will know it well, but it's hard for everyone else to really get inside it.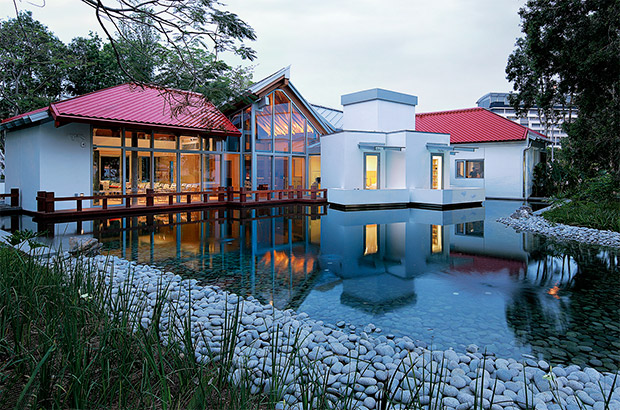 Was it strange to then work with Gehry, on this Hong Kong project, as an equal? It was quite a challenge. I had a lot of sleepless nights, knowing that I was going to present to him. But he's one of those rare architects who are really supportive of the younger generation. Plus, I've known him all my life, because he was good friends with my mum and dad.
What was it like going back into that clinical setting, after having gone to oncology wards with your mother when you were younger? It was very different. Maggie's Centres are almost all the opposite of being in an oncology unit. We try to change the experience, so that people feel less a part of a clinical process, and more a human being. Because they're there to serve patients' medical needs hospitals can be quite inhumane places, as they're all about cleanliness, hygiene, and caring for as many people as possible. Maggie's is about trying to bring back a human element. They're all spaces to help you live, and live better, with cancer.
What sort of physical considerations do you have to bear in mind, when designing a building or garden for cancer patients? There are simple things, like people aren't super-steady on their feet. They have very sensitive skin, and are often sensitive to bright light, but also sometimes need extra light to read by. My mum wrote the blueprint for the first ones two decades ago and they're still very similar. Her initial idea was that they would be waiting rooms, rather than standalone buildings, but otherwise they've stuck to that early outline.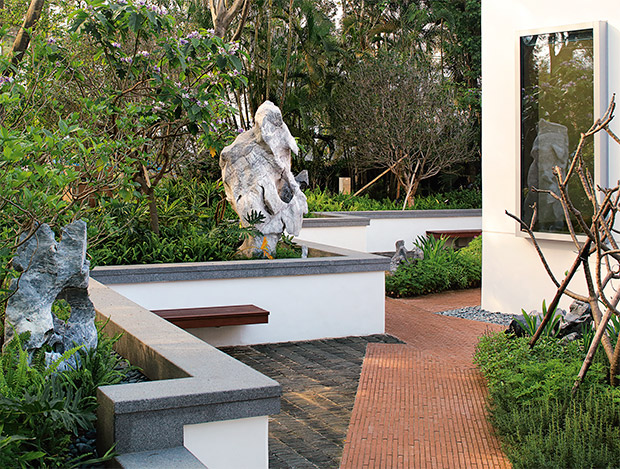 Your mother was an expert in Chinese gardens. Did her ideas inform your work in Hong Kong? Yes. She wrote a book on Chinese gardens, [The Chinese Garden (1978)], and when I started work on the centre with Frank I gave him a mini lecture, though he already knows a lot about them, so I'm sure I didn't teach him very much. Ultimately, we decided not to make the garden look especially Chinese. However, it does have some distinctly Chinese elements. The Chinese often favour small, walled gardens, and, in order to create a sense of space, they do this rather perverse thing, which is to divide it up. They'll put, say, a wall in with a window, which gives you two spaces, and you're always looking from one into the next. It's about having many small 'rooms' and making sure that they have certain intensity to them. There's some of that in Maggie's Hong Kong. We have small ponds, but you can never see the ends of them. They may continue around the corner, into a huge lake. Chinese gardens often suggest they extend further than you can see, and you're always moving around the space.
__What's influencing garden design today? __ I think the use of post-industrial spaces is really coming through. You see lots of projects, like the High Line in New York, were post-industrial spaces are being reclaimed as gardens. In a way, the Olympic Park, in London, is an example of that. It's a great way to reimagine a city.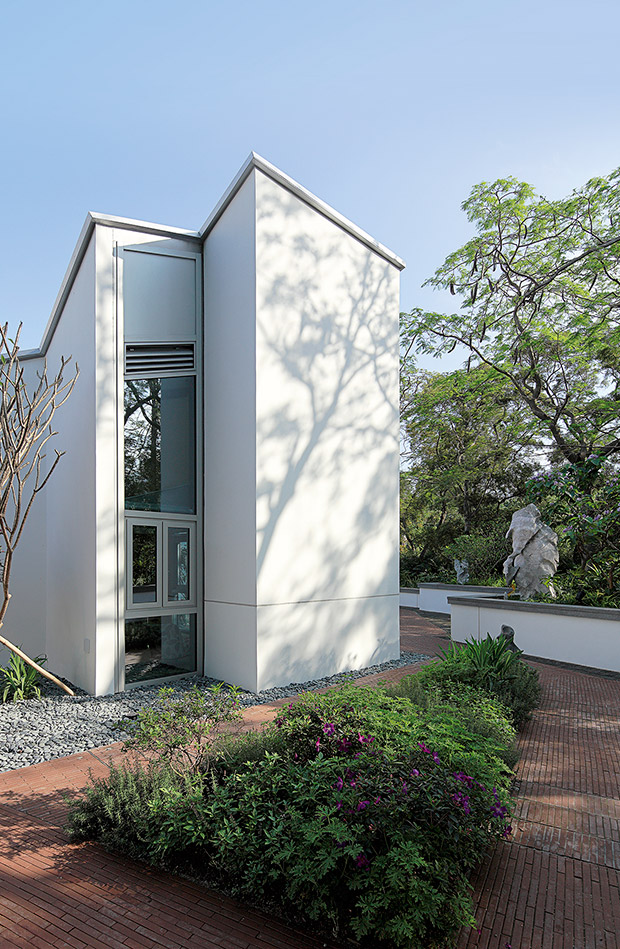 And which places are currently inspiring you? I was just at the Alhambra in Granada, which was amazing. Everything, from the plants to the architecture to the watercourses, has about five different functions and meaning. I also like Rousham UK, which is deceptively simple and utterly mysterious. The Barge Gardens in London near Tower Bridge, where barges and houseboats have been turned into spectacular flourishes of personal pleasure gardens in near impossible conditions is great. Inhotim Sculpture Park in Brazil is a very sympathetic combination of excellent landscape design, by Bruno Marx, and contemporary artists' installations. And Wang Shi Yuan, Suzhou, Shanghai, is a wonderful, quite austere and near perfect example of the Chinese Scholars Garden.
What sort of work are you taking on at the moment? We're doing a sculpture parks, one in China and one in Turkey. It's a really interesting process; working with the artists and curators, making sure it all fits together. It's very collaborative. You have to consider what sort of landscape works best with a work of art, and what sort of breaks or interruptions a visitor needs in between works of art. Sometimes some forest or ravine can work as a kind of 'buffer zone' in between two powerful works of art.
You've known Frank Gehry all your life, tell us something about him that would surprise us. He's a really good dancer! One of my favourite memories is working with him in Hong Kong. We were in a restaurant and they were playing some very good jazz. At the end of dinner he and I got up to dance. It was funny, and he is very funny; he has a warm sense of humour. He still likes to be the bad boy, even though he's so successful. He's not a young man and it took him until he was in his seventies to get real recognition, so he still thinks he's the underdog who sticks it to the big guys.
--
On 23 November, Lily will host a personal tour of this Maggie's Cancer Caring Centre in Hong Kong. Kissa Castañeda, editor of Home Journal magazine, will also interview Lily on site. Go here for more information.
You can also find out more about this garden and many others places in our beautiful new book The Gardener's Garden.