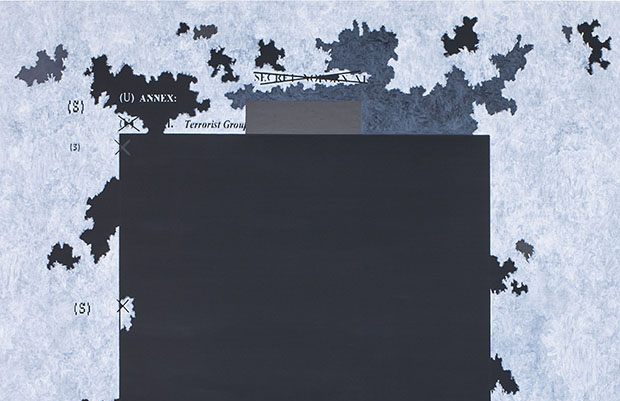 Jenny Holzer's classified calligraphy
The artist looks back at an Afghan's death in 2003 with a set of works examining the path to war
Among the many great modern aphorisms the artist Jenny Holzer minted in her late seventies text series, Truisms, was the line 'An Abuse of Power Comes as No Surprise.' While those words caught the spirit of the age then, they feel equally apt when applied to Holzer's newly opened exhibition at Cheim & Read in New York.
The show, Dust Paintings, takes its name from a style of miniscule Arabian calligraphy ghubar, or 'dust writing', describing the delicate manner in which she has repainted documents, largely drawn from the U.S. Army Criminal Investigation Command's Gardez Report into the death of an Afghan soldier, Jamal Naseer.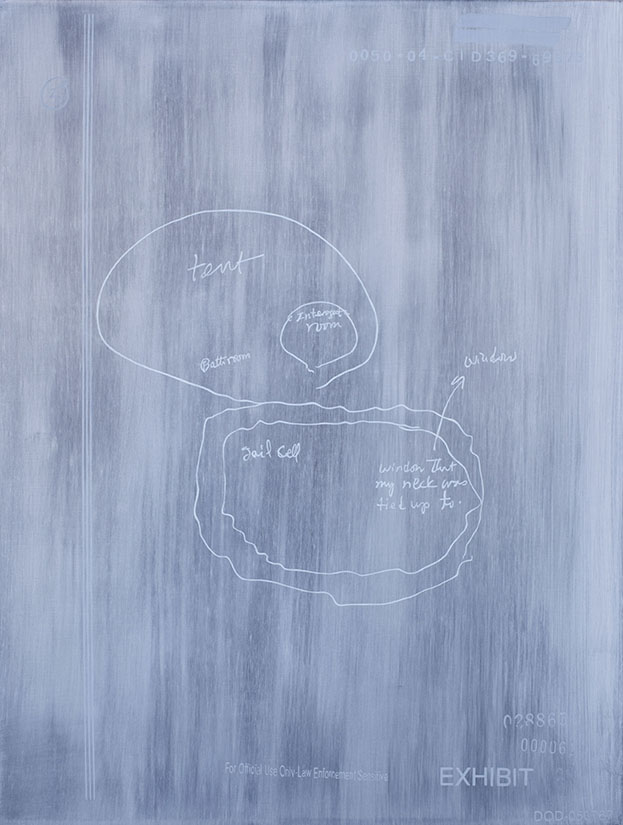 Naseer was arrested along with seven other men in March 2003 by US Special Forces for extorting money from citizens at an illegal checkpoint, and died later that month while still in custody. His death was officially attributed to a stomach ailment, yet his fellow inmates say they were tortured.
The artist doesn't attempt to prove or disprove this official line. Instead, as her gallery explains, Holzer tries to "reconstruct the path to war from the language of its architects and executors. The documents painted most recently trace the political fallout and human wreckage in the global war on terror." Cheim & Read go on, "Holzer's new works, hand-rendered, return flesh to events."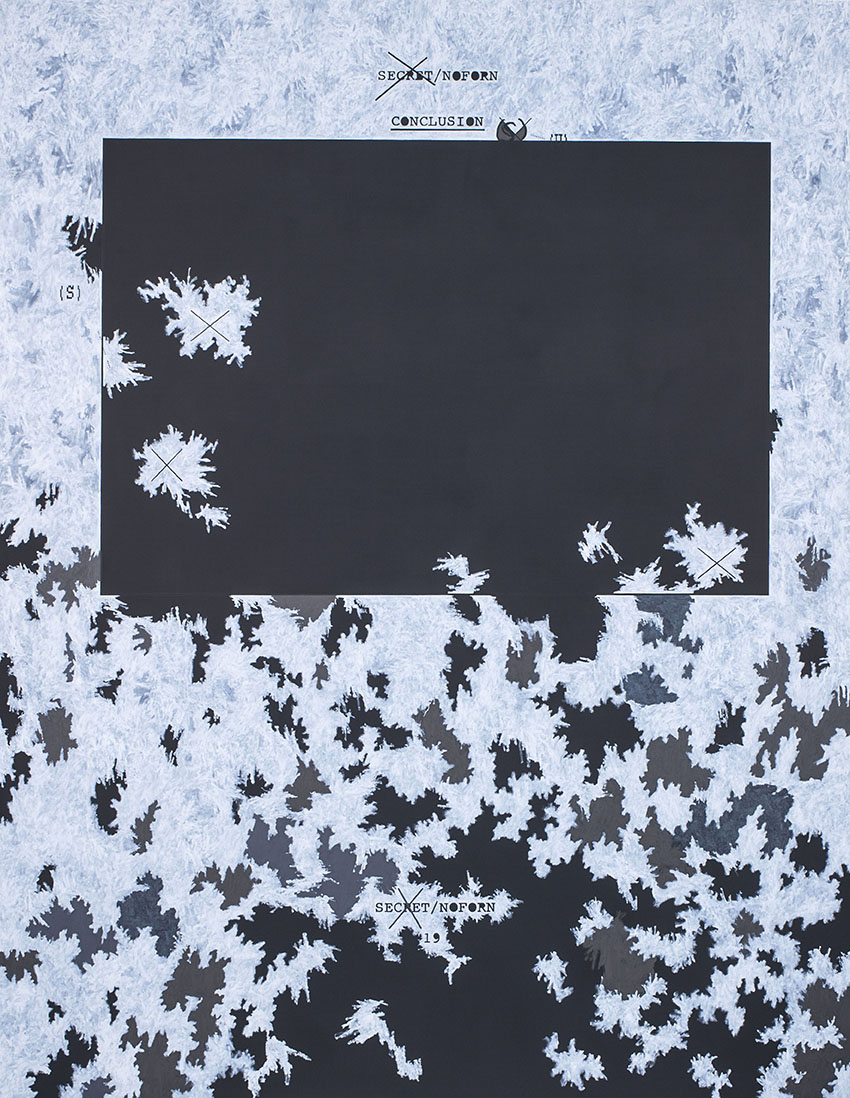 Alongside these intricate recreations of hand-written prisoner testimonies, Holzer has also produced a series of Color Field-like paintings, based on redacted CIA and FBI reports, wherein the artist has switched the censor's black blocks for brighter pigments. There's also a wonderfully faithful copy of the National Security Agency infamous, hand-drawn illustration detailing how it exploits Google's data centres, replete with its crass smiley face.
In a lesser artist's hands this source material might seem leaden, but Holzer's execution, and her ability to balance the aesthetic needs of the work against the historical weight of the documents on show, really elevates the show. As Holzer says in this Time Out interview, "lack of content is the message."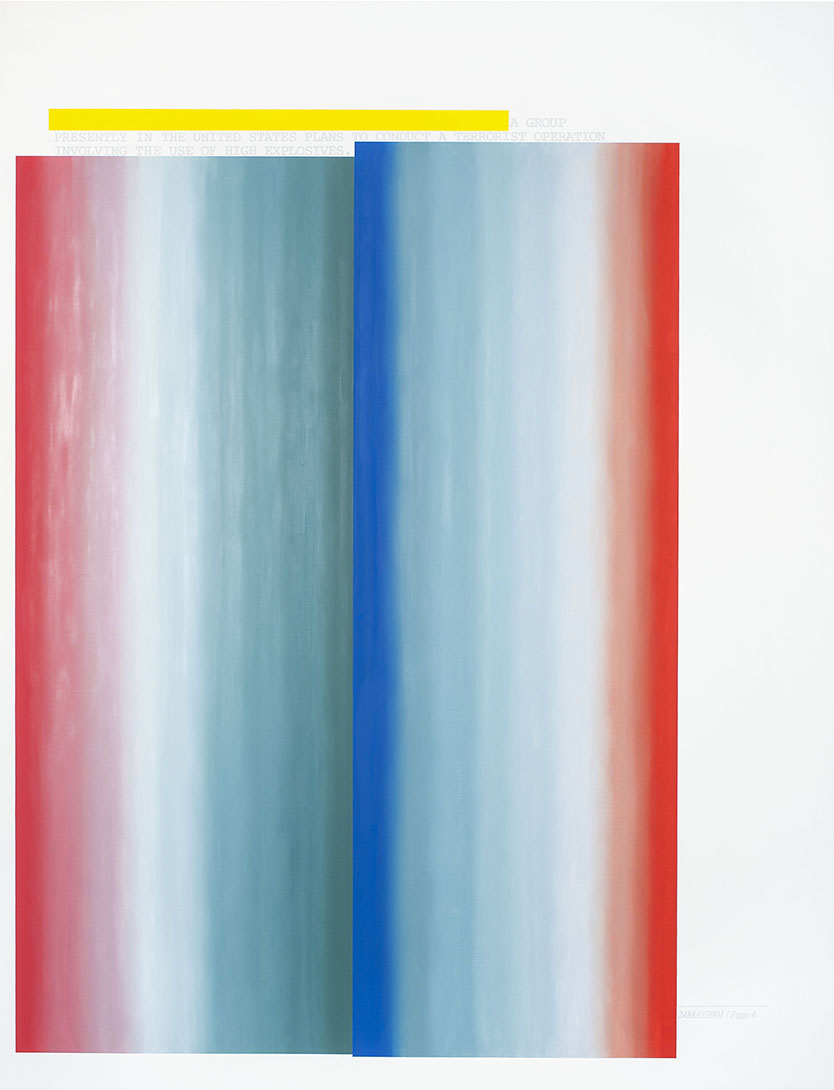 You can browse the exhibited works here, and find out more about this exhibition, which run until 25 October, here. For great insight into this important contemporary artist, buy our Jenny Holzer monograph, here.