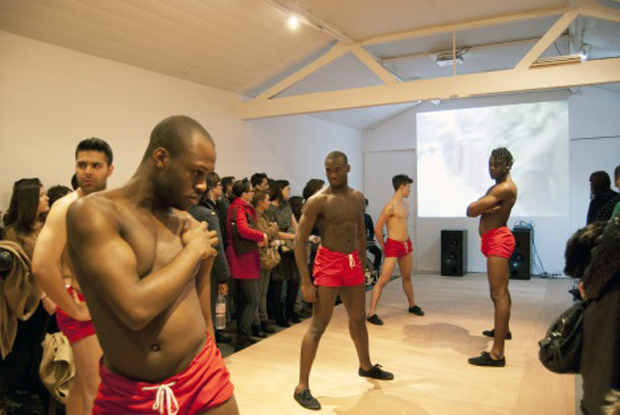 Eddie Peake talks about Tate Tanks performance
The rising young star of performance art on how he persuades people to get naked and be painted gold
Eddie Peake is one of the most exciting young artists working in London right now. He's been chosen by the Tate as part of its The Tanks: Art In Action performance art series which opens this week. Eddie's performance is on Saturday 21 July 2012. You can see the full programme here. Peake works with bodies, movement and music, playfully exploring physical form in all its manifestations – his 'bodies' become both sculptural and sexual objects via choreographed actions, encouraging the audience to give in to voyeuristic desire.
Best known perhaps for his work Touch 2012, In which a group of naked men staged a 30-minute football match, when we bumped into him last month he was working on "a set of motifs and visual ideas and images for the Tate and getting ready to go into rehearsals with a musician a drummer and "a number of statuesque people painted gold."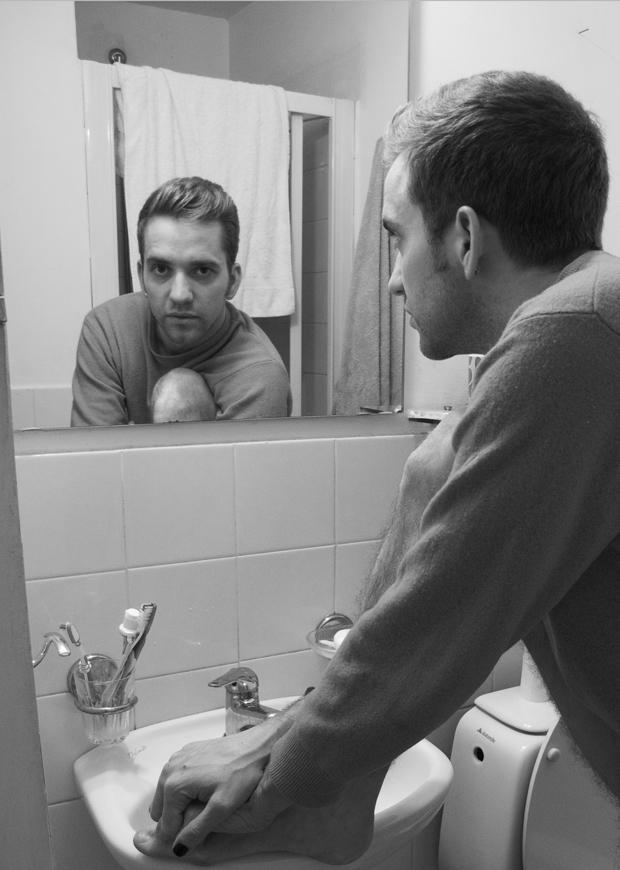 How does something like the Tate performance take shape? It can be an idea that's been buzzing around in my head - usually basic things like the space or circumstantial things will be lodged in the back of my brain and I'll think about them. It's a risky strategy but so far it's been OK. Also having done a lot of performances my own work provides a reservoir of imagery and ideas I can pluck from. That said, the context changes things - be it the particular audience or even the day itself. Both the Tate and Chisenhale (the gallery where Peake will stage a work on July 26) are going to be one meta work. It's more or less a part one and two. There will likely be an ensemble of fairly statuesque performers who'll create a set of tableaux which will become animated at certain points and will be very erotic and very sexualised but also will have a nuance of a narrative. I hope it will fluctuate like a theatrical drama.
Some performance artists - Tino Sehgal for example - allow no documentation of their work yet you're quite rigorous in this regard aren't you? I'm completely committed to the idea that if you're not there you've missed it. However, I'm really thorough about the documentation. You have to dedicate as much of your energy to documenting to it - it can feel like a real faff but through having done it so much the resulting documentation has become better. That said I'm toying with the idea of not documenting TheTate.
How do you go about explaining the work to prospective performers? The planning is very administrative. For the Tate I want to have a group of people naked and painted gold - Dionysian style figures who will form an ensemble like a Greek chorus. So there is a need to be explicit about certain things upfront with the people I work with - specifically the nudity. The question 'Are you OK with the possibility of being naked and painted gold?' comes early on in the conversation! And I make it clear to my performers that they have to be comfortable with changing things as we go along.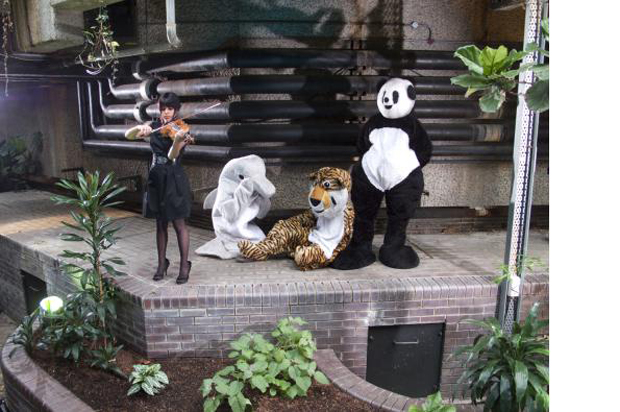 How long does it take to formulate a piece once you get going? There's always an 'Oh My God, this is actually working!' moment - usually two thirds of the way through. Then we're more or less on the home straight. I'm a bit of a control freak. Things tend to go down to the wire but in a fairly controlled way.
What are the possibilities and challenges thrown up by the Tate Tanks as an environment? Well, one notable characteristic is that they're in the round - literally in the round. They're pretty big - around 30 metres across. I'm excited by that format. I've done in the round performances before but that happened to be an incidental characteristic rather than (as in this case) something that I'm aware of from the outset. So this is going to be multi-directional – the Tate is a fairly fundamental component to it. But I think that it's possible to deal with the magnitude of that space in a whole array of ways. You don't need 500 chimpanzees or 600 trumpet players . . .
You disappoint us. . . Well, having said that, I am the type of person to do that! I don't think I'm brilliant at quiet, subtle, poignant works. I like big, impactful multi-sensory events. The way that I want to deal with that space is to have something that competes with it - that fills it.
Why do you think performance art has gone through such a reinvigoration over the last decade? I do remember when I left art school in 2006, being part of this wave of young people doing performance works and it felt like it had a lot to do with a desire to be exhibiting but also a way of doing that that wasn't reliant on massive financial backing. I remember organising loads of exhibiting situations with my contemporaries. For me it's a way of an arist being able to take control and not having to rely on an authoritative figure. It's also for me to do with a theatrical language, and for me there is a real power in a work that only exists for the time you're in it.
So how much are you and artist and how much a director? I wonder sometimes. I'm definitely an artist but I remember a transition point with my work where I thought, 'oh, right these performances have got a certain kind of substance that I need to take more seriously' and at that point I stepped outside of them and needed to see them a bit more from the outside.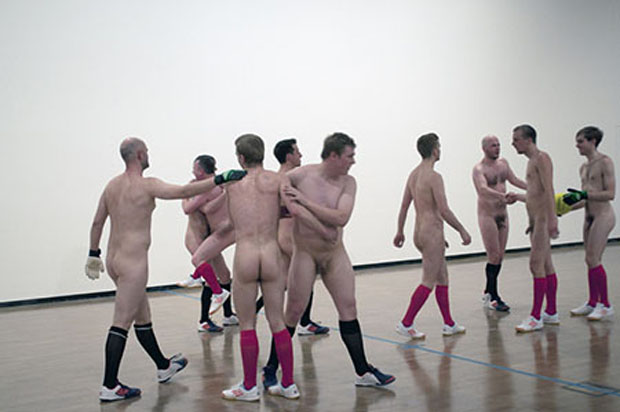 We're publishing a great book soon called Collecting Art For Love And Money which, in part, deals with collecting performance art. How do you make money out of it? It's tricky. It's really tricky. I've been very particular about making my work existing in many different forms so even though the Tate and Chisenhale are both well-funded I'm still going to have to contribute my own funds towards the pieces as well. That's one reason why I really like having a practice that is saleable - my paintings and sculptures. The sale of them does fund my performance works to a certain extent. I've not sold a performance work and I don't particularly envisage doing that. But I find that possibility exciting and would like to fund out more. But I like doing performances without having that as an agenda.
How important is the Tate tanks show to you as an artist? The Tate has been a massive part of my life so I'm obviously really excited. It also feels like a natural progression. My performances are big and elaborate and I like my work to have a big audience. In terms of how it might alter itself to be in touch with a bigger audience it will only alter as much as the work would alter anyway. It's really nice to have the support of a massive institution (though I'd rather not be in a position where I seek the approval of an institution as a validation of myself). I'd guess I'd say two things: it's really exciting and great to have that support but it's also a big stage on which to fuck up. If I fall flat on my face there's that many more people to see me do it."
Eddie Peake at the Tate Tanks takes place on July 21. Full details on the Tate's website.