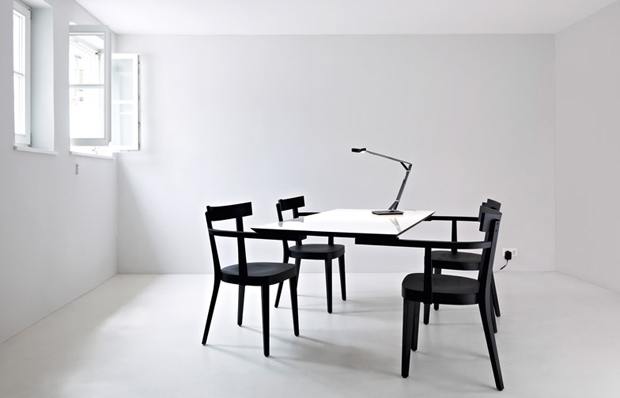 Ingo Maurer's table with no legs
Best known for his lighting, German designer branches out into furniture for first Established & Sons commission
At first glance this seems to be a typical white kitchen table and chairs but look more closely and you'll see the table itself has no legs; instead it's supported by the arms of the four black chairs.
The table was created by German designer Ingo Maurer (we've always been big fans of his lighting here at phaidon.com) and is much more practical than it first appears. Maurer has designed a simple extending mechanism from the arms of the chairs and a hidden mechanism beneath the table that allows the chairs to be pulled out and guests to sit down. First conceived in 2012, the table goes into production this week with British brand Established & Sons. Both rectangular and circular versions are available.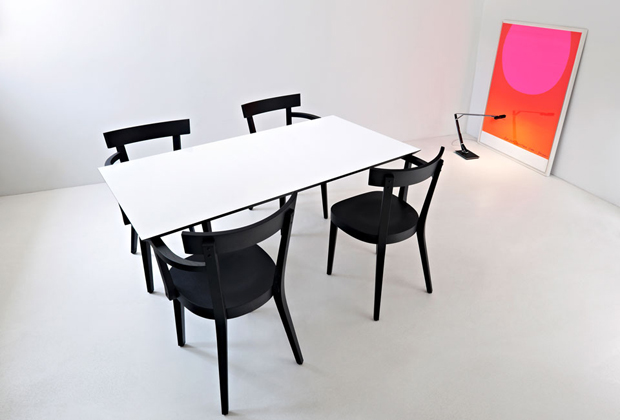 The piece is a rare foray into furniture design by Maurer, who's more usually known for his portfolio of lighting pieces, often utilising the latest technologies and blurring the boundaries between art and design. Born in 1932, Maurer has created more than 120 different lighting pieces and has worked on projects to illuminate public buildings, exhibitions and private residences around the world.
Established & Sons meanwhile, launched in 2005 with a mission to support UK and UK-based designers but has now expanded its remit to work with internationally based groups such as Maurer's. Floating Table invites the user to look more carefully at simple daily objects and furniture for elements of surprise,' says the brand. If you're a fan of either Maurer's or Established & Sons you'll love our Design Classics book in the store. And if you're looking for ways to give your living space a bit more style, check out Modern House Three.