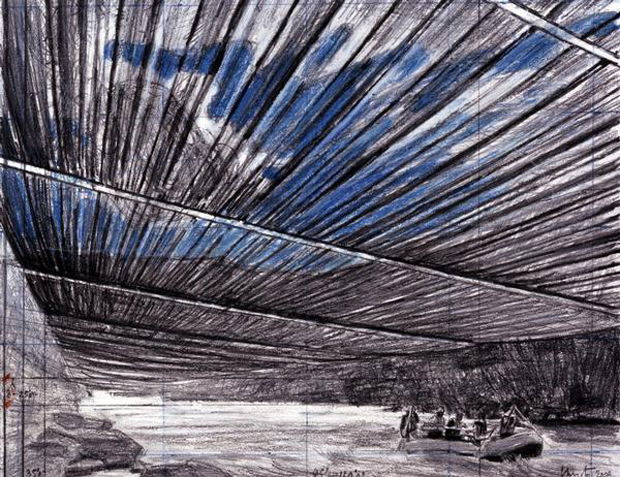 Christo in trouble over plans to wrap Arkansas river
Pressure groups unite and force the delay of the artist's latest scheme, Over The River
Christo has run into problems with his plan to drape nearly six miles of fabric over the Arkansas River in the US. The Bulgarian-born artist said this week that the project, Over The River, will be delayed beyond the planned two weeks in August 2015 due to ongoing legal challenges to the scheme from pressure groups who fear local wildlife will be affected.
"Our date for exhibition for Over The River is temporarily on hold," said Christo. "We can't have a date with all that litigation hanging over us."
The artist is believed to be continuing to fund project work such as bighorn sheep habitat migration and traffic studies but he is not moving forward with critical "physical activities," he said.
"The timeline is simply too short," the 77-year-old artist. Work was due to begin this coming February on the project.
Christo's team needs 27 months to install the estimated 9,000 anchors supporting 5.9 miles of polypropylene fabric over a 42-mile stretch of the Arkansas River between Salida and Cañon City. To make the August 2015 opening, Christo said he would need to begin ordering materials by next week to have everything riverside by December.
A local pressure group claims the work will be destructive to wildlife in the area. Christo is no stranger to legal delays to his projects. Over The River was originally proposed in the late 1990s and has been delayed a few times, including the latest push to August 2015 from August 2014. "Running Fence," which stretched a 24.5-mile fabric fence along the California coastline north of San Francisco, was delayed nearly 2-years in the mid-1970s while he and his wife Jeanne Claude fought legal challenges. The couple's project in Florida's Biscayne Bay, which surrounded 11 islands in shimmering pink fabric, was also delayed in the mid-1980s.
"This has happened before," Christo said. "This is a natural process for which we are very familiar."