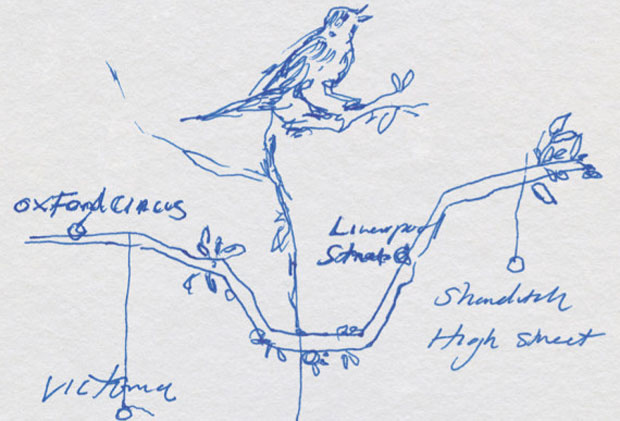 Tracey Emin designs London tube map
Central line reduced to Oxford Circus, Liverpool Street and Shoreditch High Street in nod to east end west end life
Tracey Emin is the latest artist to design a version of London's iconic Tube map. Her image features a chirping bird sitting on a branch of the Northern Line.
The Map cover's title is The Central line, though the only stations marked on it are Oxford Circus, Liverpool Street and Shoreditch High Street, the map being an interpretation of the artist's personal use of the line to take her from her East End home to the West End. The Central and Northern lines sprout leaves, to accommodate the bird, a recurrent image in Emin's work.
"When people look at the Tube map I want them to smile and feel reassured," Emin commented - quite possibly the first time either of those words have appeared in a sentence relating to London's creaking transport infrastructure.
Emin's map is the 16th in a series of covers designed by artists including Yayoi Kusama, Jeremy Deller and David Shrigley. Her design will appear on 18 million pocket maps, the largest print run of maps so far and will be circulated during the 2012 Olympic and Paralympic Games, available in stations from June 2012. This new artwork will be on public display for the first time from Friday at the London Transport Museum in Covent Garden.