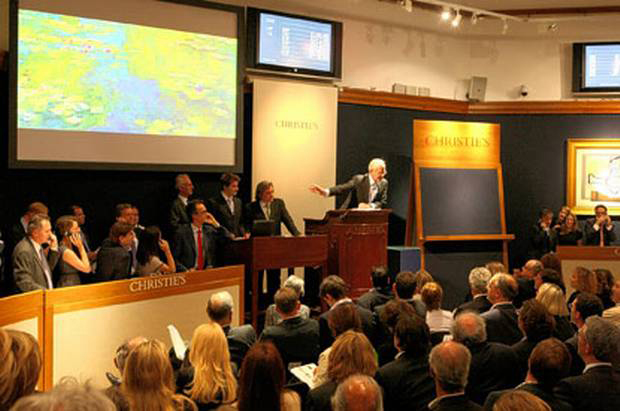 Legendary auctioneer bows out after biggest sale ever
High jinks at Christie's as Christopher Burge (the auctioneer in Wall Street) retires
There were a high jinks and some drama at Christie's in New York last night (Tuesday) as the auction house said goodbye to a much loved figure and broke a new world record for sales into the bargain. It was the last ever bang of the hammer for legendary auctioneer Christopher Burge who was in playful mood all evening. British-born Burge joined Christie's in 1970 as a specialist in the impressionist and modern art department. His first auction a year later was by all accounts a bit of a disaster. He mumbled bids, stalled to make calculations, and injected little drama into the sale.
"People were yawning, checking their watches," he said. After his debut the former art historian, salesman and broadcaster took voice coaching classes, studied himself on video and has since averaged more than a $1 million a minute in sales and has quite literally, become a legend in his own lifetime - he even had a cameo in the film Wall Street. When bidding for a Franz Kline painting stalled at $5.8 million in 2006, Burge leaned over the rostrum, gazed at a bidder, and said in a warm, confidential voice, "We've come this far. Why not $6 million?" The bidder paused for a moment, then raised his auction paddle.
His easygoing style reflected the transformation of high-end art auctioneering into a retail business. "People should be able to come in off the street and make a bid," he said in 2006. Before a major auction, He would spend weeks structuring the sale for maximum effect, typically the strongest works appeared halfway through.
His final stand last night was eventful - especially during the bidding for the first Gerhard Richter painting, Abstrakts Bild (1993), which saw some telephone bidding he deemed unacceptable. "15.3?" he asked specialist Lisa Layfer who offered a phone bid when the lot stood at $15.2 million. "Absolutely not. It must be 15.5." Eventually, he accepted $15.4 million from a phone bidder. "I'm allowed to have fun on my last outing, right?" he said prompting laughs from the crowd. Then Larry Gagosian jumped in. "Where is it?" Burge asked an assistant who pointed to Gagosian. "No, I know that," he said, as if to say, obviously I'm not going to miss a bid from Larry Gagosian. "What's the price now?" Just as the hammer went down, a bidder in the audience attempted to mount a last-second bid. Burge shooed him away. "You messed me around long enough," he said recording the sale.
The evening was a fitting end to his career with Burge hammering down $388.5 million during the post-war and contemporary auction - the highest sum ever recorded for a contemporary art auction. There was a rush of bids for the main lots led by a 1961 Mark Rothko work that went for $86.9 million – a new world record for any contemporary work sold at auction and a new record for a Rothko. A total of six Gerhard Richters sold during the evening, including the 1969 photorealist depiction of an empty sea selling for $19,346,500—the highest sum ever paid for a representational painting by the artist. "We kinda broke the bank," said Contemporary Chairman and International Head Brett Gorvy at the post-auction press conference.