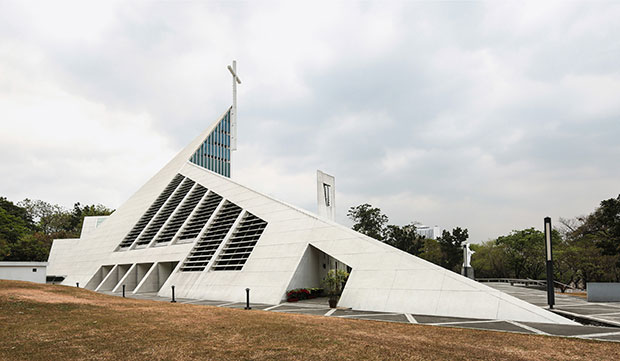 One Thing Not To Miss In Manila
The tetrahedral Church of the Gesù is one of many highlights in our Wallpaper* City Guide app released today
Amid the 1980s style pastiches, pastels and aquamarine glass, Manila boasts many architectural gems, the Church of the Gesù is just one of them.
Recio+Casas' wholly modern Jesuit church overlooks the private Ateneo de Manila campus and quickly became an icon of the university. The tetrahedral form symbolises the Holy Trinity and the overhanging roof of a nipa hut. Yet the building is light, airy and transparent, with space for 1,000 and slanting walls of open louvres allowing views of the green surrounds, topped by a glass prism that is illuminated at night. The crucifix above the altar is unusual in that it depicts Jesus still alive, looking up to God, rather than with his head bowed. The dedication in 2002 was attended by Cardinal Jaime Sin, which no doubt caused a few sniggers among the students.
To visit, register at the front gate; also in the grounds is the 1963 Manila Observatory. Ateneo de Manila University, Katipunan Avenue, T 426 6001.
Wallpaper* City Guides present a tightly edited, discreetly packaged list of the best a location has to offer the design-conscious traveller, whether you're staying for 48 hours or five days, visiting for business or vacation. Download the Wallpaper* City Guide to Manila here.