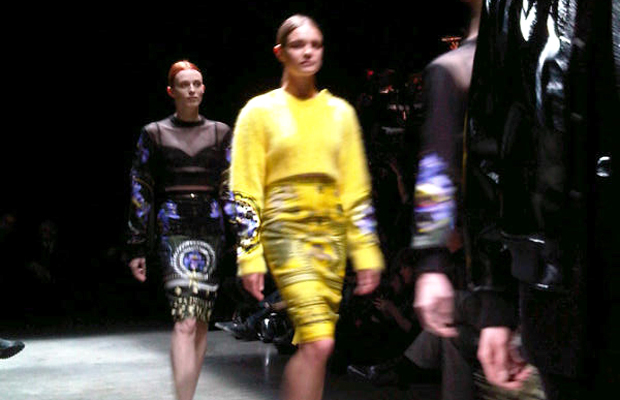 Theatre and fetish at Paris Fashion Week, 2011
Great style will always prevail and seduce, Harriet Quick, Fashion Features Director at Vogue, reports.
Location, location they say! It's interesting how much a situation or place can seep into our imaginations and trigger reveries and narratives. Marc Jacobs got quite smitten with the night life and guests at Claridges when he stayed over for the opening of the LV Maison last year. The assortment of beauties, night life denizens and moguls wives clipping over the marble floors and descending and ascending in the grill fronted lifts inspired his entire collection. There were Night Porter caps, tailored cashmere pants, wasp waisted skirts and reconstructed couture like jackets with livery style collars and buttons and of course the highest of heels in latex booties and platform stilettos. The new bag? a lovely fold down clutch called The Locket. Maids in traditional white collared blouses and pinnies greeted the guests to this brilliantly orchestrated show.
A play with fetish also captured the mind of rising star Riccardo Tisci at Givenchy with his play of panther and iris print sweatshirts, velvet bombers and tulle pencil skirts creating an illusionist effect under black patent swirl skirts. The marriage of cool sportswear, high Parisian design is Tisci's masterstroke. His nowness makes him a top runner for the job at Dior. Paris, with Le scandal of John Galliano, the news that Christophe Decarnin of Balmain was seeking help for depression and a tsunami of rumours of comings and goings made it a wobbly, skittish place and a season that put the business and pressures of fashion under question. But the show as we know it, must go on as really there is no other viable alternative. Digital fashion films, salon like presentations have not managed to replace the impact of the traditional show format for the world's luxury houses that excel in making the show an event.
A show can beguile like YSL's. Stefano Pilati delivered long lean drop waist tailoring in Prince of Wales cashmere, mini kilts topped with holy patent shell tops, and 70s inspired liquid ice white chiffon gowns and all in ones, topped with puritanical choir boy frill necklines. Haute innocence and haute erotica combined brilliantly as Pilati continues to explore the complex sexual lexicon of a great fashion master.
Chanel's is always a beautifully orchestrated piece of theatre that stirs emotions and the strings of desire. Karl Lagerfeld dressed his stage as a steaming lava flow where his storm battered models paraded in all manner of bobbled wool tweed jackets layered in textures, glistening sequined black overalls and storm trooper boots. Stella Tennant with her punkish short jet black hair was quite the picture. The notion of emerging from the worst is a poignant metaphor for what we hope is a reality in the economy. Miuccia Prada captured a demob moment with a her giant padded shouldered 40s coats and lily of the valley print and sequin crepe dresses with fur 'arm bands' and the sparkliest of silver shoes. There's a lesson here - beyond gossip, scandal, economic meltdown - great style will always prevail and seduce at every turn.
Harriet Quick is the Fashion Features Director at Vogue UK