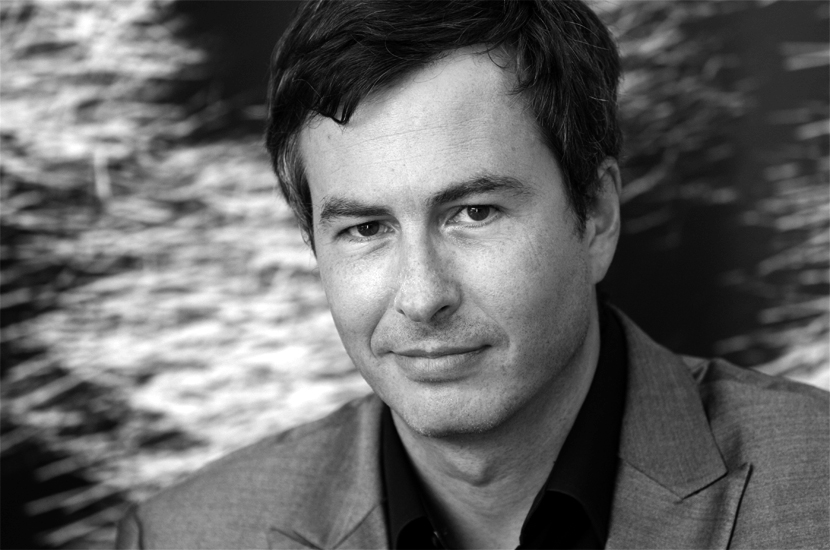 Olivier Père on films, festivals and new filmmakers to watch
Exclusive interview with the film festival director and industry insider
In the wake of the 63rd Locarno International Film Festival (4 - 14 August), Phaidon.com spoke to the industry insider Olivier Père, former director of the Cannes Directors' Fortnight (2004-2009) and now artistic director of the Locarno International Film Festival, about the next generation of promising filmmakers, his role as a film festival director and his top 10 emerging directors working today.
Q: In the book Take 100 you've chosen 10 emerging filmmakers who you believe are making the biggest impact in the world of film today. How did you make your decision?
I chose an eclectic mix of 10 filmmakers from the last 5 years. I didn't want to choose only young or very independent filmmakers but also filmmakers from Hollywood and more mainstream cinema that have emerged from different territories.
I'm familiar with art-house cinema and underground and experimental cinema and it's important to write about them but I didn't want to forget that cinema is also for entertainment and something for large audiences and I wanted to pick up what really has been happening in the system in the last 5 years. I wanted my selection of filmmakers to be a surprising mix; I put the focus on unexpected and young unknown filmmakers and at the other end some Hollywood filmmakers and those not making films for festivals. Asking film festival directors for their choice of directors is a good idea, but some very good filmmakers are not invited or familiar with festivals; it's not only at festivals that you can discover good filmmakers or good films but in regular theatres too.
Q: Were any of your selected filmmakers shown at Cannes Directors' Fortnight when you were directing it? Or is part of your reason for choosing these filmmakers because they don't get shown at festivals?
I used to work at the Directors' Fortnight in Cannes and among the 10 filmmakers I chose I think about half were shown during my time at Directors' Fortnight, where I invited young directors to show their films for the first time. Rabah Ameur-Zaimeche is a French filmmaker born in Algeria who went to the festival, Joao Pedro Rodrigues from Portugal and Jan Bonny from Germany also went to the festival; Raya Martin is a very talented young Filippino filmmaker whose first film was shown in Cannes at the Directors' Fortnight. The French filmmakers Axelle Raya showed La Famille Wolberg (The Wollberg Family) (2009) at the Directors' Fortnight and Mia Hansen-Løve came with _Tout est pardon_né (All is Forgiven) (2007).
Also a lot of filmmakers that I invited to my festival in Cannes were already chosen by the other festival directors for the book Take 100, which is a good sign. I was very happy filmmakers like Albert Serra from Spain, Lisandro Alonso from Argentina and Bong Joon-ho from Korea that I had selected to show at my festival were also appreciated by other people from the profession and within the industry. They are important and major filmmakers of the decade and I'm really pleased that people agree.
It's also true I didn't only choose filmmakers coming from my festival because that would not be fair. So I have to be curious, more eclectic and more open to other filmmakers I've never met or films I've seen but didn't choose to show at Directors' Fortnight. For example, French director Quentin Dupieux – who is actually a musician - made a very special and intriguing first feature called Steak (2007). It's an obscure film with French comedians from TV and so people expected a commercial film but on the contrary it was a very experimental film and I like the distance between the promoted expectation and the reality.
Zack Snyder specializes in science fiction, fantasy and horror and is considered more of a director than a great filmmaker, but I really enjoy his movies because he's a visionary; he has a surprising sense of image and I like Watchmen (2009) very much because it's not just a blockbuster, it's more personal and original. I wanted to insist that even in the system there are interesting discoveries and newcomers.
Q: Was it a difficult decision picking just 10 promising filmmakers or are there some obvious choices for you that you simply had to include?
I chose a mix of filmmakers of different nationalities that are part of a new generation of young and interesting filmmakers. I also chose some mavericks and some outsiders who are working on the edge with a very specific and original approach.
Zak Synder is someone who has made successful films including 300 (2006) and the remake Dawn of the Dead (2004) but also Watchmen (2009), which was quite experimental and not so successful.
Quentin Dupieux was making unusual films in an unusual way, working more as a musician than a regular filmmaker.
The British filmmaker Jonathan Glazer has made two films: Sexy Beast (2000) and Birth (2004), and I think Birth is one of the most interesting films of the decade. I really wanted to say something about him because the film wasn't well received initially but now it's a cult movie and a lot of people consider it an important and intimate movie. It wasn't such a commercial success because it wasn't what you'd expect of such a film with a big star like Nicole Kidman in it.
Jonathan Glazer could be compared to a young Kubrick or Roman Polanski because they are perfectionists and have a talent for image and psychology.
Birth is not the kind of film you'd see in a multiplex. It is more of a poetic film, it's very disturbing and it's not often that you find such a disturbing film with deep feelings. The film became a kind of art - in a good way. It looks like a European film, although Jonathan Glazer is English and he made it in New York, he did something very personal. I think he is very brave and daring and it's important to support this kind of work. Jonathan Glazer has all my respect.
Q: What did you want to say with your choice of filmmakers?
I wanted to put the attention on these filmmakers because they are not necessarily the most famous or popular and I wanted to say don't only talk about the most successful directors, think about the most independent, brave and daring people who want to follow the most personal way of making movies whatever the system, whatever the kind of film.
Judd Apatow - who has made more well-known films like The 40 Year Old Virgin (2005), Funny People (2009) and Superbad (2007) which have mainstream appeal and have been successful in America - creates a personal system, a kind of family within Hollywood, working with the same people. I think my list of filmmakers is in defense of independence and integrity, inside the system or outside the system.
There are two opposite types: Raya Martin for example is a very talented and experimental filmmaker working in a specific system with unprofessional actors, and then there's Zak Synder who is making big films in Hollywood. But they have a point in common because from the first five minutes of one of their films you can recognize their way of shooting and their visual style. All my choices are very stylish which I think is the most important thing in cinema besides obviously making films that are independent and personal, it's important to make a film with style and to write and direct with an aesthetic that proposes something different and something original.
Q: In Take 100 you have picked one classic film that you believe has influenced contemporary cinema. Which film did you pick and why?
I chose The Band Wagon (1953) by Vincente Minnelli. Perhaps it's a surprising choice, not the first you might think of when thinking about the most influential films. There are films with more of an obvious impact like The Passenger (1975), which show the impact and influence of filmmakers on today's generation.
Minnelli is a master of cinema and I chose his film The Band Wagon because it's one of the most beautiful films, a musical made in the 50s. I chose it because it's about a group of people who are making a Broadway show and the whole film is a metaphor for the making of a film, a bit like The Golden Coach (1952). It's an allegory. To make films or shows you need to be a group of people and The Band Wagon is about the making of a show, through it all, from the beginning to the first show, which is a disaster, to when they decide to make a new show.
I like it because they're independent, they're raising money and they're a collection of characters, one's an old guy while the director is coming from a more artistic intellectual stage and making a film is the same, working with people, raising money, never sure if it's going to be a success. I like it because to make good films today you mustn't forget that; the most important thing is about being together with people you like and want to work with, you're a family and don't need to have too much money, it's about artistic freedom. Making films is a human adventure, it's a very human experience and it's important to make something with people you like because it's a very long and tough process. I really admire young people who have the courage to make films today. I think it was easier 20 or 40 years ago and I really admire them and I want to support them and give them the opportunity to have success.
Q: You were the Director of the Cannes Directors' Fortnight. Can you tell me about your experience of this part of the festival?
The Directors' Fortnight is an independent sidebar section separate from the rest of the main Cannes Film Festival, although it takes place at the same time. It was created in 1968 and from the beginning the idea was to propose an original selection of independent films from all over the world, made by new filmmakers.
The idea was to invite young, underground and avant-garde filmmakers who were not normally invited (at least in the 60s in Cannes) to show their daring and sometimes radical films. The Directors' Fortnight discovered a lot of important film directors including Francis Ford Coppola, George Lucas and Martin Scorsese who then went on to the main competition in Cannes and became great masters of film. Martin Scorsese for example took Mean Streets (1973) to the Fortnight and then later went to the main competition with Taxi Driver (1976) - which won the Palme d'Or. The Directors' Fortnight is the first step and the second step is on to the red carpet at the main Cannes Film Festival.
When I started in 2004 as the Director of the Cannes Directors' Fortnight my goal, and my pleasure, was to continue the tradition and return back to the roots of the Fortnight. I wanted to be open minded, curious and eclectic and invite the best of the new generation of filmmakers in the world, focusing on the most independent and the most daring. I didn't invite mainstream films or films with big stars - easy films - I prefer to support daring filmmakers or independent filmmakers who were completely out of the system. By the system I mean the regular, usual way of producing movies, with studios, or the independent system, which can be big and powerful too. It's important to make sure there is still a space for filmmakers who are not integrated in either system, the filmmakers who are making films by themselves or with a small group, not with professional connections.
I invited a lot of films that weren't appreciated by the industry because they weren't following the fashion and didn't get the support from French TV for example, which produces a lot of films. Albert Serra, a young Spanish director chosen by another curator for the book Take 100, made his films independently and he had little opportunity to show his work. I invited him to the Fortnight and following that he became more widely recognized as an important filmmaker. My goal is to support and help filmmakers who don't belong to the list of famous names, who are not necessarily produced by big independent producers or supported by the national channels.
Q: You're now the Director of the Locarno Film Festival. Besides being in a different location, how does the festival differ to the festival in Cannes?
Locarno is a Swiss-Italian festival and is different because it's bigger and not just a section within a festival. It takes place in August from 4-14th this year. The Locarno Film Festival was created 63 years ago, almost at the same time as Venice and Cannes. From the beginning it had the reputation for discovering new filmmakers and new ways of making films. Locarno started in the 1940s with neo-realist films; it was at Locarno that we screened for the first time films from the French New Wave and Czech New Wave. Locarno was always at the edge of the new tendencies of world cinema. To me it is an opportunity to continue my work to be open minded, to be open to new films, and do it on a larger scale. It has two competitions, special screenings with previews and retrospectives. It's an exciting challenge. I would like to put Locarno back on the front stage of the film festival world, to make it an exciting place for everyone who is curious about the evolution of cinema and for the industry too.
Q: How do you discover the undiscovered filmmakers who aren't shown at festiv als?
I travel a lot and I think it's important to be aware of what's going on in different countries, to be open and talk to people and see their work. Film festivals are also a good place to meet programmers and critics and I also meet interesting people at screenings and film schools.
My advice to aspiring filmmakers would be to see movies, know the story of cinema and have a clear vision of what you want to say in the film.
I don't think everyone can be a filmmaker, you have to have an artistic sensibility, talent and vision. Making a film is like having an emergency that you have to communicate. My job as a film festival director is to recognize and help the real filmmakers and artists. Among my choice of filmmakers I have supported their work for a very long time, often since the beginning.
Q: How do you see the future of film?
20 years ago it was easier to make films and live your life as a professional filmmaker because the producers had more money. Now, with the digital media and smaller camera maybe become cheaper to make films but the financial crises has made it more difficult and cinema is not as popular as it used to be. Auteur cinema is not so successful.
A lot of people are making films with very little money and not even being paid. It has become more amateurish in a way. If talented producers and filmmakers want to make something less mainstream they have to do it with less money and less time and not in a very good condition.
This year, fewer films have been produced because of the financial crises, which has a consequence for the film festivals. It's not easy to find good films. Artistic films are not the most successful, the producers and distributors prefer to concentrate on films which are safer instead of helping young filmmakers who have some very original and daring projects. It's a huge fight.
There are some new techniques but it's not so easy now. When I was talking about filmmaking as a profession I was also thinking about the professional way films are released and distributed in cinemas. A lot of art-house cinemas are closing. People are used to watching films on Youtube and the Internet.
It's easier for a visual artist to work in contemporary art, for galleries, than it is to make a film. 10 years ago a visual artist would have made films but now they work in video art because it's easier to produce and easier to be successful. It's an interesting time to be discovering filmmakers because it's during periods of crises and hardship that artists and filmmakers are creatively stimulated; it's my job to find them and support them and I think the book Take 100 will create further impact.