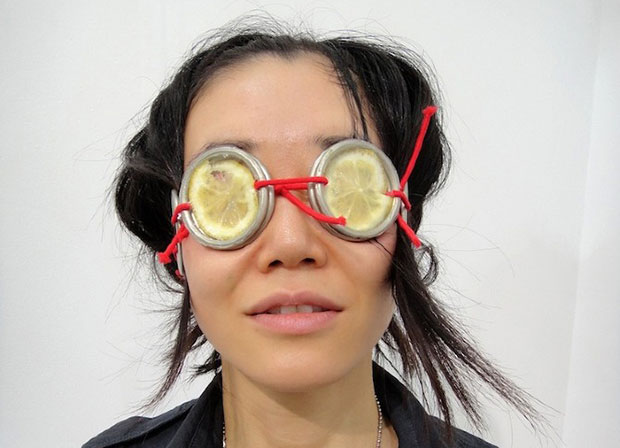 Phaidon's Frieze NY interviews – Aki Sasamoto
The Japanese-born New York-based artist on why she is installing a 3D personality test inside the NYC art fair
Have you got good taste? Most visitors to art fairs such as Frieze, which takes place at Randalls Island in New York May 14–17, feel they have some sort of critical antennae. Even if we aren't buying, we at least wonder which works would work on the walls of our own homes.
Imagine, then, what might happen if visitors to the fair could be sorted and categorised in the same way that we judge the exhibits. This is one of the ideas that lies behind the work of the Frieze Projects' artist Aki Sasamoto.
The Japanese-born, New York based, artist who has shown at the Mori Art Museum in Tokyo, at Performa 13 in NYC and at the Whitney Biennial in 2010, combines practices such as performance, sculpture and film with themes such as jetlag and happy hours. Her Frieze installation Coffee/Tea invites visitors into a three-dimensional personality test, where, by answering certain questions, entrants feed themselves along a series of corridors. Read on to learn why the artist, who signs off her emails to us with the words 'sincere capuccino' believes a judgemental mindset is a guilty pleasure. . .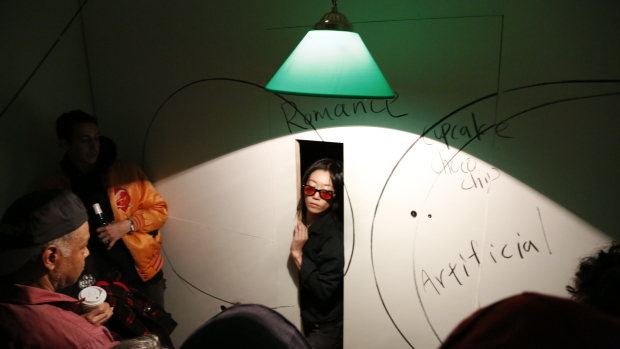 What are you doing at Frieze? "I am making a 3D personality test, titled Coffee/Tea, in the midst of the booths. One entrance, seven exits. You will go through several rooms to get out to the other side of this booth. In each room, there are two exit doors, which invite you to pick one choice over another. The first room is with one door with coffee beans and the other with tea leaves. In another room, there are five chairs and depending on which chair you sit on, the chair will tell you which door to go through. All the choices are simple yet telling. Your taste, preference and instinctive reaction become clues for this system to decide on your personality type. As you come out of the final door, you are given a little pin that states what your personality type is."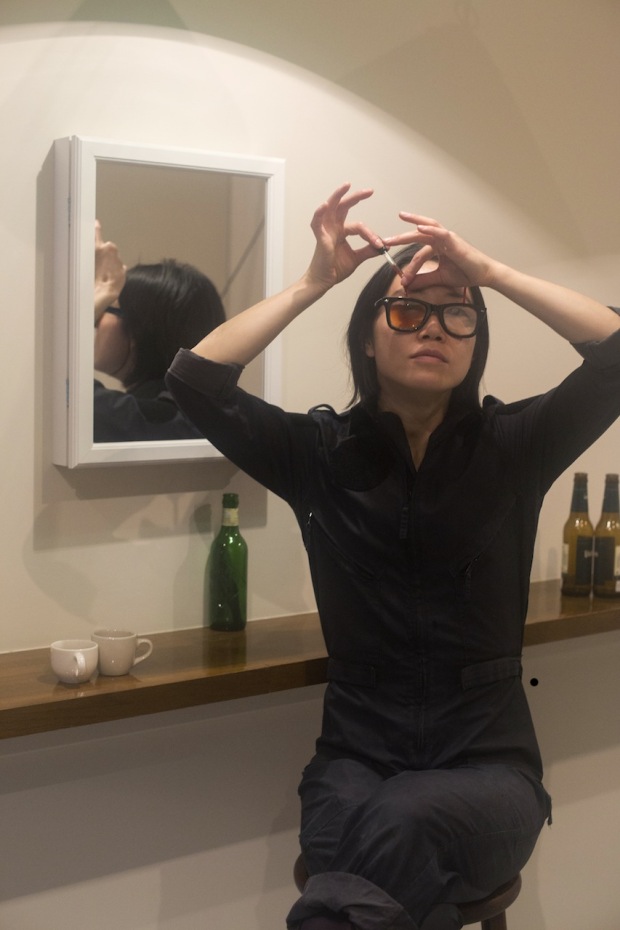 Why are you doing it? "I promote being judgmental. Though judgmental people are often judged to be crass and rude, judging people to assume their next move has been my natural self-defense mechanism. An OCD person would have a particular hand shake and a timid person would place their drinking glass close to the edge of a table. I find immense joy when a person behaves exactly the way I assumed that type would. And I can plan how to enhance my interaction with them. I find it amusing that the different categories emerge across cultures. I have made many mistakes, but have never given up collecting data for types in this social world. Judgements are natural yet problematic. And I pose a question that they may be useful."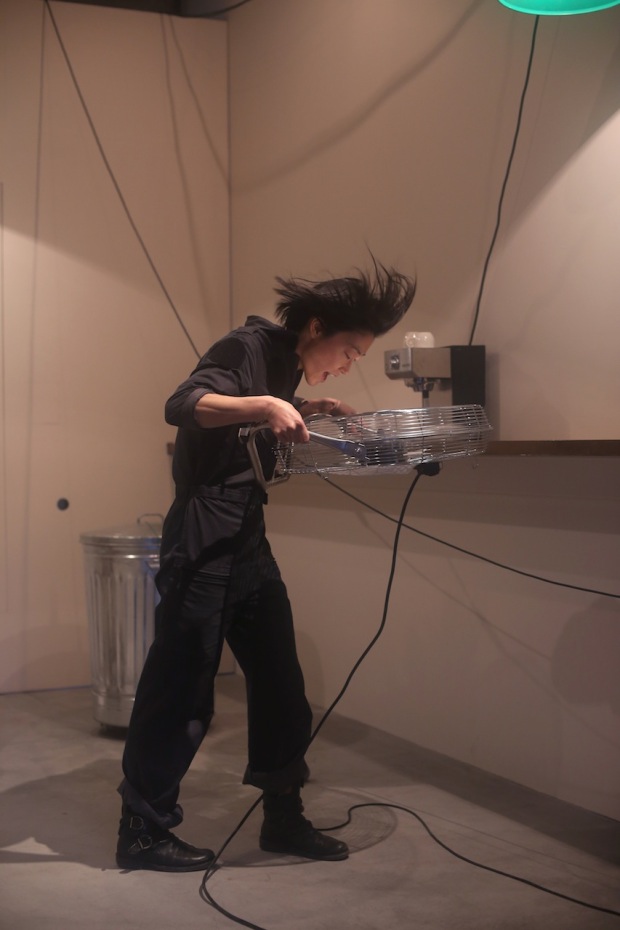 What does it mean? "An art fair is where art works are on display to be judged and where people make their tastes and preferences apparent in public. I find this a perfect place to celebrate and to problematize the judgmental nature of our taste. Everyone walks through booths after booths only to reaffirm what kind of art makes them tick. When people converse at the art fair (gallerists, collectors, artists, curators, or whomever they are), there is a kind of assumption game, where they try to figure out each other's tastes. My piece is light-hearted but satirical. I aim to hit the issue with humour so that we are able to laugh about how absurd and (in)accurate our judgments are."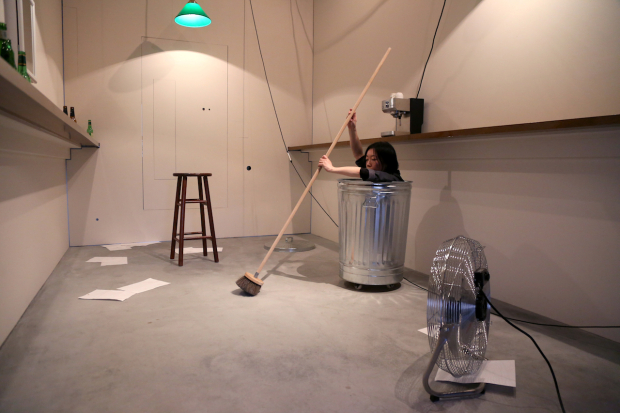 How does it fit in with your practice? "Coffee/Tea is an exercise for me to translate my performance into the audience's movements. I often make performances with my sculptures and lay out some social and metaphysical observations in a particular fashion. I plan out my installations and performances by drawing out a floor pattern that threads the personal logic of the piece. In the context of a busy art fair, the type of performance I do may get buried in its loud atmosphere. The audience is too massive, so why not use their presence? Asked to go through this installation one by one, each audience is made into a sole performer of choices. I want to export my floor pattern thinking onto the audience's movements. I am also interested in the power of objects and the theory of "affordance." I try to situate my objects in each room in such a way that the room asks a question without the aid of language. How do certain objects or environments guide our behaviour?"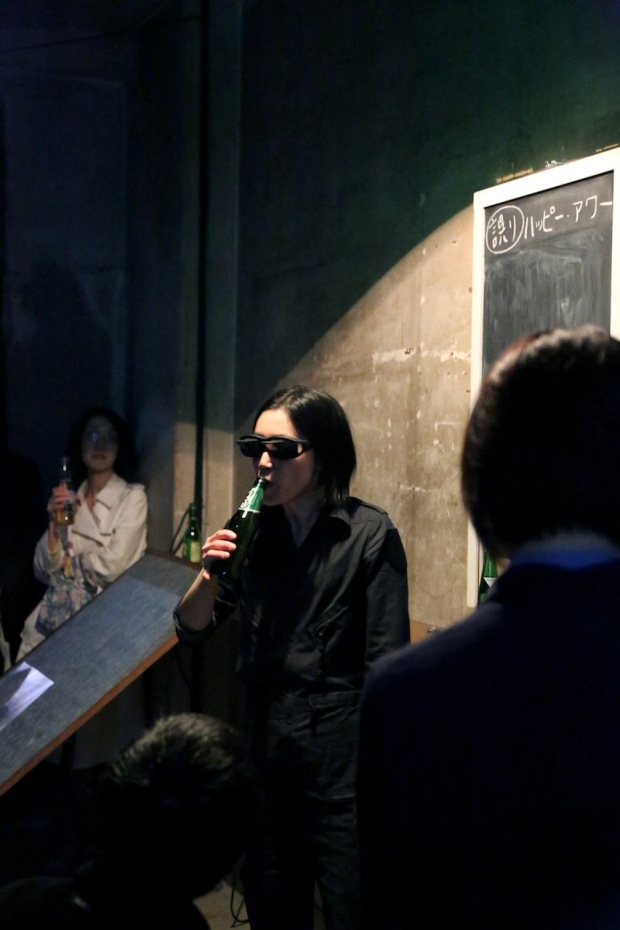 Which other artists do you admire or find inspirational? "That changes over time. I get art inspiration mostly from other fields. I admire craftsmanship and expertise in pretty much anything that is foreign to me. For example, I get an idea, watching a chef at work and how she uses the knives, or by visiting a craftsman who has made chisels for the past fifty years. In arts, I am revisiting Jim Jarmusch's films. I also pay attention to my musician friends. It is interesting to see how musicians of my generation are dealing with the current crisis of the music industry. My friend, Alsarah, is making interesting music that combines her political and historical research into North Africa and pop music."
For more on Aki's influences and forebears, consider our books on Conceptual Art, and The Artist's Body, to understand her contempories, get The 21st Century Art Book. And to get a better grip on contemporary art check out Defining Contemporary Art.