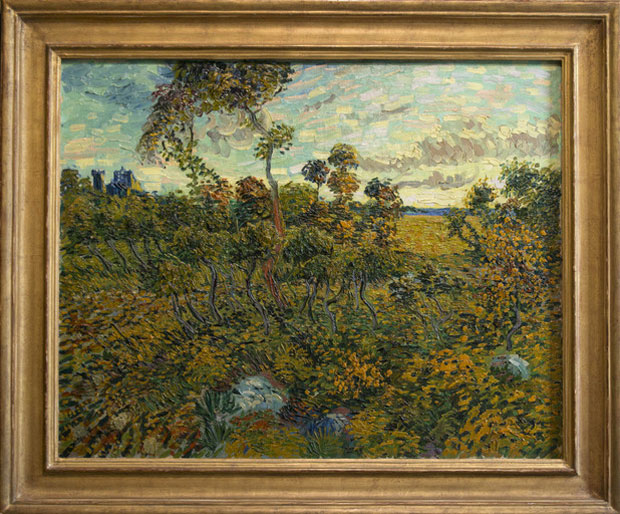 Lost van Gogh painting found in Norwegian attic
Van Gogh Museum's director Axel Rueger calls Sunset at Montmajour find a "unique experience"
As publishers of many fine books on Vincent van Gogh, including an Arts & Ideas volume and a Colour Library volume, we were pleased to see the unveiling of a painting by the Dutch master at the van Gogh Museum in Amsterdam this week. The painting, Sunset at Montmajour, a large oil landscape of oak trees in the south of France, was painted in 1888 when van Gogh was at the height of his powers.
In 1908 the painting was bought by a Norwegian industrialist, Christian Nicolai Mustad. However, he was advised by the French ambassador to Sweden that it was not by van Gogh. The painting lay abandoned in an attic until Mustad's death, when it miraculously reappeared as part of his estate.
Part of the evidence that eventually confirmed the painting's authenticity was a letter written by van Gogh to his brother Theo on 5 July 1888, describing a landscape he had painted the previous day. It read:
"Yesterday, at sunset, I was on a stony heath where very small, twisted oaks grow, in the background a ruin on the hill, and wheatfields in the valley. It was romantic, it couldn't be more so, à la Monticelli, the sun was pouring its very yellow rays over the bushes and the ground, absolutely a shower of gold."
Greeted by applause from those present at the unveiling on Tuesday, director Axel Rueger called the event a "unique experience that has not happened in the history of the Van Gogh Museum." If, like us, you're now planning a trip to see it up close, remember to download our Wallpaper* Amsterdam city guide before you go.