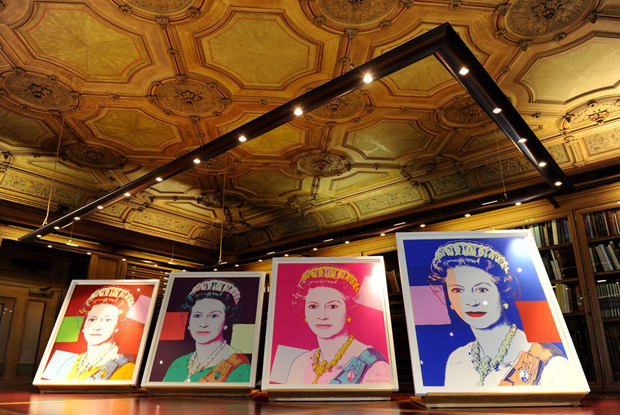 The Queen Buys Warhol
The Royal Collection Trust buys Andy Warhol's portraits of Elizabeth II to mark her Diamond Jubilee
Warhol once said he wanted to be "as famous as the Queen of England", and while he may not have quite equaled HRH's prominence, he's certainly reached a position where the House of Windsor wants to become better acquainted with the American pop artist.
Earlier this week The Royal Collection Trust - one of Queen Elizabeth II's art collections - announced that it was buying four Warhol portraits to mark her Diamond Jubilee. These will be displayed as a group at The Queen: Portraits of a Monarch opening November 23 at Windsor Castle, just outside London.
The portraits were made by Warhol in 1985, and form part of his Reigning Queens series, which also includes images of Queen Beatrix of the Netherlands and Queen Ntombi Twala of Swaziland.
Warhol based the work on a 1975 photograph by Peter Grugeon, which was released in 1977 for official use during The Queen's Silver Jubilee. It's the same shot that Jamie Reid defaced for the cover artwork of the Sex Pistols' 1977 single God Save The Queen. We don't think Reid's images will feature in the exhibition, but visitors will be able to see other depictions of the British head of state, including Lucian Freud's 2001 oil, as well as photographs by Dorothy Wilding, Cecil Beaton, Rankin and Annie Leibovitz.