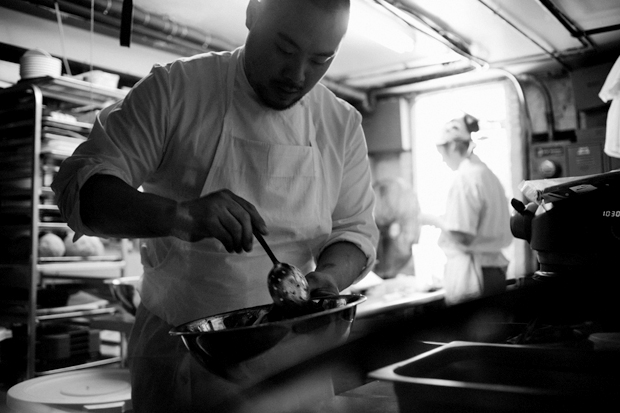 Coco chef close-up: David Chang
As the fashion world descends on New York, the chef behind some of the hottest new restaurants in the city talks to Phaidon.com
David Chang is one of the most successful young chefs working in New York today. His latest initiative, the French-Vietnamese Má Pêche, a joint venture located in Midtown's Chambers Hotel, opened in April 2010. The new restaurant follows in the wake of his Momofuku restaurants, which include the inaugural Momofuku Noodle Bar (launched in 2004 after his return to New York following a period spent in Japan studying at kaiseki, izakaya and ramen noodles restaurants), and Momofuku Ssam Bar, which expanded to include Momofuku Milk Bar in 2008. Though he cites some of the great names in cooking as his inspiration, he has been greatly influenced by his extended family, and a key quality of his restaurants is that they're accessible to everyone. Chang's food philosophy is simple: getting it right means making his food as delicious as possible.
Q: You were selected by Alice Waters in the book Coco as one of the most significant chefs working today. What does it mean to be included in such a book?
It's an honour. How can it not be an honour to be included with so many talented chefs?
Q: How has your approach to cooking changed over the years since your inclusion in Coco?
I think it's been about putting a creative ceiling to what I do. It's not as freewheeling as it used to be.
Q: Which of the other chefs included in the book do you feel closest to?
I aspire to be as good as all the 10 world-leading masters that selected the top 100 chefs. But it's strange to be in the same book as Pascal Barbot. I still don't understand how he qualified for just the Coco 100, when he's arguably one of the best chefs in the world and has been for many years.
Q: Which recipe are you most proud of creating or re-inventing?
A recipe for dashi – which we make with ham, bacon or our own pork-bushi.
Q: Good food and cooking is a mixture of many things, what elements do you feel underpin good cooking?
At the end of the day, it's execution and discipline. It doesn't matter how inventive you are or if the recipe is great. If your team can't cook it properly, is all for naught.
Q: Can you tell me about your approach to cooking and creating new recipes?
I try to create dishes that are deceptively simple with as many flavors as possible. I think it is important to make everything a collaboration. And I remember that nothing is sacred and that everything can be improved upon.
Q: Can you say a bit about your creative process? Do you start from the same point or do different dishes always require a different approach?
Everything starts with failure. You have to learn to embrace it.
Q: How has the idea of sustainability become more important in your cooking?
As we've developed relationships with farmers and our purveyors, it has just become second nature.
Q: Who do you most admire in the world of cooking today?
Andoni Aduriz, René Redzepi, Pascal Barbot, Yoshihiro Narisawa.
Q: Where do you like to eat on a night out?
When I have a night off, I like to stay in and order Chinese delivery.
Q: What's your advice for aspiring chefs?
Go for broke. And don't forget to footnote all the techniques you use but didn't invent.
Q: What do you wish you'd known when you were starting out?
That this rabbit hole is really deep.
Q: What's your view of today's restaurant community and the state of the food industry at large?
It's in a state of tumultuous change because cooking has become cool and it's never been cool. As a result, chefs have to adjust to a different labour force - one that doesn't necessarily understand the commitment or hard work needed to be a great chef
Q: How do you see the future of cooking?
I can only speak for America, but I think there will be more and more of an Italian focus. And more super-casual dining.
David Chang, thankyou