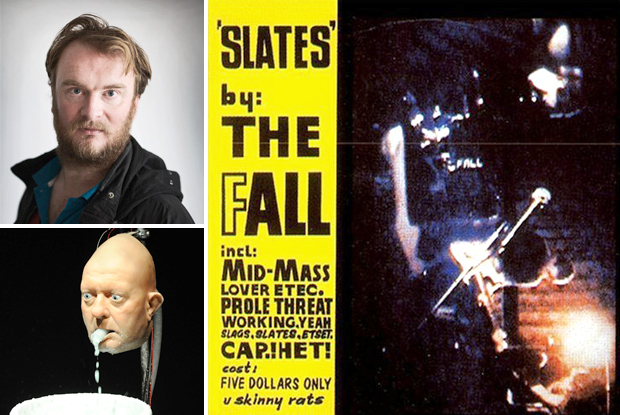 Nathaniel Mellors' Muse Music
The absurdist artist on the music that gets him in a creative mood
Friday's here again so we've asked another of our Phaidon friends to compile a playlist to soundtrack your weekend. Today, Nathaniel Mellors picks the music that inspires him to create his brilliantly off beat installations, multi part videos and animatronic heads that gurn, spew and mumble.
Mellors, who the Guardian newspaper recently called "a major star in the latest generation of British artists" is currently in the touring British Art Show which moves to various Plymouth venues on Saturday (September 17). In 2009, the BBC commissioned him to make a short film to introduce the final episode of the cultural history series, The Seven Ages Of Britain, presented by David Dimbleby. The resulting work featured the veteran BBC journalist voicing a silicon mask Mellors had cast from his face.
If you have a Spotify account you can listen to Nathaniel's choices HERE. But before you do, have a quick read of what he says about them.
"Music was my way into art school. I was involved in music from my very early teens - tape collage and improvising with a microphone and an analogue delay pedal with friends. We had no technical ability at all. It was great! The experience of improvising with sound has been a handy touchstone ever since in terms of approaching art making; a good reference point for short-circuiting the commonly reductivist logic you can encounter at art-school and beyond. Music, even when it is self-consciously deconstructive, is always generative."
The Fall - Middle Mass There's something perfect about this record; fresh and mysterious, content clarified by appropriate production, originally cut by Rough Trade into an attractive 10" record and vended at "2 pounds only U skinny rats."
Doug E Fresh & The Get Fresh Crew feat. MC Ricky D - La Di Da Di I had this on 12" single when I was about 10. I also had my own oversized roll of flooring vinyl for spontaneous break-dancing with local "crews" on the street corners of Southborough. I still love the sound of Slick Rick's hybrid South London / Bronx drawl.
Sonny Sharrock - P _ortrait of Linda in Three Colors, All Black _I read that Sharrock learned jazz guitar because his asthma prevented him from playing the horn, so he decided to approach the guitar like it was a wind-instrument.
Socrates That Practices Music - Tommy Dawsey This is a track from their album Further Conclusions Against An Italian Version. It mixes defiantly English conceits with some special song-writing skills. I'm trying to coin a new genre term for the Socrates sound - 'Meta-Goth'. The group's subjects include the occult, shire horses, legal angst and dead gardeners. 'Hampshire Gothick' also works.
__Genius/GZA - _4th Chamber ___ I love the narrative-hip-hop-grunge-gunk of this track, from the brilliant first wave of Wu-Tang Clan solo albums.
Willie Nelson & Waylon Jennings - Mommas Don't Let Your Babies Grow Up To Be Cowboys This was a big song for me when I was very small, visiting Bilborough Estate, Notts, in the late 1970's and early eighties. My Grandad indulged a lot of rewinds. They were very supportive of my child-hunger for records and his vinyl copy of Waylon & Willie became mine in the end.
Country Teasers - It Is My Duty Ben Wallers, the lead singer and songwriter of Country Teasers And The Rebel is one of Britain's most consistently brilliant and under-appreciated artists. This track, from 1996, combines a number of his key themes, and his style, as ever, is highly literate and politically incorrect.
Advanced Sportswear - Green Zone This was improvised by Ashley Marlowe, Dan Fox and myself in a stairwell at the Rijksakademie, Amsterdam.
__Underground Resistance - _Jupiter Jazz ___ I love Detroit techno, from Derrick May to Theo Parrish and Kenny Dixon Jr. This is one of a number of seminal UR tracks. Their back catalogue is awesome.
__Notorious BIG – _Hypnotize ___ "Esgargot, my cargo", as Eric Cartman likes to say. Onwards and upwards.
Listen to Nathaniel Mellors' Phaidon playlist on Spotify
You can also listen to these creatives' Phaidon playlists:
John Pawson
United Visual
Simon Fujiwara
Samuel Wilkinson
Alex Hartley
Brian Griffiths
Michele Howarth Rashman
George Condo
Martin Boyce
George Shaw
Karla Black
Piers Secunda
Mark Titchner
Chris Johanson
Edmund de Waal
Haroon Mirza
Elizabeth Peyton
Wilhelm Sasnal
Richard Harrison
Antony Micallef
Roger Hiorns
Sign up to the Phaidon newsletter to get future updates.