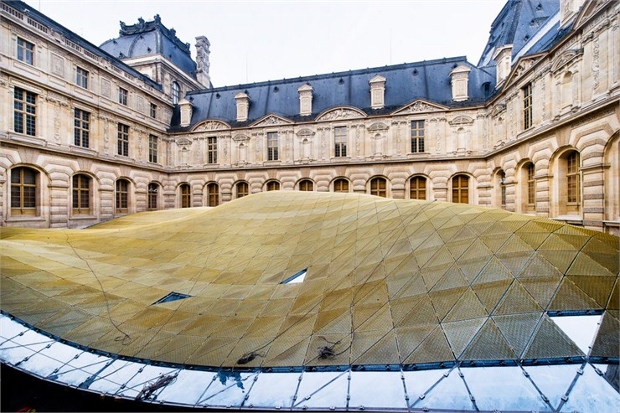 The Louvre's Islamic Art wing opens this weekend
A new courtyard at the Louvre opens on Saturday, displaying the museum's peerless collection of Islamic art
It's a museum more closely associated with the European visual arts tradition, yet Paris' Louvre gallery also has an incredible collection of arts and artefacts from made by Islamic artists. The items had been part of The Louvre's decorative arts collection up until 2003, when a new department was created. In 2008, plans for a dedicated exhibition space were put into action. This weekend, visitors will be able to enjoy both the works and the new building. The museum dedicated their Cour Visconti to the collection, and appointed architects Rudy Ricciotti and Mario Bellini to oversee the courtyard's transformation. The pair, perhaps referencing Sir Norman Foster's Great Court at the British Museum, covered the courtyard with an undulating glazed roof.
The construction itself is impressive enough, yet the 2,800 square metres of exhibition space provided will allow the French museum to display its remarkable collection in all its glory. From this Saturday, visitors will be able to take in mosaics from the Damascus mosque, a 15th-century Mamluk porch, a 10th-century ivory box from Andalusia, as well as countless other pieces, some dating back to the first century AD, others drawn from the modern period.
The project, which cost just under E100 million, was made possible thanks to donations from the likes of Morocco's King Mohammed VI and Saudi Prince Waleed Bin Talal's foundation. Louvre director Henri Loyrette, taking into account the works' political significance as well as their artistic merits, said the galleries aim to showcase "the radiant face of a civilisation". We think they've created a wonderful space in which to do this.
If you are unable to get the gallery, then consider our book on Islamic arts; it's a comprehensive survey that brilliantly captures the essence of this fascinating culture.