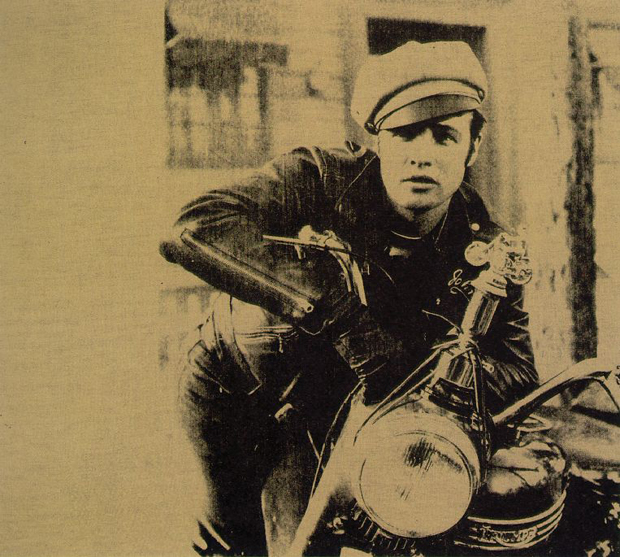 Andy Warhol's Brando expected to reach $20 million
One of four silkscreens of Marlon Brando created by the artist is up for sale at Christie's
Christie's in New York has announced that it will be auctioning off Andy Warhol's Marlon, a silkscreen portrait, made in 1966, of Marlon Brando. The silkscreen is based on a publicity photo from the 1953 Brando film The Wild One. In 2008, a Warhol portrait of Brando from 1966 sold at Christie's for $32,521,000. The work will go on sale November 14, and is estimated "in the region of $20 million."
Titled "Marlon," the work comes from the collection of Donald L. Bryant, a trustee of the Museum of Modern Art who bought it for $5 million at Christie's in 2003. The current estimate is "very much in line with where the market has gone for Warhol," said Brett Gorvy, chairman and international head of postwar and contemporary art at Christie's. In May, Sotheby's sold a Warhol Elvis Presley for $37 million.
"Alongside his iconic portraits of Elvis Presley, Warhol's image of Marlon Brando exudes a raw sexuality and intense power rarely found in his work. In this painting, Warhol has created the archetype of cool and glamour," Gorvy said.
Warhol printed the image on unprimed, 41-by-46-inch canvas. Four images of the same size exist, one of which is on loan to the Tate. "It's the best of the four in terms of the image and condition," Gorvy said. "Because of the way the ink seeps into the surface, the image registers extremely well." Check out our Andy Warhol content and some great books on him.