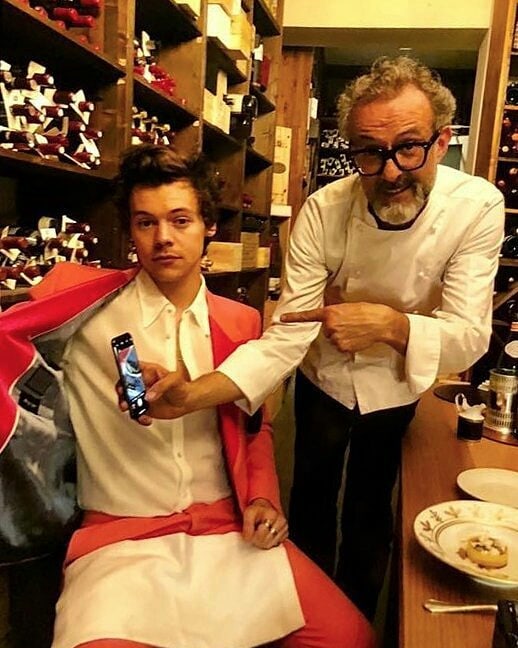 Harry Styles drops in on Massimo Bottura
The singer ate in the cellar at Osteria Francescana on the Italian leg of his European tour
One Direction star Harry Styles is currently touring the world, performing songs from his debut album. For many of his live performances, Styles is wearing custom-made Gucci suits.
At his Copenhagen concert Styles wore a jacquard suit with oversized peak lapel jacket and a silk self-tie blouse; while for his show in Milan he wore a jacquard print suit, with a white crystal embroidered lapel, paired with a lurex shirt with pleated bow.
Milan is only a two hour drive from Modena, Massimo Bottura's hometown and the site of his world renowned restaurant Osteria Francescana; and Massimo's close childhood friend Marco Bizzarri is Gucci's CEO. So, just prior to the end of the Italian leg of Styles' tour, the singer ate in Osteria Francescana's exclusive cellar, before joining the staff in the kitchen for a more convivial group photo.
Want to know more about what food Harry might have eaten and enoyed? Then take a look at Massimo's book, Never Trust a Skinny Italian Chef here and to cook extraordinary meals from ordinary ingredients take a look at his second book Bread is Gold, here.