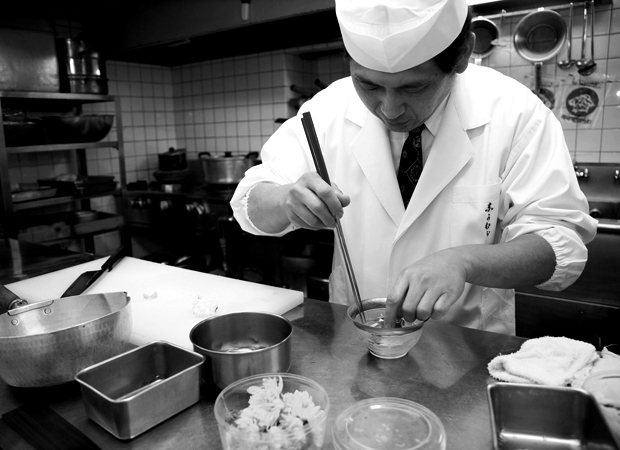 Coco chef close-up: Motokazu Nakamura
The quiet revolution of the Kyoto-based chef making centuries-old recipes 'taste superbly new'
Motokazu Nakamura has owned the 200-year-old Nakamura restaurant since 2006, having trained at Tenryū -ji, the head temple of the Tenryū branch of Rinzai Zen Buddhism in Kyoto. In that time he has quietly developed an approach to traditional cooking using the highest quality ingredients and with a strong basis on the avoidance of waste that has taken the culinary world by storm. Motokazu Nakamura was selected by Yoshihiro Murata as one of the most significant chefs working today for Coco, Phaidon's comprehensive book on who to watch in the culinary world.
Q: How has your approach to cooking changed since your inclusion in Coco?
I've been experimenting with different approaches: spiritual, scientific, traditional and so on.
Q: Which of the other chefs included in the book do you feel closest to?
No one in particular, but every chef appearing in this sort of book is distinguished, and highly respected, I can learn from them, and I have an interest in all of them.
Q: Which recipe are you most proud of creating or re-inventing?
Amadai no Sakayaki (Grilled Tilefish) and Karashi Zouni (a take on a traditional new year's dish).
Q: Good food and cooking is a mixture of many things, what elements do you feel underpin good cooking?
Food that impresses…that moves and astonishes us.
Q: Can you tell me about your approach to cooking and creating new recipes? Do you start from the same point or do different dishes always require a different approach?
It's instinctive, like pulling out the antenna, zeroing in, trying to grab hold of or catch something - ideas from daily life, from holidays or nature or anything, just come gushing to the surface. And then I taste it. When it doesn't go well, I have a few tricks to ensure I can realise my vision for the dish. I can usually figure out the right thing to do.
Q: Who do you most admire in the world of cooking today?
Ferran Adrià
Q: Who would you most like to cook for and why?
People who love to eat. People who have never had real Japanese before
Q: Where do you like to eat on a night out?
Some easy place with the family (I have young kids)
Q: What's your advice for aspiring chefs?
Define your own style (do it the hard way).
Q: What do you wish you'd known when you were starting out?
At first, it's more about getting used to the practical side of things than theorising.
Q: What's your view of today's restaurant community and the state of the food industry at large?
We have to think how restaurants can cater to the customer's needs and desires whilst maintaining a viable business.
Q: How do you see the future of cooking?
The fusing of world cuisines is taking place. For instance, in Japan, traditional sushi is the norm, but under foreign influence there are new types of sushi emerging. But, I do think that the more internationalised food becomes, the more the distinctiveness of each country's cuisine is lost.
Motokazu Nakamura, thank you