Phaidon's Frieze NY interviews – Frank Castronovo
One of the Franks behind Frankies Spuntino talks coffee, collecting art, and what wine Larry Gagosian serves
Next month at Frieze New York there will be one section where all fair-goers will be able to pick up an undisputed classic, just don't expect to hang it on your wall. For the past three years, the chef and restaurateur Frank Castronovo, with his business partner and fellow chef Frank Falcinelli, has brought his brilliant Italian American restaurant, Frankies Spuntino, to the Randall's Island fair. At their tables you can get their own inimitable gnocchi marinara and fresh ricotta or eggplant parmigiana as good as if it had been served at their original raw-brick-walled restaurant on Court Street in Brooklyn.
For 2015, the Franks are also offering their carnivorous Prime Meats concern at the fair, hosting an outdoor barbecue and grill beside the event space. Frieze aside, they're also working on an artsy, chefs' residency for New York, building up their own art collection and furthering the success of their coffee shop Café Pedlar. Read on for Castronovo's take on René Redzepi's MAD, Larry Gagosian's taste in wine, which coffee strains are like which cannabis varietals, where else is good to eat in New York right now, and why celebrities always act nice at their place.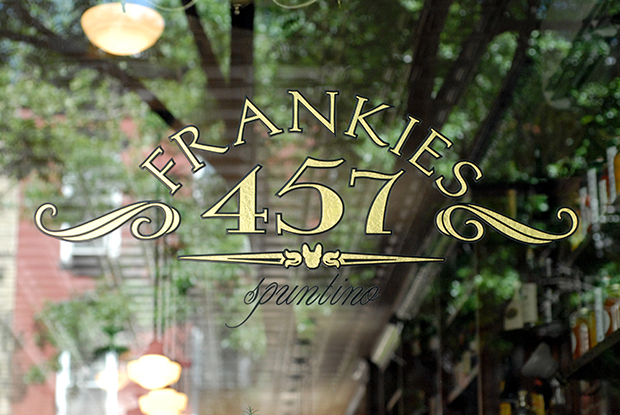 How did you guys end up at Frieze? " Our Director of Operations, Chris Harkness, was contacted by friends in the food world. They were looking for something typical of New York, that would work really well with the fair, something that would be accessible. I think our food works well there because it's scaleable, and it's very price friendly. If you're spending millions of dollars on art, you don't have any money left over for food, right?"
Will you be looking for art to put in your restaurants? " We do collect, but don't put art in our restaurants; it doesn't really work there. The food should be the art there, that's the focus, not the art. But we collect local artists, people like Dustin Yellin and Ron Gorchov. They're all friends of ours. We go to the Thursday night openings, and plenty of artists end up at our restaurants for little get-togethers. It's really intertwined."
You know your wine. Do galleries ever serve decent bottles at their openings? " Sometimes, I mean, a lot of times they're on a budget, but sometimes they go big. Gagosian? He's thrown a couple of nice parties with us. He likes the good stuff."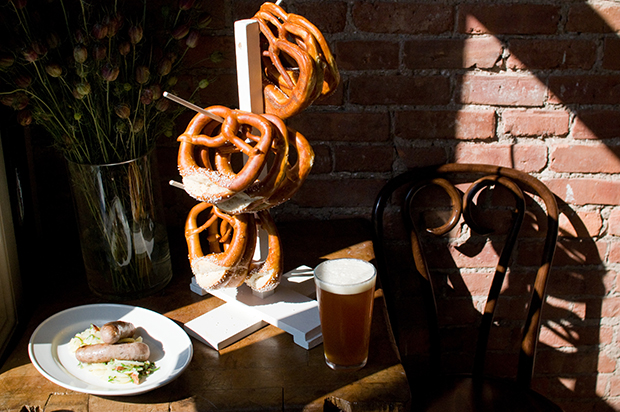 Not only were you guys at the First Frieze New York, but you've also attended every one of René Rezepi's MAD events since its inauguration in 2011. Why have those culinary events been so important? " Because it's like a chefs' congress, a chance to share ideas and to share things that are happening in our respective countries, respective cities; it's something that has never really been done before in a non-corporate manner. The people we meet there, like René Redzepi, Alex Atala, and Massimo Bottura, they're really good people, really passionate about their craft, their cities and doing the best that they can for the community."
You featured those chefs on your Vice TV show, Being Frank. How did that work out for you? " Good, I was very comfortable in front of the camera. We didn't try to play ourselves, the cameraman and the producer, who were all young guys, in their twenties, followed us around, as we went to meet, say René in Copenhagen, or Alex Atala in São Paulo, or Gastón Acurio in Peru. There wasn't a lot of planning. It was very run and gun."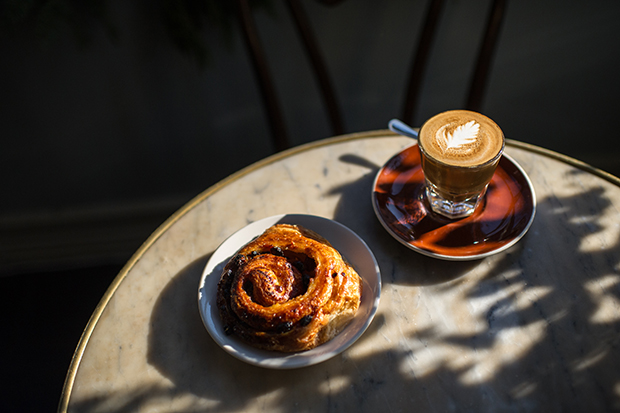 You also run Café Pedlar in Brooklyn. What's new in coffee? " I guess it's our roasters, Stumptown. They've got the best sourcers, people with a direct relationship with the farmers. They bring in single varietals; we hope to travel with them to Kenya and Rwanda to produce our own label. Plus Stumptown have got a great blend, called the Hair Bender, which everybody loves. We opened Pedlar in Cobble Hill 2006 and now it's got the highest birth rate in the country, and those mommas need their coffee."
How would you characterize the differences between Arabica and Robusta beans? " Arabica and Robusta is the same as [cannabis strains] Indica and Sativa! Stay away from the Indica and stay away from the Robusta. Stick with the Sativa and the Arabica."
Where is good to eat in New York right now? "My favorite place is Ko. David Chang has just opened his second or third incarnation of this place, and it's off the hook. The executive chef Sean Gray, is killing it. The food is an amazing combination of local products with Asian flavours and European techniques. He's not got too many things going on, on the plate, and it's clean, you know? You eat well and you feel good, which is what is ultimately for me, when I critique my experience. I can go into a fancy restaurant and you feel sick, if you eat at Ko you have an amazing meal, and you feel great. It's my favourite experience right now. I could go every week, but I'm trying to hold back."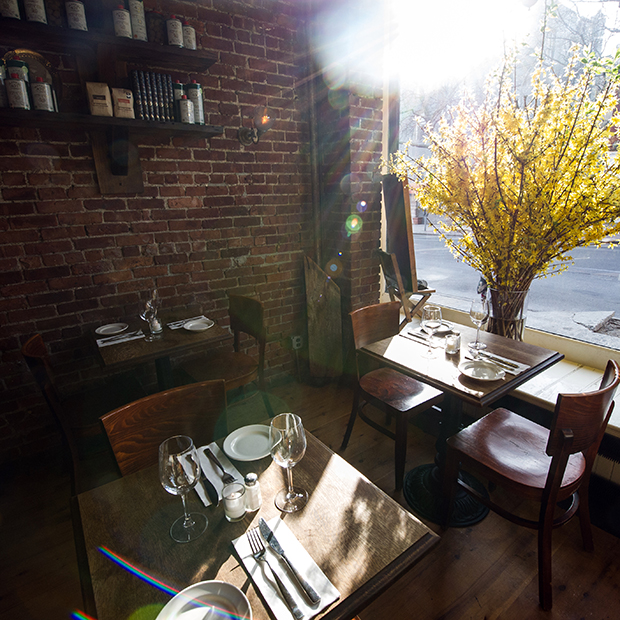 It's interesting you placing emphasis on the post-prandial qualities of a meal. Is that something people are thinking about more now? "Well, I am. I'm almost fifty now, and you know, I put of emphasis on how I feel after I eat there. There was this great article by Kate Krader, in Food & Wine magazine. She wrote about how the younger generation are putting so much emphasis on flavor - these dishes full of umami bombs - that they're not thinking about what it's doing to your body and what happens afterwards. You get these dishes are designed for the young dot-com kids. They grew up in a different world. You get these restaurants full of 25-year-olds, who've just graduated college, and they've all got a voice on social media. They're all saying 'this is the spot, this is the shit,' and I'm like, 'I don't think so'. That's only my humble opinion. Chang? He's a really great chef and so is Sean."
Who's the worst behaved celebrity you've ever had in your restaurant, and what did you have to do to get them out of there? "I can't say! They've all been really well behaved. Maybe it's the gangster presence in our neighbourhood that keeps us line. Our neighbourhood was notorious. [20th century New York gangster] Joe Gallo used to walk down our street with his pet lion."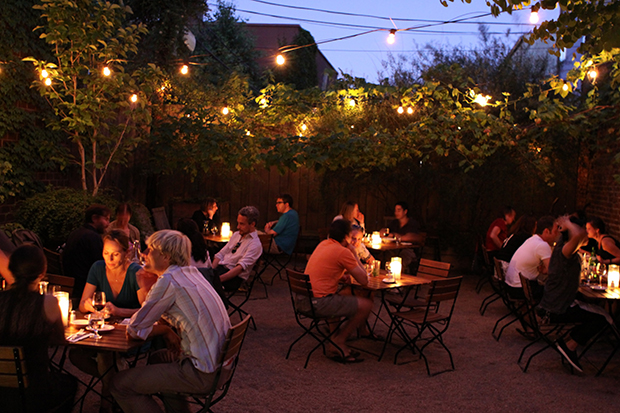 So what's the most precarious thing about running a restaurant in New York now? "The city itself. The people are great, but the Department of Buildings, the Fire Department; the Department of Health and Mental Hygiene. They're there to protect the public welfare, but they've gone too far. Ask Frieze. They shut the fair down for a few hours last year, and levied huge fines. They realize there's big money to be made out of us little guys."
Are you opening a Frankies Spuntino in Williamsburg? "No, that's not happening, but we are doing a Res project our artist in residence series in Red Hook. We are designing a beautiful, intimate facility, which, hopefully, we'll have set up by the fall. Then we'll bring resident chefs to come to New York to present their work. It could be a lecture or demonstration, but it will be in a non-commercial environment, for the New York City community. We've got a lot of chefs signed up for it. I can't say who we've got yet, but it will be a little like MAD, and it's also a way for us to give back to the culinary world, and the New York community."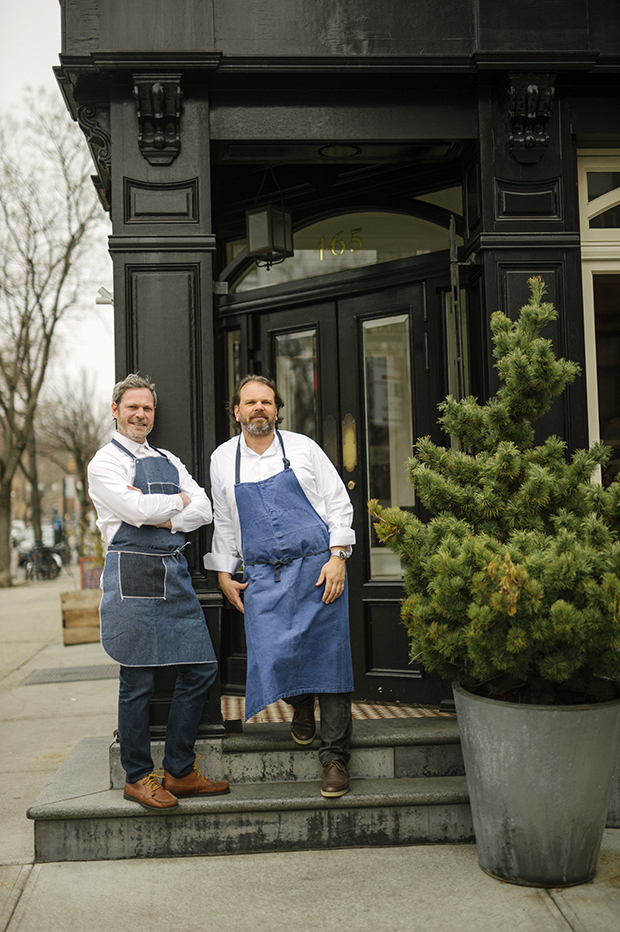 What do you miss about the old New York? "I guess it's the music scene. You know the Ramones actually come from our neighbourhood in Queens? I grew up in the eighties, and my father, who was a retired police officer, did the security for a club called the Ritz, on Eleventh Street between Third and Fourth Avenue. I saw every band you could think of, from the Talking Heads to the Ramones, to the Clash, to Bad Brains, The Cro-Mags, The Smiths, The Cure, and Echo and the Bunnymen. It was amazing. And then, at the same time rap was blowing up. I know the Bronx claims rap as its own, but I think in Queens had its share, with Run DMC, LL Cool J and Nas. I miss all that. The city had a little more of an edge, it was a little bit more dangerous, but I think we're better off now."
For more culinary insight take a look at our food books here; for more great restaurant reccomendations, get Where Chefs Eat. For more on this year's Frieze New York, read our interviews with Frieze Projects artists, Aki Sasamoto, Samara Golden and Pia Camil.