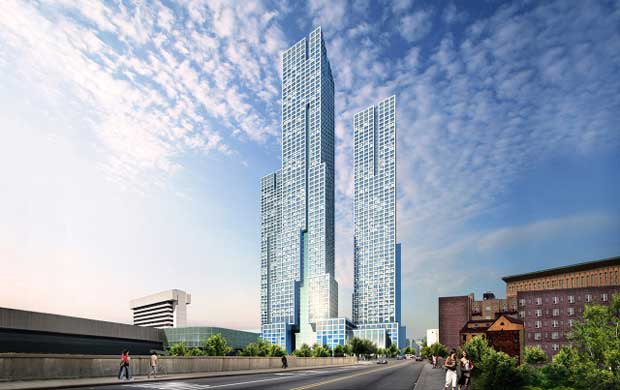 New Jersey's loftiest building takes to the skies
70-storey Journal Squared provides an architectural counterpoint to late era brutalism of PATH station next door
For anyone needing to commute from Jersey City into Manhattan, an apartment in Journal Squared could be the place to live. The trio of sky-scrapers have been designed for a plot right next to the Journal Square Port Authority Trans-Hudson (PATH) rail station.
Building work has just started on the development, designed by Hollwich Kushner (HWKN) and Handel Architects. But Journal Squared isn't just about location. Many of the 1840 units will have amazing views, as the 70-storey tower will be the tallest building in the whole state of New Jersey. That means that hoards of people all the way into New York City will be able to see it.
All three towers – measuring 222m, 193m and 175m - will peak in a point and will be clad in metal panelling. "The graceful proportion and subtle lustre of the metal panel clad towers will be an elegant centrepiece for the community and a bold counterpoint to the brutalist concrete PATH Station," say the architects at HWKN. At the building's base, sub-blocks of five or so storeys connect with the ground, giving the towers a more pleasing proportion.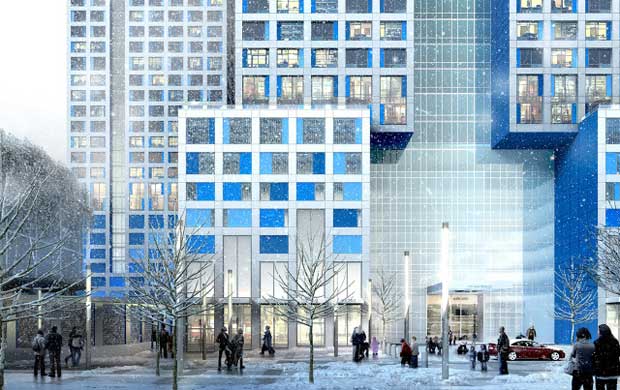 New York-based HWKN describes the scheme as a long sought after transformational project for inland Jersey City and one that will bring greater density to the site. They add that: "Acres of land previously dedicated to asphalt, station loading, and parking will be reclaimed in a sweeping, tree-filled plaza that is activated by community events such as farmers' markets, bicycle parking, evening film projections and events along its low stairs that slope down to the PATH station."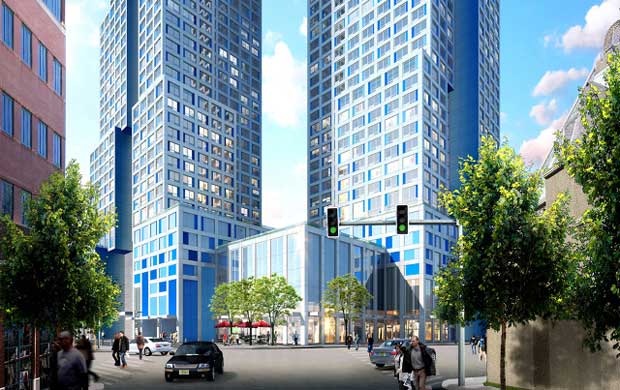 While construction gets going, the graphics are in more than capable hands. The logo and signage are by the world renowned Bruce Mau in New York. The first tower to complete – in 2016 – will be the shortest of the three.
For more on contemporary building, take a look at The Phaidon Atlas of 21st Century Architecture, the Phaidon Architecture Travel Guide App, and our recently launched online Atlas. You can sign up for a free trial for that here. And while you're in the store, check out our two Bruce Mau books: Massive Change and Life Style.