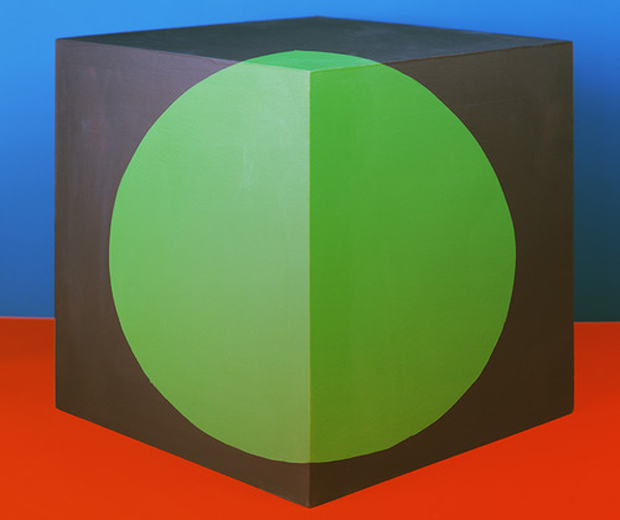 A digital-free photo tribute to Albers and LeWitt
Canadian photographer Jessica Eaton uses large format film to create her Cubes for Albers and LeWitt series
"The idea becomes the machine that makes the art" writes Sol LeWitt in his 1967 book Paragraphs on Conceptual Art. "The serial artist does not attempt to produce a beautiful or mysterious object but functions merely as a clerk cataloguing the results of the premise."
LeWitt's words, as well as his simple, geometric pictures have directly inspired the Canadian photographer Jessica Eaton. In Eaton's series Cubes for Albers and LeWitt 2010 - 13, the photographer has produced colourful, minimalist images that appear to have quite a bit in common with the abstract, minimalist canvases of Joseph Albers and Sol LeWitt. However, Eaton hasn't painted these pictures; nor has she created them on a computer. Instead, she shot them, using her own careful studio techniques.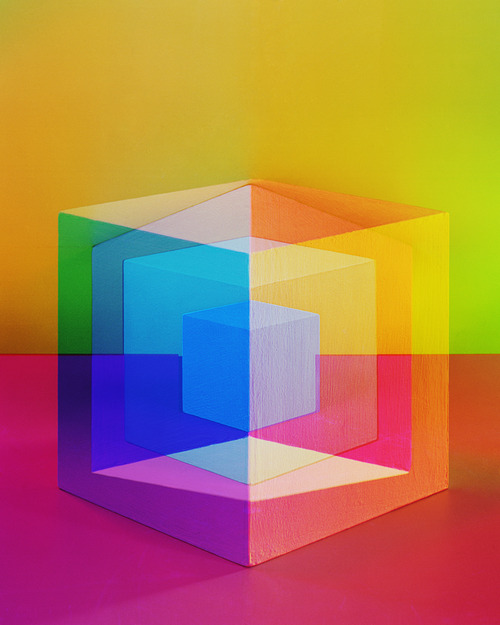 First Eaton creates a cube, painting in shades of grey. Then she places this cube against a black background and, using a large-format camera loaded with 4 x 5 inch film and fitted with a coloured gel over the lens, shoots her first image. Eaton moves the cube, changes the gel for one of a different colour, and then shoots it again, without winding the exposure on. She photographs it multiple times, each exposure picking out a different pigment on the same strip of film.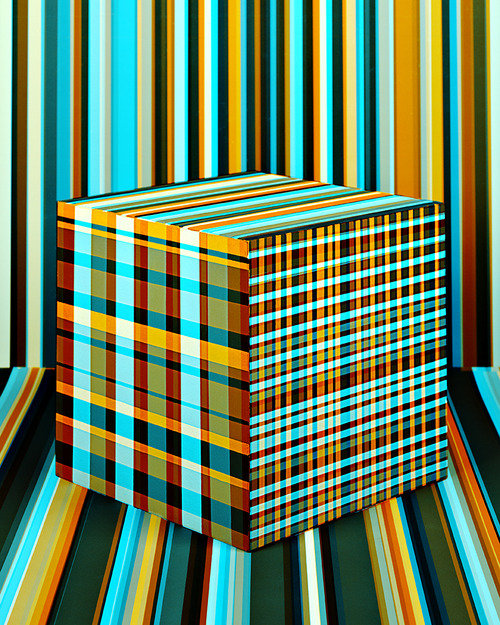 It's an interesting technique, which draws on both the mechanical simplicity idealized by LeWitt, and the physical make-up of colour film, which is made up of three monochromatic layers, each picking out a primary colour which, when superimposed upon each other, creates a full-colour image.
"I'm basically exploiting the interior of the camera," Eaton says. "The colours mix inside it. With paint, mixing colours is a darkening process, but light works the opposite way, making increasingly bright colours each time. If I kept going, I would end up with pure, brilliant white."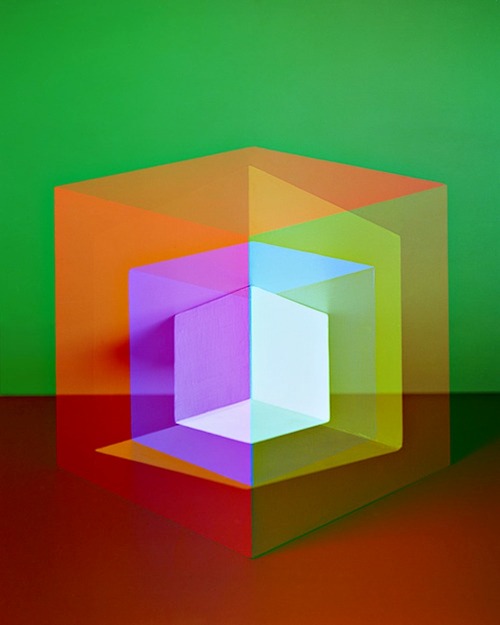 We're glad she stopped her process where she did, as it makes for a thrilling excursion into both the physical possibilities of photographic methods and the rule-driven possibilities of visual arts.
Find out more about Eaton's art here; look out for a forthcoming show at the Jessica Bradley gallery in Toronto. Meanwhile, for more on Albers, consider our great book, and for greater insight into LeWitt's concepts, as well as those of his contemporaries, pick up a copy of our Concept Art primer in our Art & Ideas series.