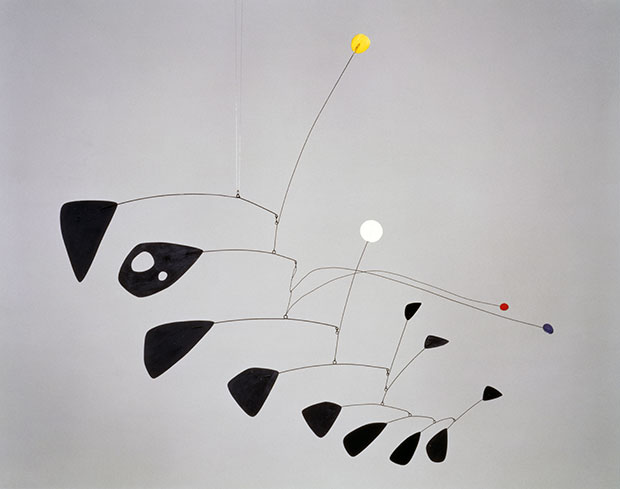 Decoding the hidden meanings of Calder's mobiles
As Tate Modern opens the largest Calder show ever staged in the UK its co-curator Ann Coxon talks about how a meeting with Mondrian in his studio inspired the artist to create his most innovative and powerful work
One of the things that's so often overlooked about Alexander Calder's work is how those elegant, abstract constellations of coloured shapes are almost universally seen as merely pleasant or pleasing.
Yet those airy, floating sculptural mobiles, gently swaying above our heads or calmly rotating in front of our eyes, though slight in stature, can blind us to the circumstances and the era in which, and the reasons why, they were given life.
Calder was a pioneer of kinetic sculpture, (it was Duchamp who christened them mobiles) and he played an essential, often overlooked, role in shaping the history of modernism. Yet it was his work towards the latter half of the 1930s that was to prove the most revelatory.
It's easy to forget, for example, that it was his Mercury Fountain that was exhibited alongside Picasso's Guernica in the Spanish Pavilion, at the Exposition Internationale des Arts et Techniques dans la Vie Moderne, in Paris 1937, where the Nazi German and Soviet Russian pavilions confronted each other in a show of idealogical strength.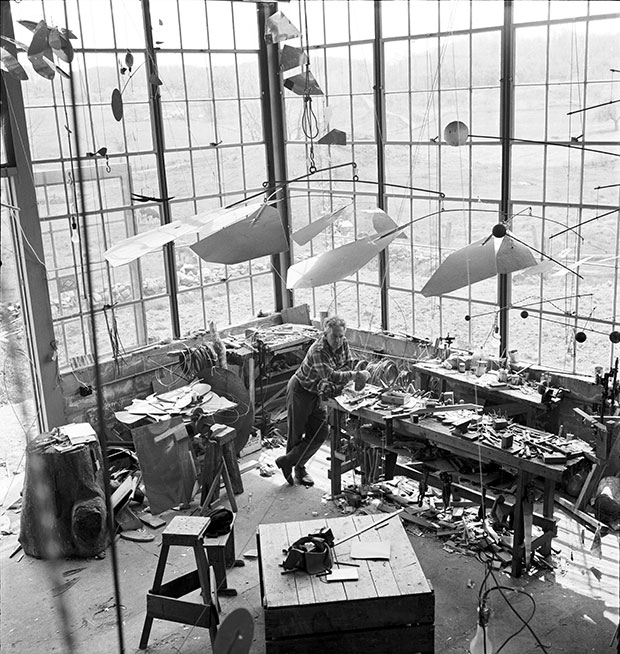 "The transition of his work between 1937 and 1939 was pivotal," says Ann Coxon Curator of Performing Sculpture, a new Calder show at Tate Modern opening today. The 1937 Paris World Fair was infamous in art history for the staging of the Nazi German and the Soviet Russian Pavilions. Both were emphasizing a language of stasis, of things being very classical, very stern. So Calder's emphasis on movement took on a very different and significant connotation, it was envisaging a very different model of society."
Yesterday we caught up with a few of the people behind the show - the biggest of Calder's work ever staged in the UK - featuring around 100 pieces of art. As well as Coxon, among them was the artist's grandson Sandy Rower who told us how pleased he was by the inclusive nature of the exhibition. As well as including pretty much every wire piece Calder ever made, the closing room of the show features Black Widow, "a giant black mobile that that has stayed in Brazil since it was made in 1948" Rower told us. "It's such an extraordinary image, it's amazing and I'm hoping that everyone who leaves the exhibition will remember that black widow.
One of the things key to understanding Calder's practice was that he developed a very unique language, not only sculpturally but also when talking about his art. Calder talked about balance and counter balance. He spoke of trajectories and drawing in space and he constantly shifted the boundaries of understanding and experiencing art from the beginning right through to the end of his career.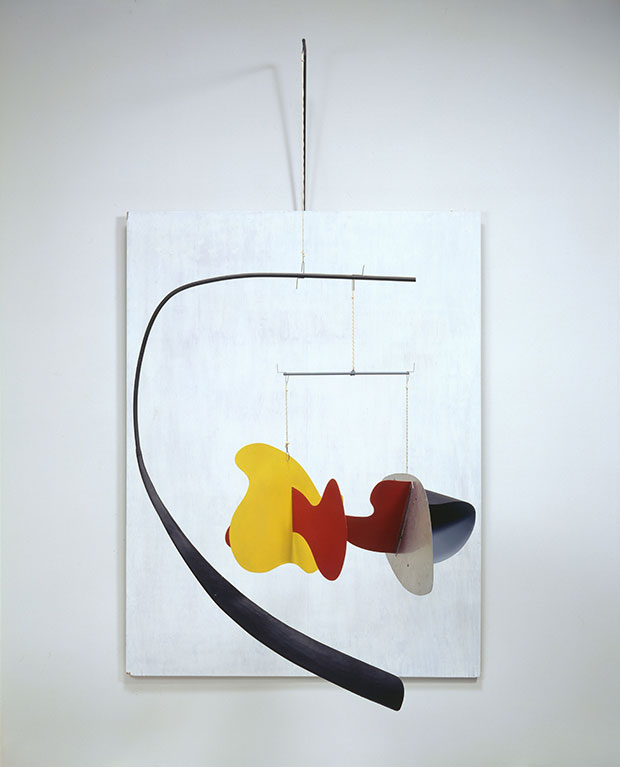 The show's co-curator Ann Coxon shed some fascinating light on the influences that fired the dramatic, theatrical interplays in Calder's early sculptures.
"Calder was commissioned to make some drawings inside the Ringling Bros. and Barnum & Bailey Circus when he had just finished studying and was a young artist," she told us. "He said in his later life that he was fascinated by the mechanics of the circus and you can see in his sketches how he had started to look at and observe the wires and guy ropes and the pulleys overhead. He had the mind of an engineer and he was looking at the performance from this point of view. He talks about the spotlight trained upon the performer on the trapeze and how that spotlight would switch from up there to focus on something down below.
"And this was all in my mind when putting together the exhibition - how it would look and how it would feel and how the viewer might start thinking of the lighting and the shadows and the works going on over head and down below. That was something that was an inspiration to all of us in putting the show together."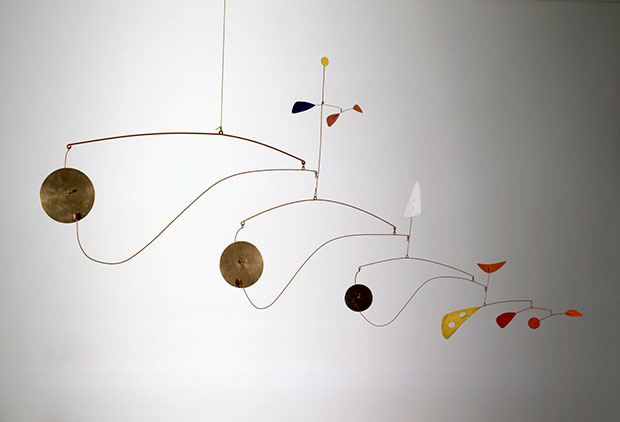 Calder's pivotal moment came when he met Piet Mondrian in his studio in 1930. "He became totally fascinated by abstraction," says Coxon. "It was a real revelation to him. And you can see how the language carried through. He went through a very intense period of experimentation in the mid 1930s where he wantd to try out what it would mean to make this abstract language move in three dimensional space.
"There was a huge range in terms of the way these things were formed. Then, having gone through this intense period of experimentation ther was a moment of resolution when his statements became these ceiling hung mobiles where the movement was completely free and unpredictable."
At the Tate, these pieces' movements are almost imperceptible at times, at others swinging appreciatively as the motion of bodies through the gallery brings them to life. You, quite literally, never encounter the pieces in the same place twice.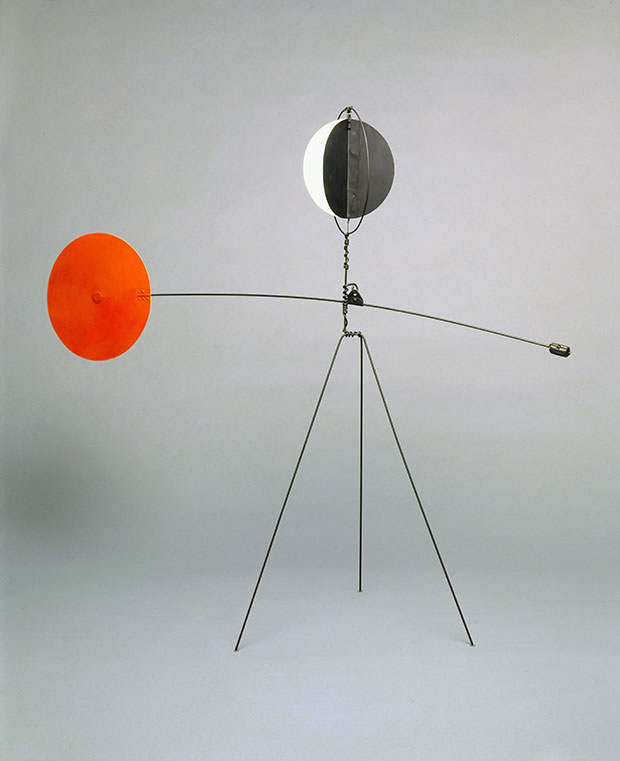 "I've been asked whether we thought abut putting something in train to make them move more," Coxon told us, "but that's missing the point. He wanted these pieces to drift on the current. So instead of speeding them up to our frantic pace, surely the point is that we slow down to their pace - in the way that you lie down on a summer's day and watch the clouds float across the sky. You think they're going to go one way and then suddenly they form a different pattern and confound your expectations. To me it's almost a meditative state watching them. As you can tell, I've really enjoyed installing them!"
Check out the show here. And learn more about Alexander Calder via our great book which features a foreword by Sandy Rower.