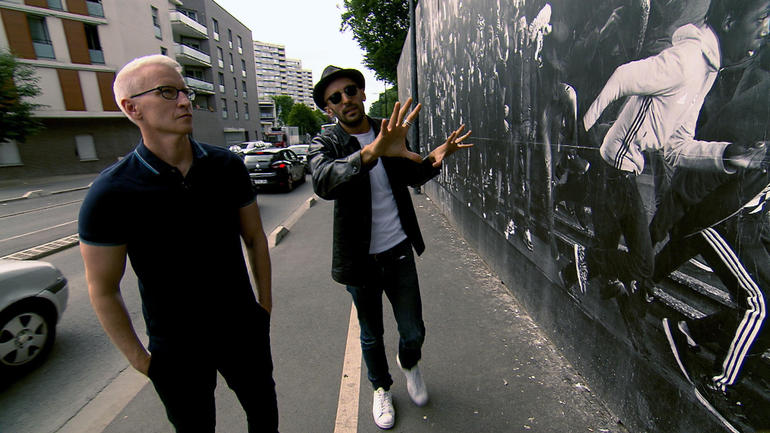 Brazilian gun battles, avoiding arrest and being just a 'wallpaper' guy - what we learned from JR on 60 Minutes
For someone who favours anonymity, JR has made quite a name for himself. The French artist, Phaidon author and activist's well-received London exhibition, Body of Work, draws to a close today; his film with Agnès Varda, Faces Places, is in the running for an Oscar this weekend; and he helped U2 shine in their performance at the Grammys a few weeks ago.
Despite all this, he's still found time to share some of the highlights from his career with the star US TV reporter Anderson Cooper, on CBS's leading news magazine programme, 60 Minutes. Here's what we learned from their exchange.
The realisation that he wasn't the greatest graffiti artist led JR to document the people around him JR may have begun writing graffiti on the streets of Paris but switched to pasting up photographs once he realised his spray can art was never going to win high acclaim.
"At some point, I realized I was not the best in graffiti, you know?" JR told Cooper. "I had the balls to climb any building you want, but I would not do the craziest piece. But I was with friends who were amazing. Then I realized, "Wait, let me document the journey."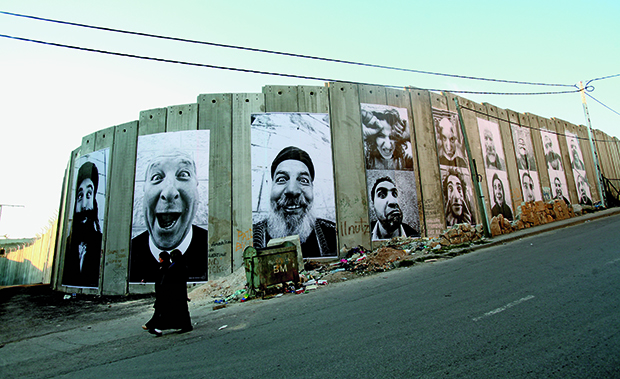 Crowds helped him evade jail in Israel For his 2007 project Face 2 Face, JR planned to cover the Security Wall in Israel's West Bank with portraits of Palestinians and Israelis, to illustrate just how alike they were. Unfortunately, the Israeli authorities arrested JR and his crew before they could paste any images and gave them all 15 days to leave the country. Of course, JR being JR, didn't leave and instead found a way to get his work up regardless.
"To ensure he wouldn't be arrested again, JR announced the day and time he was going to put up his photographs," explained Anderson. "So many reporters and onlookers showed up to watch that the authorities decided to just let him go ahead with his project."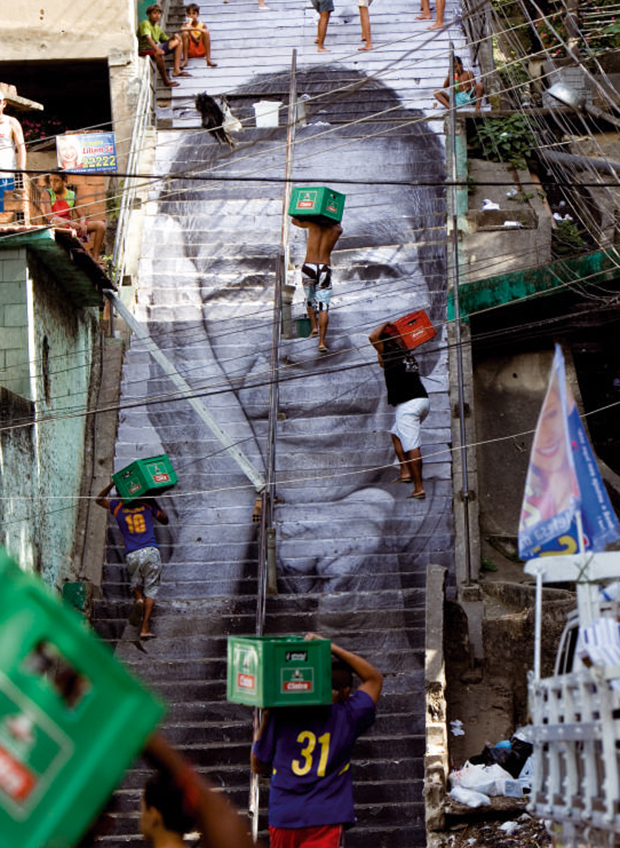 He was once caught in a gun battle in Brazil In 2008 he travelled to Providencia, Rio's oldest favela, to shoot and install works from his Women are Heroes project, in which he highlights the work undertaken by women in the local community. He had begun to paste a portrait onto a flight of stairs, when a gun battle broke out between local gangs and the police.
"After ten stairs it starts coming from all over," the French-born artist told Cooper. "We run and we hide. Like it's the last day of my life. But the next day we came back and we kept on doing the stairs. And I think that's what made the people in the community realize: okay, we're not just here for a minute."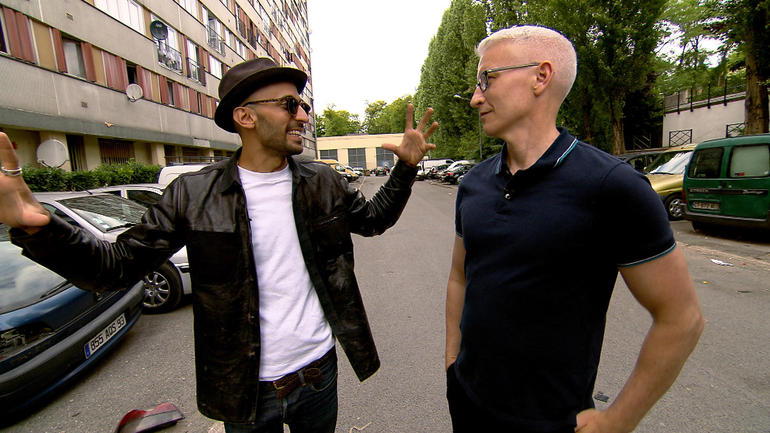 Sometimes he thinks he's just a 'wallpaper guy' Despite all the acclaim, JR is a little uncomfortable calling himself an artist. "Are you still an artist if you're not taking the photo and you're just printing stuff up and sending it out to people, and they're putting it up?" Cooper asked him.
"I don't know. I mean, I am. I'm as much a printer, then I'm a photographer, then I'm a wallpaper man," JR told Cooper. "At the end of the day I wallpaper buildings, you know? That's what I do. So that's why I think the title 'artist' is the most prestigious title I'll ever get, because you know, the truth is I paste buildings."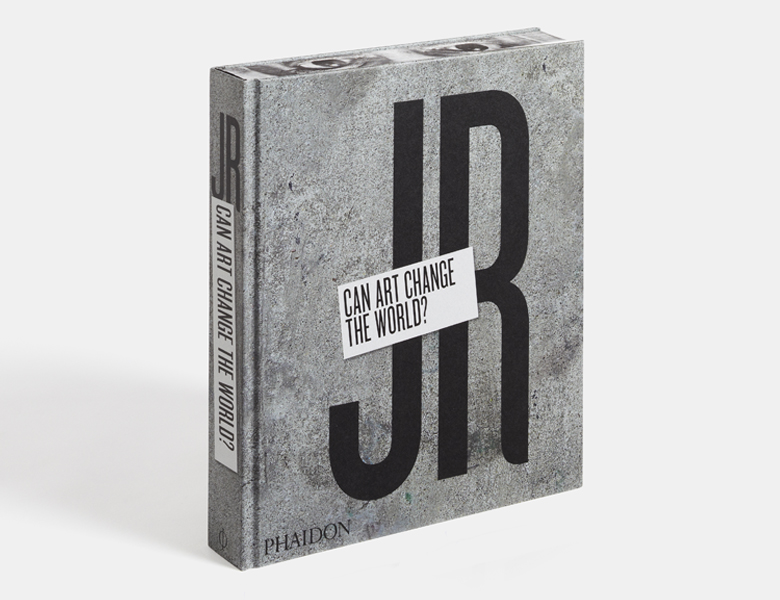 To see more of those paste-ups, and to hear more about his life, work and outlook, order a copy of JR's book, Can Art Change the World? here.