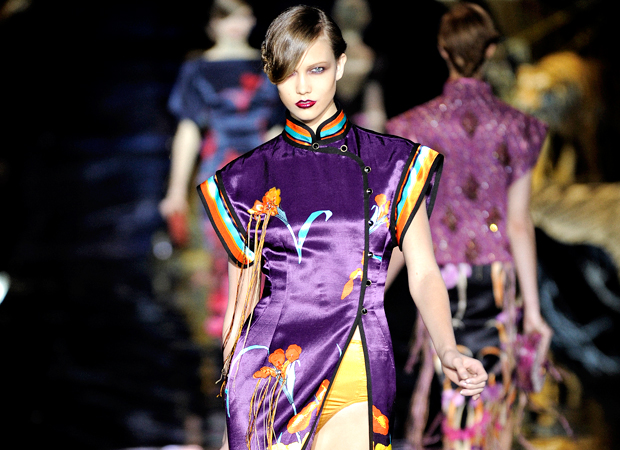 More things Japanese please
Harriet Quick on the eastern sensation sweeping the fashion world off its feet once again
There's distinct oriental air infusing fashion right now and it ranges from a general love of kimonos to fashion exhibitions to Marc Jacobs' collection for Spring.
Jacobs cast an eye on the glamour of the 1980s and the scene that gathered at such dining spots as New York's legendary Mr Chow. The inspiring Future Beauty: 30 Years of Japanese Fashion at London's Barbican is therefore a good starting point, offering a wealth of ideas and designs from the country's original avant garde; such as Rei Kawakubo and Yohji and protégés Tao and Junya Watanabe.
What's eye-opening here is the exploration into concepts such as 'wabi sabi' (the love of the unrefined, unfinished) and 'Ma' (the precious space between body and clothing). 'The space between the body and cloth is potent and rich and energised in Japanese culture,' explains Catherine Ince, co-curator of the exhibition, immediately throwing light on the designers' love of voluminous, shrouding silhouettes.
The system of apprenticeship is alive and well in Japan, with aspiring young designers moulded and nurtured by design houses and funded to launch their own labels. Tao, a specialist in knitwear (her first collection was a knitwear Lolita lingerie idea) and Junya, a magical cutter and conceptualist (see his duvet ballgown, and denim frock coat), have both grown to have substantial businesses. Just like our families ­ in the UK it tends to be at 21 you are out on your own.
The show also reveals how inventive these designers are in communications, with back copies of magazines, Comme de Garçons' inventive mailers, and poster art. The collaboration between Nick Knight and Yohji is still stunning and the image of Kirsten Owen smoking on a chair a classic.
That opiated glamour is something which Jacobs tapped into for his new collection for Louis Vuitton, which featured silk satin cheongsams, and lean graphic lines. Back then, lacquered bento boxes were a thing of excitement, ditto eating sashimi, and geisha culture was being uncovered by legions via the 11th century The Pillow Book.
Haven't we all grown a little tired of organic, earnest everythings? That gloss and sheen and camp feels right again.
_Harriet Quick is the Fashion Features Director at _Vogue
Yohji Yamamoto_, a major retrospective of the influential - and enigmatic - designer's work, with open at the Victoria and Albert Museum in London in March 2011._